Melkweg, Amsterdam, the Netherlands
October 30th 2004
Corvus Corax

We arrived a bit too early at the Melkweg in Amsterdam. It was still very quiet. Someone came to buy a ticket and asked if the concert was almost sold out. Well... not even half the tickets were sold. One by one people came in. No rows, no pushing, no big crowd. I thought it was going to be a quiet evening. Guess again! The venue filled up slowly and ended up quite full.

Corvus Corax

The show was to start at 21:00 but Corvus Corax decided to let us wait half an hour. This gave us time to check out the people who came to see the show. There was a great variety of people. Different ages, different styles. The stage was not that big so we were curious how all eight members of Corvus Corax were going to fit on stage. Fortunately they did!

Music
When they introduce each member of the band they all give us a great solo on their instruments. Speaking of these instruments, they are quite a rare collection. Roman 'trumpets', drums, flutes, snare instruments. They must have some sort of time machine to have collected such a variety of instruments. The music Corvus Corax play is fast, it makes you want to move. The entire venue was filled with warm ancient sounds.

Performance
At 21:30 the show started. Lot's of smoke and screaming women (yes really). There were some very enthusiastic women in front of the stage. Sometimes I wondered whether they knew that they were at a Corvus Corax show and not the Chippendales. I have to say these men are quite a sight. Their clothes are a mixture from different ages; the Middle Ages, Byzantium, the Roman era, and today. They for instance wear shoes similar to those worn in the Middle Ages but with rubber soles. From the start of the concert the audience was very enthusiastic and so was the band. Women in front of the stage were given serenades by different members of the band. Every once in a while one of the men sat down on one knee and addressed one special lady. Some tried to ignore this but that was quite hard.

They had some choreography's which lead to even more screaming women. They made turns which made their skirts fly up in the air. Or they would lift up one knee. Even though these were simple choreography's looked great, the band was one front, one man (one tough man). We were asked to participate by shouting, jumping, and clapping. Which most of the audience was happy to do, we were a member of the show not just the audience.

After half an hour Corvus Corax stopped for a break. They asked us to be drunk and naked when they would return. Drinking was no problem for some of the visitors, luckily everybody forgot about the naked part (or was that intentionally?). After a 15 minute break they returned. Some had changed their clothes into something less warm. This break was a real necessity because all the lights available were directed to the stage and they were dancing and playing so enthusiastic that sweat was dripping all over. They returned to play for one and a half hour more. They were called back for two 'zugabes'. The audience wanted more and more. During the evening I constantly saw people coming to the front to dance, freed of their shame and simply having fun. Corvus Corax is a great sight to see, they really enjoy themselves on stage.

Setlist
01. Proz./Türk.
02. Cengi
03. Totus Floreo
04. Cheiron
05. Douce Dames
06. Saderalladon
07. Satyricon
08. Suam Elle Ires
09. Oro Se Vie
10. Mazedonischer
11. Ballade De Mercy
12. Tackadans
13. Nominalto
14. Albanischer
15. Avanti
16. In Taberna
17. Titenka
18. Ductia
19. Platerspiel
20. Slatarello
21. Dam Dam
------
22. Bärentanz
23. Fili Neidhardi
24. Chou Chou Sheng
------
25. Hymnus Apollon

Rating
Music 8
Performance 9
Sound 8
Light 7
Total 8 (8.2)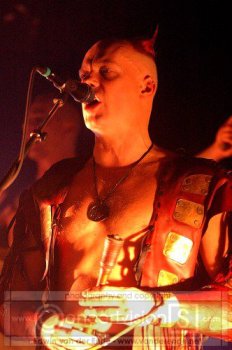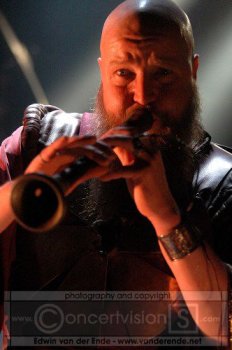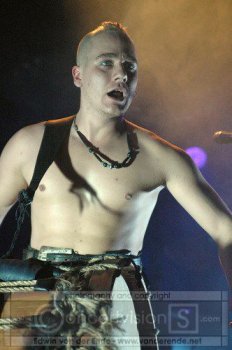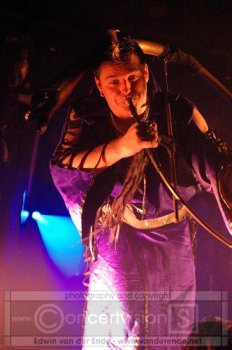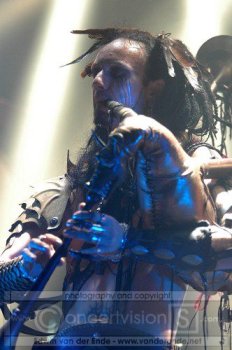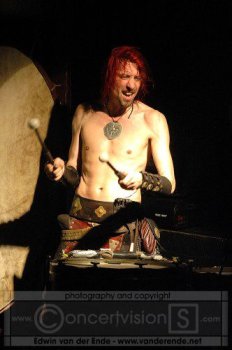 De Melkweg
This concert took place in the 'oude zaal' the smaller hall of the Melkweg.
Food and drinks
There was one bar where you could get drinks. During the brake you did have to wait in line for a while but all in all service was quite quick. Prices were like in any other bar.
Stage
The stage was small, especially for a band as big as Corvus Corax. It was high enough for the entire venue to get a good view though.
Audience Area
The floor in this hall is flat but since it is not that big everybody could get a good view. If you found it to be too crowded downstairs you could go up the stairs and stand on the balcony.
Staff
The barkeepers were very friendly, they worked as hard as they could to get everybody their drinks as quick as possible. The sound engineer was friendly too, I asked him for the setlist during and that was no problem at all, after the concert I could pick it up.
Rating
Facilities 7
Accommodation 7
Staff 8
Total 7 (7.2)
See also (all categories):