La Loco, Paris, France
28th November 2004
Atrocity, Battlelore, Darkwell, Leaves Eyes
Down in Montmartre next to the famous Moulin Rouge, there is La Loco, a usual gothic and metal venue, is the theatre of the last gig of the Leaves Eyes and Atrocity European tour. They were supported by Battlelore and Darkwell as they were for previous show already.
The concert didn't take place in the usually room of La Loco but downstairs in the smallest place which is normally in use as a dance floor for this gothic club. One bar was closed to ensure a not so large stage for five members minima bands. The gigs started at 3pm which was really early for such a metal event.
Battlelore
Germanys Battlelore was founded in 1999 and have since played a kind of fantasy based metal. Their songs were inspired by poetry and songs from Tolkiens Middle Earth. They released their album 'Sword's Song' in 2003 and their new DVD 'The Journey' in 2004.
Music
The band; two lead singers one girl and one man, two guitar players, a keyboard, a bass player and a drummer. Maybe for space consideration the drum kit was an electronic one, so it didn't sound as powerful as a classic could be, but the overall sound was cool for a support act, as they probably have a really short time to do a real soundcheck.
Performance
The lead singers really sing very theatrically, dressed as an Elf and a Warrior, even with a large sword, almost putting a spell on every metalhead in the pit. The rest of the band also wore Middle Earth inspired outfits. The light show was great for a support act as well. It emphasised the acting of the musicians. The stage was a little bit decorated.
Rating
Music 6
Performance 7
Sound 6
Light 6
Total 6 (6.3)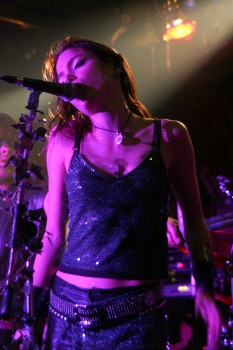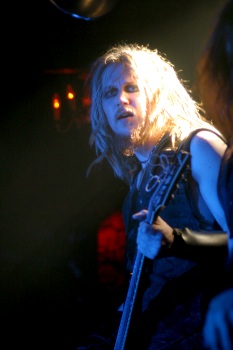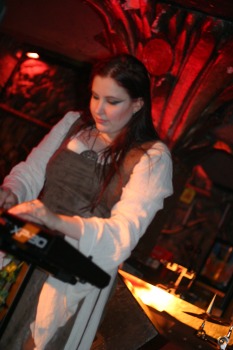 Darkwell
Also founded in 1999, Darkwell plays very sweet gothic metal. They only changed their line up once when their former singer Alexandra left the band in 2003.
Music
The band played a set of well crafted metal and the clear voice of Stephanie Luzie was very nice to hear.
Performance
Stephanie Luzie, truly seduced the crowd with her magical voice and charisma. The Simple Minds cover Don't You (forget about me) had great success, and was a really great moment of the show.
Rating
Music 7
Performance 8
Sound 6
Light 6
Total 7 (7.0)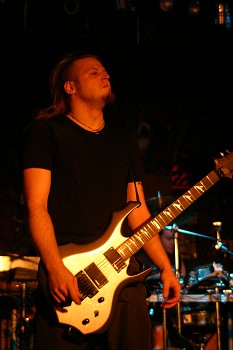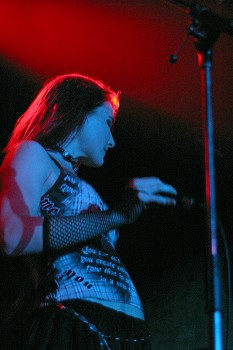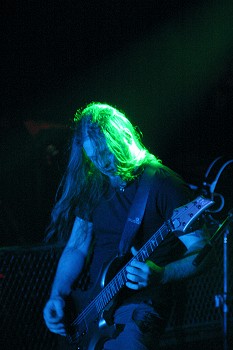 Leaves Eyes
Now it's time for Leaves Eyes, expected by an impatient and boasting crowd, chanting their names. They were promoting their debut album 'Lovelorn' which was actually written by Alexander Krull (of Atrocity fame). Who later was a guest on stage to perform a few songs with the band.
Music
The band took the stage to give a great rendition of their Lovelorn album (based on the Beauty and the Beast story). They almost played the enitre album The album, takes all its power and entity when played live.
Performance
The songs really fit together with beautiful keyboards parts and such a melodious voice. On songs like 'Ocean's Way', 'The Dream' or even on 'the incredible Temptation', the pure and delicate voice of Liv contrasts with the power of Alex's one for the better. The response of the French crowd was immediate, they did love Leaves Eyes and they intended to make them know!! Despite the early start of the show, time ran short and the band could only play one encore, even two were planned.
Rating
Music 8
Performance 8
Sound 8
Light 8
Total 8 (8)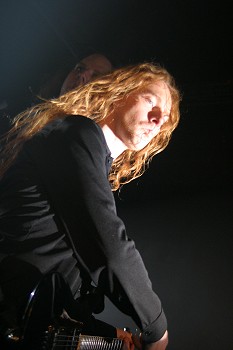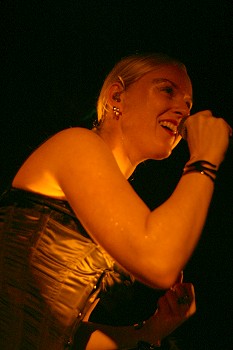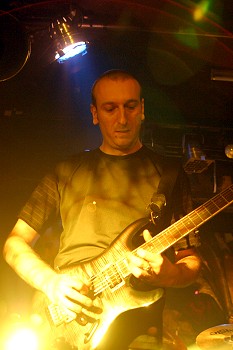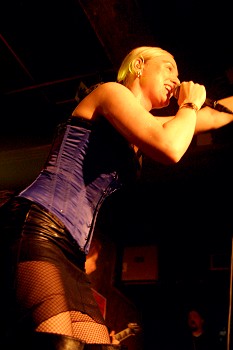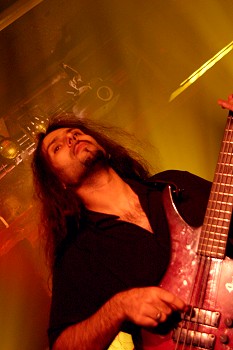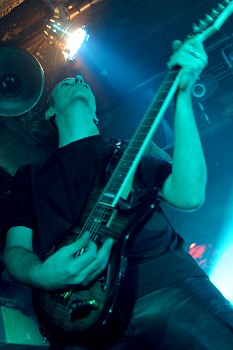 Atrocity
A pity the audience had to let Leaves Eyes go, although it wasn't for such a long time since the line up barely changed for the second big act of the day : Atrocity. A quick change over, only to set an impressive microphone stand with a big iron Atrocity logo for Alex's band and that was it!
Music
Drummer Martin Schmidt came back first on stage to start a mechanical and heavy rhythm on an electronic drum kit, hammered with an impressively thoughtfull and precise strength. The rest of the band followed exactly the same only for Liv Kristin to be replaced by Alex, who literally transformed the crowd, with his 1m92 and all his storming energy, into one furious headbangger. Atrocity took the stage for one hour or so of powerful metal, with some moments of true grace, (Liv coming back to do some backing vocals springs to mind for instance).
Performance
The band returned for one last encore, together with members of the support bands Battlelore and Darkwell who just came out of their shower to sing a special version of Tears For Fear's classic 'Shout', the song thus becoming a new "shower" anthem. A few members of the audience took the stage as well, starting to jump around with the musicians while Alex experienced a stage dive on the happy few who got an unforgettable souvenir from a mad Sunday afternoon at La loco.
Rating
Music 8
Performance 8
Sound 8
Light 8
Total 8 (8)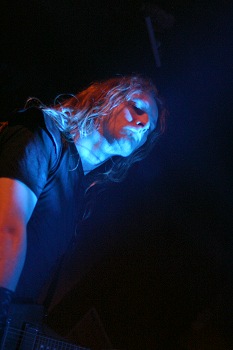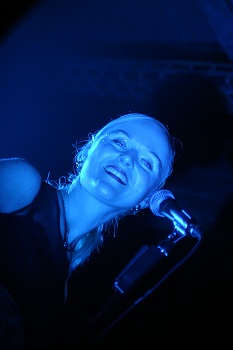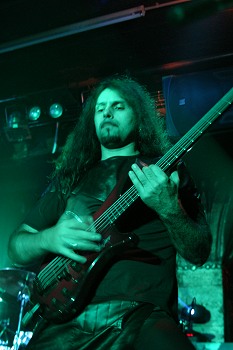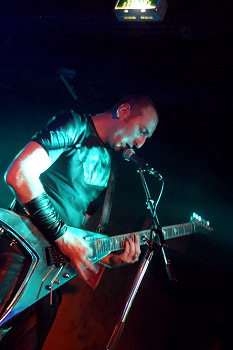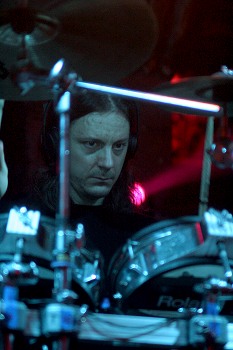 La Loco
La Loco is a classical venue for metal and gothic events, there are three floors, concerts usually take place on the main floor, as downstairs and upstairs are usually reserved for dancing.
Food and drinks
There are several bars, downstairs there are usually two bars but, exceptionally there is one closed to make a larger stage. The bars serve drinks which are a little bit expensive.
Stage
The stage was not really high (about 0.80m) but sufficient for the purpose it was built for. It wasn't really large but enough to let musicians move.
Audience area
The area is well designed, there were two upstairs corridors along the central place which permits a really good view.
Staff
The staff was very friendly and helpful as were the organisers who all allowed us to do our job.
Rating
Facilities 7
Accommodation 6
Staff 8
Total 7 (6.7)
See also (all categories):