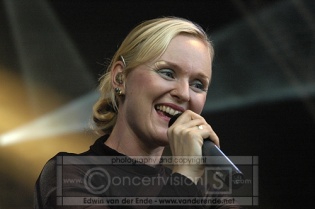 Interview with

Liv Kristine

She's the singer of Leaves' Eyes. Her second solo-album, 'Enter My Religion', is released in the beginning of March. Liv Kristine tells about the songs on her new album, the videoshoot of the single 'Fake A Smile' and her family.
How are you? What did you do since the release of the last Leaves' Eyes-album?
'Thank you so much for asking, I'm really fine! We will release a new EP called 'Legend Land' by April/May which contains five brandnew tracks. In addition, I have a full schedule on behalf of my solo project. The new album 'Enter My Religion' has just been released and, as you can imagine, there is always a lot of work to do. But that is fine, I appreciate it!'
How is your son Leon doing? Can you combine your career with your motherhood?
'Thanks again, Leon has a great time as well! As we have our own recording studio he can be with us almost all the time. I am extremely grateful for that! Leon also has adorable grandparents who love to have their grandson around. Moreover, I always try to have some days off when we are on tour. During these days I am just part of my family and sometimes I do not even answer the phone... I would say that there is a perfect balance in my life between being an artist and being a wife and mother. Nonetheless, Leon plays the most important role in my life.'
You work together with your husband Alexander. Don't you have quarrels about music?
'Alex is the best producer I can think of. Moreover, he is also my best friend. As such, he is a wonderful counsellor and always a fair critic. I appreciate his opinion. We work together as a team and so far we have never come across any argument. Alex is very honest and always tries to get the best out of me. However, sometimes it is really difficult for the two of us to switch from music to family. But we work on that subject every day - with Leon helping us...'
A few years ago you missed Norway a lot, didn't you? How is your homesickness doing right now?
'Of course I still miss Norway, it is the country I have spent most of my life. Most of all, I miss the sea! Whenever possible, I try to spend some days at home. I use these breaks to relax and gain new powers, it works fantastically for me! I love to take Leon with me on such occasions, he ought to know about his origins. I also found another, more artistic way to cope with my homesickness: when you listen to the album 'Vinland Saga' you will learn about the Vikings and their history. While working on this album I could delve into my memories of the wonderful and mysterious Norway...'
Can you tell something about the difficulties around the release of you solo-album? There were some troubles with labels, am I right?
'One could say so, yes. I had to fight for my rights as a solo artist at court. Afterwards, I could sign a contract offered to me by Roadrunner Records. In my eyes, the release of 'Enter My Religion' is like an old dream that has finally become true. It feels like the beginning of a new life and I am incredibly thankful for that!'
Why did you decide to make solo-albums? Is Leaves' Eyes not enough for you?
'With the two different projects I am given the possibility to express different aspects of my personality. While the lyrics of Leaves' Eyes concentrate on Nature and historical or sometimes fictitious topics, my solo project has its focus on various experiences I have made in my personal life. As a result, the songs are truly sincere and emotional. However, the concepts of Leaves' Eyes do not mean any less to me. It takes both projects in order to generate a comprehensive projection of who I am.'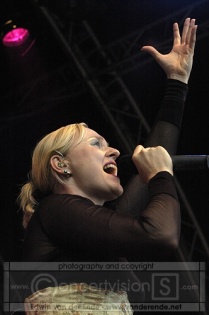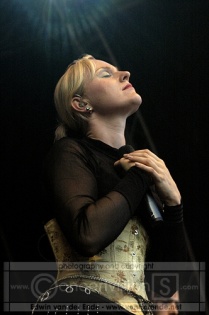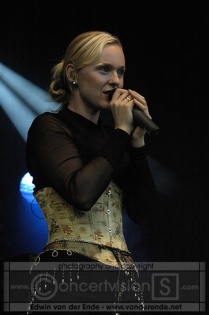 How is 'Enter My Religion' put together?
'The most of the conceptions for the songs come from my husband and producer Alex, from Tosso (who plays the guitar on the Leaves' Eyes recordings), from Timmy, Peter Tägtgren (Pain, Hypocrisy) and of course, from me. Some of the tracks on 'Enter My Religion' had already been written a few years ago, we have re-arranged them for the album. However, most tracks are brandnew. A really outstanding experience was the recording of those exotic instruments! Tosso is a true genius when it comes to string instruments. All in all, the production process as such took us about six or seven months.'
Have you written all songs by yourself? Can you tell something about the songwriting-progress?
'Yes, all lyrics on 'Enter My Religion' have come straight from my soul. As I already said, they focus on various aspects of my personal life. Hence, this is where I get my inspiration from. Generally speaking, a new track always starts with the musical part first. By adding word after word it gradually turns into a complex unity - the complete track. Finally, what is really important to me is silence - no matter where. I even get new ideas while driving or under the shower.'

Can you tell something about every song? Where are they about?
01. Over The Moon
'Have you ever had the feeling of being 'over the moon'? This is exactly what I feel when I listen to this track. I truly loved this song from the very first time! Alex and I were expecting our first child back then. Having become a mother is the best and most wonderful experience in my life! Timon and Jana added the classical parts to the song which render the perfect positive and light feeling.'
02. Fake A Smile
'Alex and Timon had spent another night at Mastersound studio. The next morning Alex surprised me with the instrumental version and I experienced an immediate stream of ideas, that was really amazing! Both the lyrics and the vocal lines were written within 7-8 minutes and nothing has changed since then. 'Fake a Smile' deals with how we have become 'prisoners' and the way we are trapped in our daily, busy lives. Moreover, we should not forget to express our real emotions and to be who we really are, despite the fact that our material world has become 'unpersonal' and 'cold' in many respects. Tosso, playing the saz, adds the excellent exotic touch to the song.'
03. All The Time In The World
'Patience is very important nowadays. This song is about a young girl who is waiting for her big 'love' to pay attention to her. When I fell in love with my husband I had to wait for a while until I could finally be with him. After having lived twenty years in Norway I decided to leave my homeland for my big love. And here I am now with my fantastic and wonderful little family in south-western Germany, happier than ever before!'

04. My Revelation
'It took us quite a while to finish this track. The song is incredibly rich and colourful through the saz, the cello, the violin and the bouzuki, played by Tosso, Timon, Jana and Dimi, respectively. These instruments add the certain 'spices' to the song while the necessary power is being supplied by Moritz on the drums. I sing of being honest and telling my opinion to someone being close to me, which is not always that easy.'
05. Coming Home
'I really have no reason to complain; I have spent a lot of time on the road, I have seen many countries and I was given the chance to experience a lot of wonderful things. However, it feels so good to come home and to be together with my family. This is my way of relaxing and gaining new energy. My family is my home and the 'ground of my life', as the song was initially called.'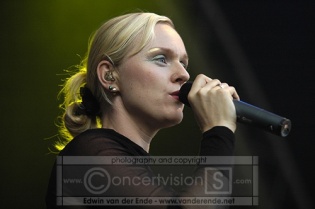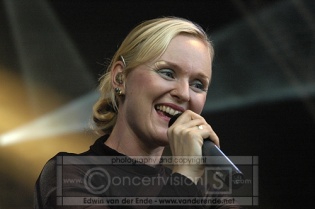 06. Trapped In Your Labyrinth
'When Peter Tägtgren presented me with this song for the first time, I knew exactly what to sing about. The song is about giving and taking love. Sometimes, however, the fragile balance collapses and one partner in a relationship or friendship experiences a feeling of powerlessness. I imagine that this is like being 'trapped in someone's labyrinth'. The vocal lines rise and gain strength in the chorus. I was surprised how powerful this track has become in the end!'
07. Blue Emptiness
'This is a song about 'opposite thoughts'. Sometimes I wonder if I correctly understood what a person has just said or if it was the complete opposite that he actually had in mind. And sometimes you have to have a second look at certain things until you discover their true meaning. It's fantastic to have the tzoura, played by Dimi, in this song.'
08. You Are The Night
'We composed this song a couple of years ago and it somehow reminded me of a James Bond movie! I changed the title from 'You Are the Light' into 'You Are the Night', which I think was a good choice.'
09. Enter My Religion
'Similar to 'Fake A Smile', I wrote the lyrics for this song in only a few minutes. It felt like being struck by a lightening. 'Enter My Religion', just like the complete album, is an invitation to my personal world. In my lyrics I describe thoughts, ideas, dreams and experiences from my own life. Moreover, you will discover a couple of good advice, in this song it is the following: 'there are moments in your life which you should keep deep in your heart'. Your first kiss was perhaps not exactly what you had expected, however, it did change your life.'
10. Streets Of Philadelphia (Bruce Springsteen-cover)
'What an amazing song by Bruce Springsteen! Usually, I can recall and sing a song after having heard it just once. That is an ability I have been born with and for which I am extremely grateful. However, I really had to sit down and listen to this song several times before I was finally able to sing it myself. In the end, we decided to use the very first demo vocal recording for this song; it carries a much stronger emotional aspect and in my opinion, this is what The Boss had in mind when he recorded the song himself.'
11. You Take Me Higher
'Driving home from the studio one night this song (including the lyrics) suddenly entered my mind. When I woke up the next morning it still kept teasing me. All I could do then was driving straight back to the studio and record it. The recordings, however, took us quite a while due to the fantastic instrumental line-up: Tosso plays the electric guitar, the oud and the saz, Timon the bass and the cello, Jana the violin and Moritz the percussion.'
12. For A Moment
''Just feel and don't think for a moment' - this is my advice! I hope 'Enter My Religion' can help you to escape your daily, busy lives for a little while. Furthermore, I hope that I can give you a wonderful feeling and a good experience, solely by listening to my album!'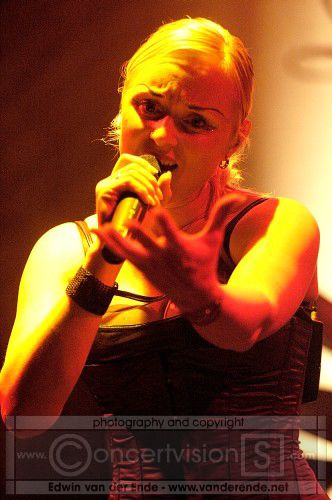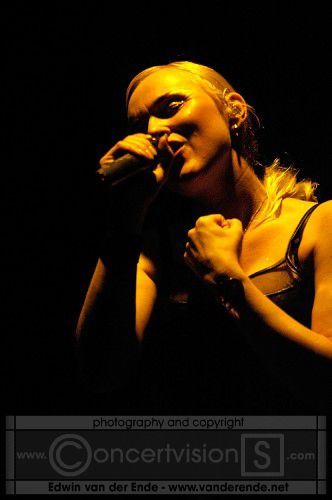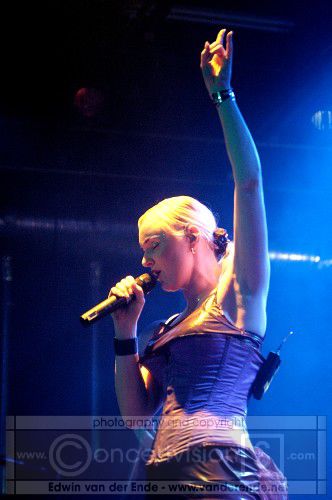 Why did you choose 'Fake A Smile' as the first single?
'To be honest, I just could not make up my mind! In my eyes, each track is characterised by its own special importance. In the end, the decision was made by the press, some radio people and my record company.'
Can you tell something about the videoshoot? What are you trying to explain with the 'movie'?
'Well, you could say that most of the time I was kind of an ice queen... The video was shot in a dilapidated pool in the woods around Nürnberg. It was a perfect location to shoot such a video. However, it was terribly cold but definitely worth it. 'Fake A Smile' is a portrayal of today's world and time. The lyrics deal with the contrast between two different worlds: the magical world of elves and fairies on the one hand and the cold and stress-stricken city-life on the other. This life is cold and merciless, people do not have time for their feelings. I think that everybody should take a minute to sit back and find out about his or her feelings. I truly believe that this enables us to express our innermost feelings and emotions. In so doing, we will be able to achieve a perfectly balanced life. Personally, I was not able to live according to this maxim until the age of 25, 26. I have found my way and, moreover, I have found my fortune! I am a thoroughly happy person and I am trying to convey a bit of that happiness through my album.'
There are a lot of other songs on the single (B-tracks). Can you tell something about these songs? Why aren't they on the album?
'As we had way too much material for a full-length album we simply could not decide which tracks to put on the album and which not. However, we did not want the remaining songs to be left aside so we had the idea to put them on the single. I am happy that, thereby, these songs could make their way to the audience. I appreciate them as much as the tracks on the album!'
Why did you decide to cover Bruce Springsteen's 'Streets Of Philadelphia'?
'There is this emotional strength in Springsteen's voice which renders this song so truly special. To put it short, I was simply enchanted by this and I wanted to record this song for already quite a while. I am really happy that this dream could become true.'
I read something about another Cradle Of Filth-duet. Can you tell something about that?
'A new duet is still to be discussed. Moreover, Cradle of Filth are recording at the moment. Accordingly, I guess that it will take another while.'
{jos_sb_discuss:19}
See also (all categories):