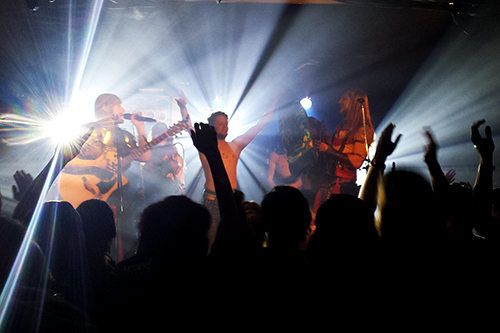 Alte Brauerei, Annaberg Buchholz, Germany
14th March 2015
Feuerschwanz & Vroudenspil

Being three people this time in the car we made our way to the snowy Erzgebirge. With the music of FEUERSCHWANZ on repeat and able to sing along nearly every track we came to Annaberg and were looking forward to seeing the concert and having an interview which was organized a few hours before this day.
Vroudenspil

In 2005, VROUDENSPIL was born. In this year consisting of only two people searching for band mates, the band grew and were six people in 2006 and absolutely ready to interpret traditional songs in their very own style. In 2007, the band started to write own songs and only two years later their debut album 'Lunte gerochen' was released, followed by 'Tote Narren' in March 2011. Since 2012 the band consists of Ratz von der Planke, Freibeuter Petz, Dax vom Berg, Phyra, die Frau, die am Rad dreht, Zora, der Kraken, der Seewolf and of course they were playing several festivals during the past years.
www.vroudenspil.de
/
https://www.facebook.com/Vroudenspil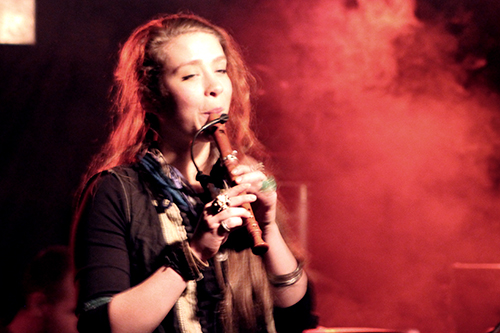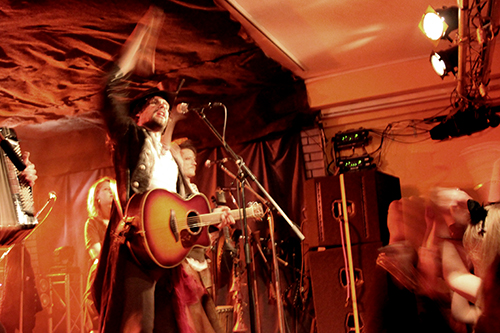 Music & Performance

Arriving in the snowy Annaberg-Buchholz, I was really excited about the concerts this evening. I never heard of FEUERSCHWANZ' support band VROUDENSPIL, to be honest. I listened to a few of their songs before heading to Annaberg, but couldn't decide if I liked them or not. Honestly, I had no opinion about this band and I wasn't alone with this opinion as it seemed. The audience didn't know the band at all and so were the reactions after the first few songs. But VROUDENSPIL managed to catch the audience's attention and Annaberg showed how to party. When 'Reise nach Tortuga' was played even the last person in this room was going along with the band and proofed that VROUDENSPIL is a good party band. The support band ended way too early for my taste, but at the venue was already a high temperature - so having a break was quite ok. I'm really looking forward to seeing Vroudenspil again at some festival this year.
Setlist

01. Ruf der Seele
02. Rum für die Welt
03. In der Halle des Dattelschnapskönigs
04. Reise nach Tortuga
05. Spielmannsweise
06. Kurs aufs Leben
07. Meute Toter Narren
08. Plankentango
09. 12 Pfund
Rating

Music: 9
Performance: 9
Sound: 9
Light: 9
Total: 9 / 10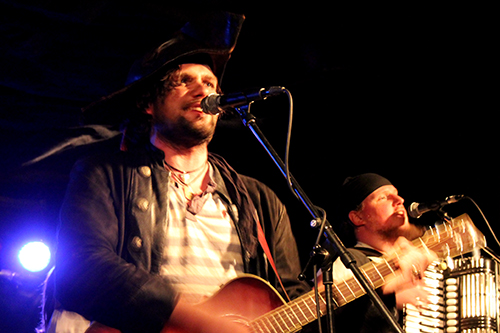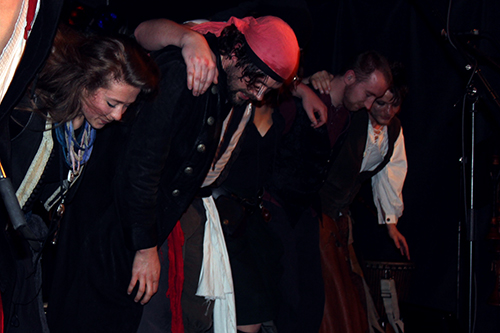 Feuerschwanz

FEUERSCHWANZ already founded in 2004 and had several changes in the band constellation in their history, are now in the constellation with Hauptmann Feuerschwanz, Johanna von der Vögelweide, Felix Taugenix, Prinz R. Hodenherz III, Sir Lanzeflott and Hans der Aufrechte. The band stands medieval folk comedy. They parody every state and do not mince his words, what they give up many medieval markets for the best. The music of 6 matches the mood and makes people celebrate together.
www.feuerschwanz.de
/
www.facebook.de/feuerschwanz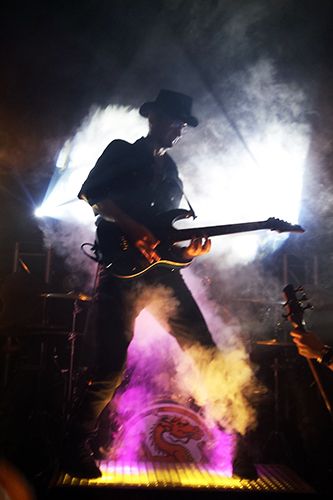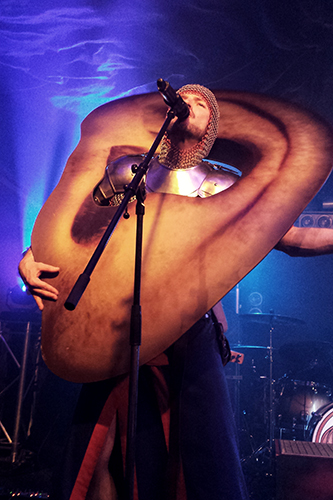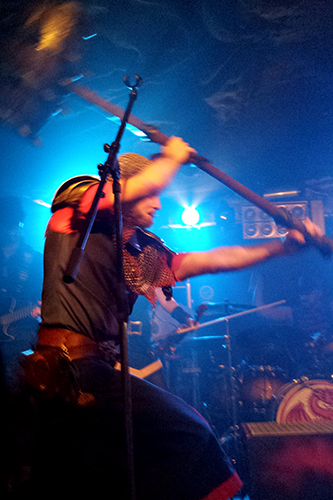 Music & Performance

After a short break FEUERSCHWANZ finally started their show. Of course VROUDENSPIL were heating up the audience and so the main band had a good start with 'Aufs Leben'. The audience celebrated every single song and right after the first three tracks the audience was really in the mood to party. When playing 'Herz im Sturm', Hodi was searching for a girl in the audience to win her heart. Of course he found one. The young lady was quite attracted by the advances Hodi made even though her friends had to push her on stage at the very beginning. When 'Seemannsliebe' was played, some guy in the audience managed to go stage diving on a surf board and he was in the air for nearly the whole song. The mood changed to calmness when 'Auf Wiedersehen' was played, this is Hodis Goodbye song for his mother who passed away. The following tracks were faster again and the band was joking around and we got some drinks when 'Frisch gezapft' was performed.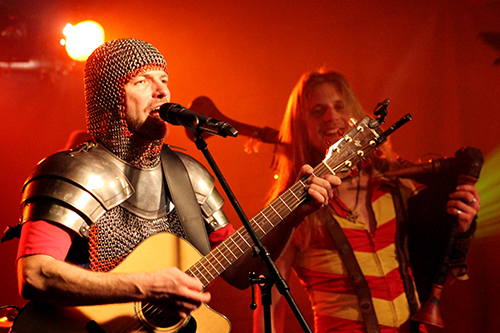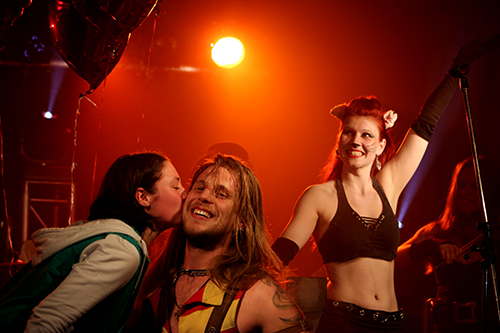 After performing four encore songs, the concert was over. Having a few nice talks with friends and people I just met, I got my guitar signed by the band and we decided to go back home to Leipzig. Well, the snow thought it might be a fun idea to give us a little surprise when driving home and we ended in a car crash. But we have been lucky having the guitar with us, were playing some songs, were singing and making jokes while waiting for the wrecker. After having the car back on the street we drove home, singing along some FEUERSCHWANZ songs. What a night...
Setlist

01. Aufs Leben
02. In Vino Veritas
03. Zuckerbrot und Peitsche
04. Herz im Sturm
05. Hurra Hurra die Pest ist da
06. Blöde Frage
07. Seemannsliebe
08. Auf Wiedersehen
09. Träumer und Tor
10. Hans
11. Ohrwurm
12. Metnotstand
13. Met und Miezen
14. Frisch gezapft
---
15. Druide
16. Latte
17. Niemals endendes Gelage
18. Aufs Leben 2. Teil
Rating

Music: 9
Performance: 10
Sound: 10
Light: 10
Total: 9.8 / 10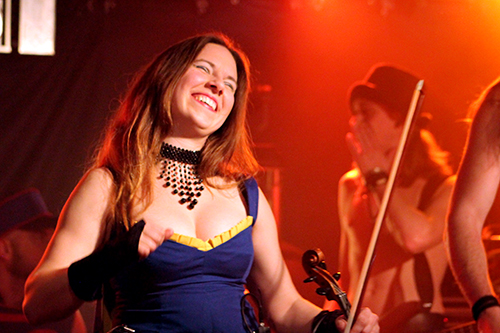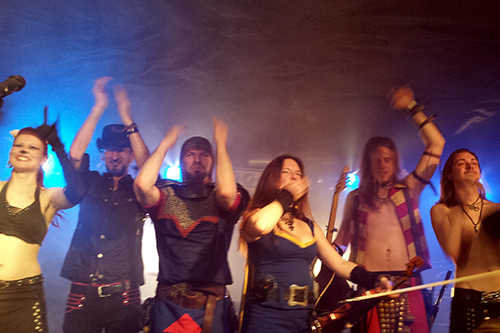 All pictures by Susann Lucas
Written by Susann Lucas, translation by Fee Wundersee