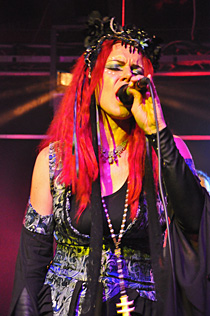 Cult, Nuremberg, Germany
21st July 2010
Faith and the Muse, Tonal y Nagual

On this very hot Thursday I came along on the way to Nuremberg-Fürth to experience an extraordinary band live in the Cult, a night club - FAITH AND THE MUSE supported by local band TONAL Y NAGUAL
Tonal y Nagual

The creative heads behind the band TONAL Y NAGUAL, resident in Nuremberg, are Giuseppe Tonal and Tikki Nagual. Their musical spectrum reaches from Anarcho-Industrial up to Folkloristic Ambient. The current album is called 'La Sierra Mecánica'.
www.myspace.com/tonalynagual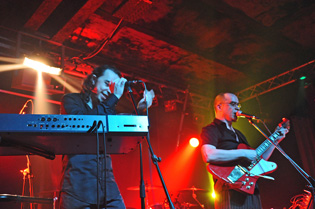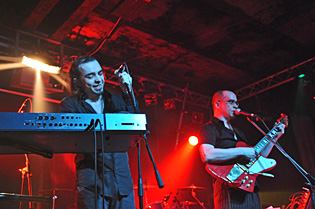 Music & Performance

Unfortunately, due to technical difficulties the beginning of the concert moved from 8:00 PM to 10:15 PM - and the poor fans had to wait outdoors… The waiting period in the Cult was not so bad, because Mona and Kerstin of the bar provided for entertainment and catering. When the concert finally started, the club was filled quite well and in spite of all the mentioned difficulties, the mood was good. The band provided for a diverse entertainment and resisted the problems which never really stopped. After about 45 minutes, they said already goodbye and were rewarded with applause for the good beginning of the concert evening.
Rating

Music: 7
Performance: 7
Sound: 5
Light: 5
Total: 6.4 / 10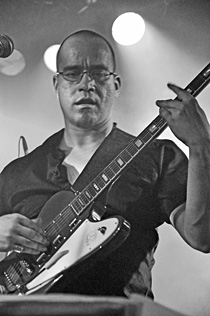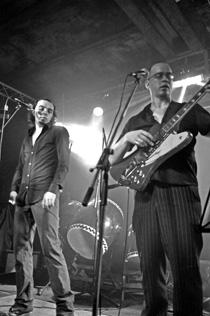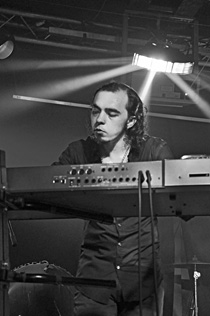 Faith and the Muse

Founded in 1993 in Los Angeles, the Gothic Rock / Dark Wave band FAITH AND THE MUSE consists of singer Monica Richards and guitarist William Faith. Both have already collected experiences in other bands before: Monica Richards with STRANGE BOUTIQUE and William Faith, among the rest, with MEPHISTO WALZ and SEX GANG CHILDREN. In their current album ':ankoku butoh:', the artists argue with elements of the Japanese Shinto religion. Traditional Japanese instruments like Taiko drums provide for the Far Eastern atmosphere.
www.myspace.com/faithandthemuse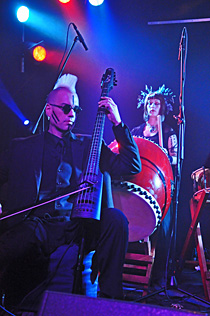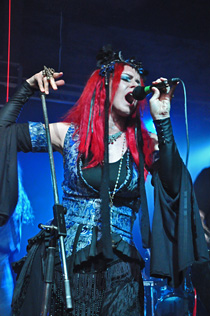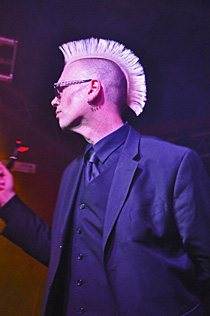 Music & Performance

Then at 11:40 PM it was finally time and FAITH AND THE MUSE entered the stage to begin with a rousing drum presentation. In the course of the evening, songs like 'Battle Hymn' from the current album, an instrumental presentation of violinist Paul Mercer and 'The Burning Season' followed. However, over and over again the band had also to fight with technical problems what broke the joy in the presentation, unfortunately, a little bit. The audience was still impressed though by the in Japanese looking show. After three additions containing also the song 'Sovereign', the band left under blustering applause at 1:00 AM.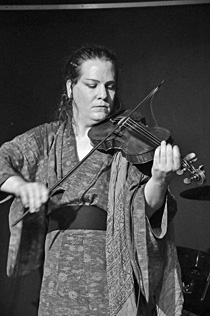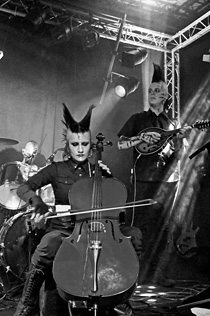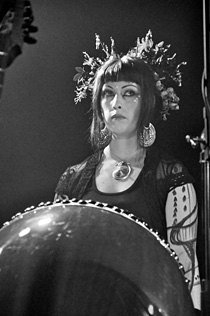 All in all, it was musically a wonderful, diverse evening. Unfortunately, the technical problems clouded the unlimited pleasure because at times just the microphone of Monica Richards failed.
Setlist

01. Bushido
02. She Waits By The Well
03. Battle Hymn
04. Porphyrogene
05. Blessed
06. Scars Flown Proud
07. Into My Own
08. Caesura / The Trauma Coil
09. Vervain
10. The Uniquiet Grave
11. The Burning Season
12. Cantus
---
13. Sovereign
14. Sredni Vashtar
15. Annwyn Beneath The Waves
Rating

Music: 9
Performance: 8
Sound: 5
Light: 7
Total: 7.8 / 10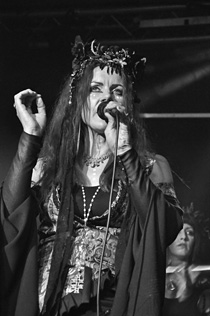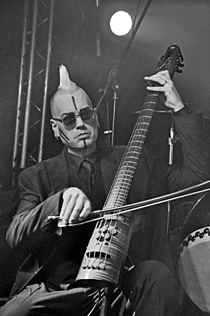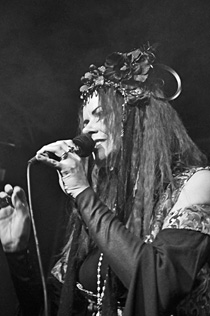 All pictures by Erika Knepper (
This email address is being protected from spambots. You need JavaScript enabled to view it.
,
www.myspace.com/antecanis
)
{jos_sb_discuss:17}
See also (all categories):