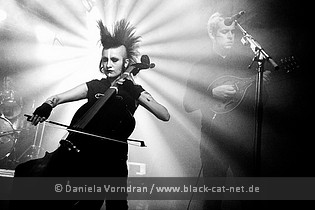 Matrix, Bochum, Germany
13th August 2010
Faith And The Muse
FAITH AND THE MUSE inarguably are one of the most diverse bands the common Goth Rock and Dark Wave scene has to offer. Though it would be a bit of a limitation to pigeonhole them into these two genres only! Their influences range far beyond the boundaries other bands wouldn't dare to cross. Folkloristic, electronic, even neo-classic elements have found their place in this sound cosmos, FAITH AND THE MUSE started cultivating since being brought to life in 1994. With their newest album ':ankoku butoh:', released in 2009, 6 years after the last one 'The Burning Season'; Monica Richards and William Faith once again set the bars high both in musical and visual ways. FAITH AND THE MUSE Live was Monica Richards (vocals, instruments) William Faith (various instruments, vocals), Paul Mercer (viola), Julia Cooke (taiko drums), Steven James (guitar), Marzia Rangel (bass, violoncello) and Geoff Bruce (drums).
http://mercyground.com/
/
http://www.myspace.com/faithandthemuse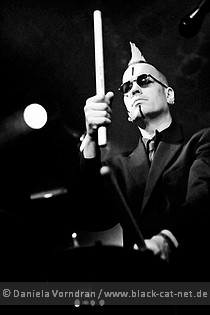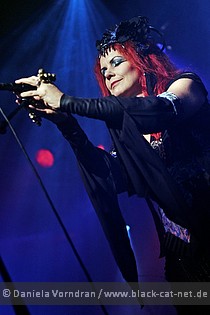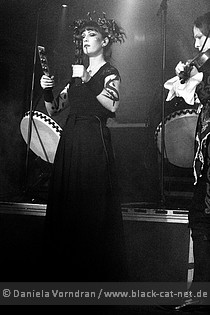 Music & Performance
A FAITH AND THE MUSE show is truly something special to watch and the last time I attended their show in Belgium, actually my first time seeing them at all, I had a blast. This night they were performing in the scopes of the "Empire of Darkness" live edition and thus, the show did not take place before 10:30 PM. Well, actually it was 10:40 PM when chirping birds and floating water announced the beginning of the event to 'Harai' and a stage drenched in green / blue lights. The first band members, including William, took their positions to kick off the massive drum beats of 'Bushido', following immediately afterwards. It got calm again, the silence ripped apart mostly by Paul Mercer's viola. Monica appeared from the rear and soon it became apparent that 'She Waits By The Well' would be the first vocal track with her voice soaring on ethereal waves of menace and melancholy to take a ride on the storm winds of destiny with the multi-faced drums joining in the roundel.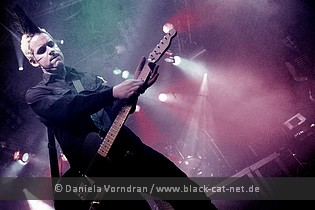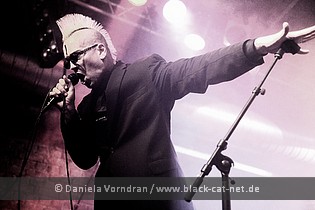 For the next moments and before the next song we got served a virtuoso performance of Paul Mercer on viola, drawing awe-inspired looks from an audience that wouldn't have the chance to stand still within the next minutes, since it was time for the 'Battle Hymn' to strike the hour for a sonic hurricane. It was figuratively enacting an army going straight into battle, a machinery fuelled by chaos with Monica Richards as ordering element; a machinery that made everyone dance instantly and deservedly met with applause. Straight-up Goth rock was coming our way with 'Blessed' before the oppressing 'Scars Flown Proud' saw the entire ensemble on stage getting into blusterous action as did their crowd. You couldn't really decide where to fix your eyes on stage. The only non-FAITH AND THE MUSE song of the set showcased with 'Into My Own', a track from Richard's solo effort 'InfraWarrior', building towards distorted rock regions with an undercurrent of the lurking unknown.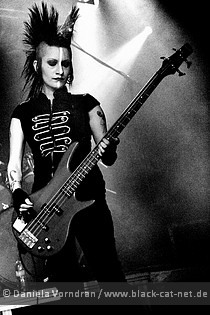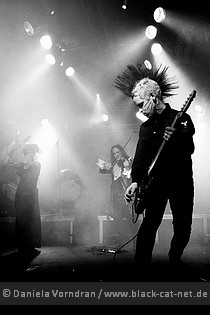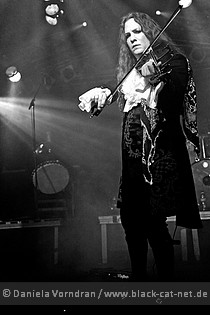 For 'Trauma Coil', William was taking over the vocals to deliver a performance, calling upon rage and moreover anguish that didn't fail to leave the crowd at their most impressed due to its intensity. 'Vervain' took each and everyone in the tube into a different time with an otherworldly air, a mesmerizing tune that just made you watch or move very slowly to the folk-steeped piece. The traditional ballad 'The Unquiet Grave' followed right in its footsteps. Last song of the set 'Sovereign' was dedicated by William to old friends of his in Bochum having been his home for a long time and by that got an even more personal character. Already when announcing it as the last song, the crowd didn't want it to stop and loudly demanded an encore, given to them with one more song 'Sredni Vashtar'. Once more, FAITH AND THE MUSE impressed by bringing an artful show to a dedicated audience and underpinned their exceptional standing within the scene for me.
Rating
Music: 9
Performance: 10
Sound: 8
Light: 8
Total: 9 / 10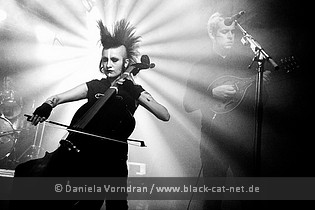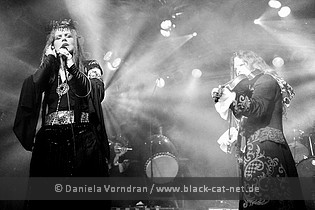 All pictures by Daniela Vorndran (
http://www.vorndranphotography.com/
/
http://www.black-cat-net.de/
/
www.myspace.com/vorndranphotography
)
{jos_sb_discuss:17}
See also (all categories):