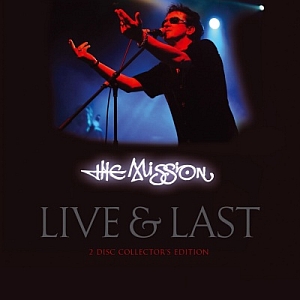 Title: Live & Last
Artist: The Mission
Genre: Goth Rock
Release Date: 6th March 2009
Label: Plastic Hd
Album Review

With the dawn of 1st March 2008 also the last day of THE MISSION's Farewell spectacle at Shepherd Bush Empire in London broke and the 'Life & Last' captures the last set played on this special night,
It is starting off with the faster and vivid tune 'Like a Hurricane' (A NEIL YOUNG cover btw) and goes on with h a song that also comes right after this on 'The First Chapter', 'Over The Hills and Far Away'. With 'Dance on Glass' we're going for a little calmer stuff, sustained riffs and fine acoustic parts. 'Stay with me' of course is a fan-favourite and as such it is being sung extensively by the crowd even before Wayne started to sing his first words. With 'Dream on' comes another cover, this time by AEROSMITH. But cover or not I absolutely love this song and especially the chorus. Particularly in this live version it's an experience. Wayne and the crowd "Sing with me, sing for the year, Sing for the laughter, sing for the tear, Sing with me, if it's just for today. Maybe tomorrow, the good lord will take you away."
'Wake' initially sends us on a very spherical journey with combined acoustic and piano melodies and strongly melancholic chant. The song gains momentum as the rock guitars and full drum power come in. Concluding the first disc is an epic 'Tower of Strength' whose female chorals cause a buzz in the audience and it's celebrated by them like no other song before was. The second CD starts with an interview Janice Long, a long-time friend of the band, did with Wayne Hussey and the listener is getting some information about Wayne's life in Brazil and his wife amongst other things. As in the DVD set 'The Final Chapter' this collection features a couple of tracks (different ones) from the concert in Cologne on 24th February 2008.
Also 'Live & Last' is an item die-hard fans of THE MISSION will add to their collection and it's also a good alternative for those not wanting to buy the DVD set for whatever reason as it also conserves the live experience very well in decent audio quality.
Tracklist

CD 1
01. Like A Hurricane – 4:34
02. Over the Hills and Far Away – 4:07
03. Bridges Burning – 4:00
04. Dance on Glass – 5:27
05. Stay with Me – 4:49
06. Island in a Stream – 5:15
07. Love Me to Death – 6:26
08. Dream on – 4:35
09. Fabienne – 3:20
10. Severina – 3:47
11. Wake (rsv) – 5:13
12. Forevermore – 6:06
13. 1969 – 1:57
14. Shelter from the Storm – 7:01
15. Tower Of Strength – 10:04
CD 2
1. Interview – 20:01
2. Butterfly on a Wheel – 6:19
3. Naked and Savage – 4:43
4. Hungry as the Hunter – 4:53
5. Serpents Kiss – 3:48
Line-up

Wayne Hussey - Vocals, Guitar
Mark Thwaite - Guitar
Richard Vemon - Bass
Steve Spring - Drums
Website

http://www.themissionuk.com/
/
http://www.myspace.com/themissionuk
Cover Picture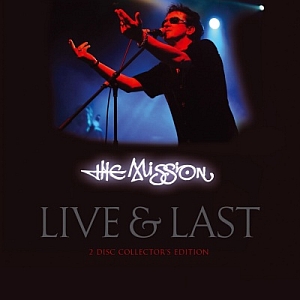 Rating

Music: 8
Sound: 8
Extras: 8
Total: 8 / 10