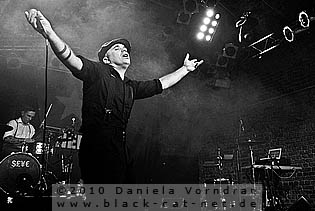 Matrix, Bochum, Germany
24th February 2010
Nitzer Ebb & Psyche

While on tour with DEPECHE MODE, Douglas McCarthy, Bon Harris and Jason Payne aka NITZER EBB also played a couple of headliner shows between the dates with their ex-label mates. The Matrix Bochum was one of these stops.
6:30 p.m. in Bochum, backstage at the Matrix. Douglas McCarthy sits in a corner with his laptop being busy posting on Facebook. In another corner, Jason Payne enjoys a meal, while Bon Harris takes care of his inflamed and swollen eye by placing a tea-bag on it. Darrin Huss, head of tonight's support act PSYCHE, checks his wardrobe and welcomes a few old friends while tour manager Peddy Sadighi is busy making negotiations on the phone. All is quiet at NITZER EBB's backstage room, but it's just the silence before the storm…
Psyche

PSYCHE is founding member, lead singer and mastermind Darrin Huss with additional live members on keyboards and guitar. On their MySpace site, PSYCHE say about them "sounds like… the coolest electronic pop band there ever was..."! Well, everyone should decide for him/herself if PSYCHE is really that, to me Darrin Huss' output under the PSYCHE moniker has always been rather emotional and sensitive, not cool, at least not in the more literal sense of the word. The veteran act PSYCHE started in 1982 in Edmonton, Canada, when brothers Darrin and Stephen Huss started to experiment with synths and electronics. Ironically it wasn't North America but rather Europe where PSYCHE made their breakthrough with their second album 'Unveiling the Secret'. After the rather experimental approach of the early recordings, which were significantly influenced by horror movies, PSYCHE found their identity at last with this album.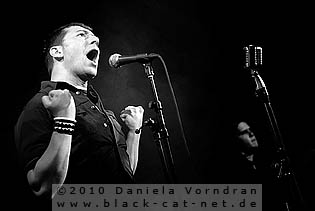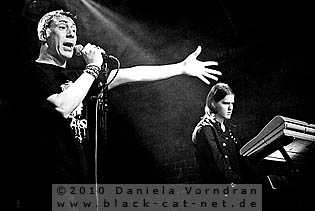 Synth Pop from the underground with a touch of Gothic romance is PSYCHE's style, with Darrin Huss' voice being the recognizable key element. Huss' singing style is frequently compared to the one of Marc Almond; I would bet good money on it that the former SOFT CELL singer is on of Huss' musical heroes anyway. The 90s saw a number of various keyboarders at the side of Darrin Huss as his brother Stephen cut down making music for personal reasons. For PSYCHE this decade was full of ups and downs but while Darrin Huss persuades various side projects he continuously released records under the name PSYCHE as well. The compilation 'Until the Shadows' is the latest release and hit the shops via Metropolis Records in July 2009.
http://www.psyche-hq.de/
/
http://www.myspace.com/psyche
Music & Performance

The Matrix was still rather empty when PSYCHE aka Darrin Huss and his keyboarder hit the stage. They started their 45-minute set with 'The Beyond', followed by 'Gods and Monsters', one of PSYCHE's more recent club hits. Huss has over 25 years of experience as a performer and this was shown. He is as much down-to-earth and unpretentious as he's a true professional, as well, who delivers stunning vocals. And he clearly loves what he's doing on stage so that the emotions of PSYCHE's eerie Electro Pop translate well onto the audience.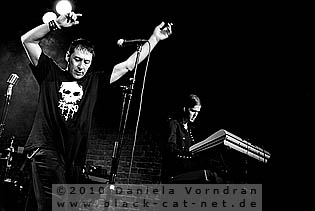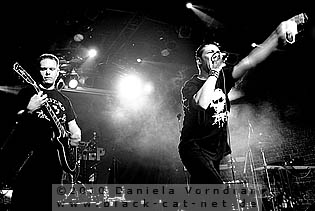 PSYCHE's music might be a bit too poppy for some NITZER fans but Huss quite obviously drew some fans of his own to this support gig. For a couple of songs, Huss and his live keyboarder were joined by an new man at guitar, and the PSYCHE classic 'Eternal' got a nice piano-only treatment. PSYCHE is also notorious for great cover versions, and the Bochum audience got the inevitable but still good-sounding 'Goodbye Horses' and JOY DIVISION's 'Disorder'. But PSYCHE has enough good songs of their own and hence finished their set with their classics 'Unveiling the Secret' and 'The Hiding Place'. A very nice gig of a criminally underrated band!
Setlist

01. The Beyond
02. Gods and Monsters
03. 15 Minutes
04. Eternal (piano)
05. Sanctuary
06. Disorder
07. Goodbye Horses
08. Unveiling the Secret
09. The Hiding Place
Rating

Music: 8
Performance: 8
Sound: 8
Light: 6
Total: 7.7 / 10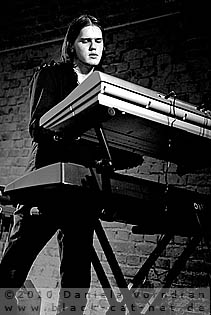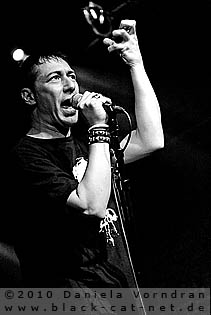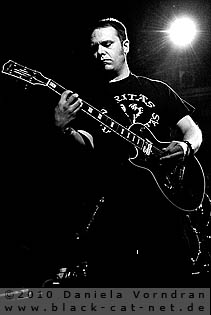 Nitzer Ebb

Douglas McCarthy (vocals), Bon Harris (programming, percussion) and Jason Payne (drums) are NITZER EBB! There's not much to say about the legendary NITZER EBB, unless you've been living under the rock for the last few years. 2010 is truly NITZER EBB's year; they did not only release their first album in 15 years but also went on tour with their ex-label mates DEPECHE MODE in January and February. Their new album 'Industrial Complex' went top 100 in Germany and even top 40 in Sweden, and the excellent output proves that NITZER EBB is so much more than just EBM. From driving up-tempo dance tracks to electronic Rock to synth-driven Blues and back! And hell yes, there's even a ballad! 'Industrial Complex' shows the broad range of styles of the band, and yet it feels 100% NITZER EBB in every moment.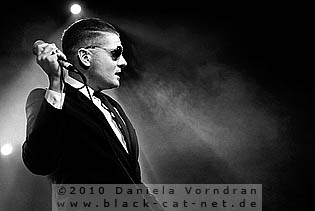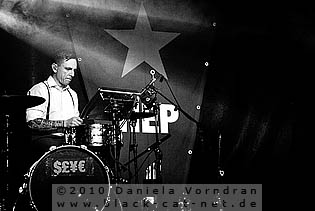 The show in Bochum was originally scheduled for the FZW in nearby Dortmund but was relocated to the well-known Matrix club. Official sources gave no reason for this relocation but it has to be suspected that ticket pre-sales play a role here. In the end aprox 300 people turned up to see the band in Bochum, usually NITZER EBB draw bigger audiences to their shows in this part of Germany. But only two days later and about 50 kilometres south of Bochum, NITZER EBB were to play two nights with DEPECHE MODE at the massive Esprit Arena in Düsseldorf. This meant 50,000 people per show, mind you! So those who turned up at the Matrix were those who didn't have tix for the DM shows, or those who are fan enough to see NITZER EBB more than once within just three or four days.
http://www.nitzer-ebb.com/
/
http://www.myspace.com/nitzerebbmusic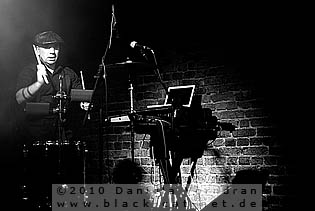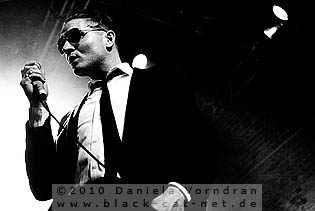 Music & Performance

It turned out to be a good thing that the show at the Matrix was not sold out at all. The place was well-filled but locals know that this club, which is like a long narrow tube, can be a pain in the neck when too crowded. People from this area still remember a gig by COVENANT some years ago, which was so busy that people in the back couldn't see a thing and even had to stay at the bar in the foyer. Add bad acoustics to it, and the nightmare is perfect. This Wednesday night was much better than that, no problem to go to the front at all and quite a few folks exploited the fact that there was an additional bar only five meters from the stage. And in the end NITZER EBB's gig was all about beats, beer, sweaty bodies and good old fun. After a short intro the three protagonists entered the small stage and started with 'Promises', which is also the opener of their new album, a great, straight-forward song which admittedly wears off a little after a while in its studio version but which is still a great live song.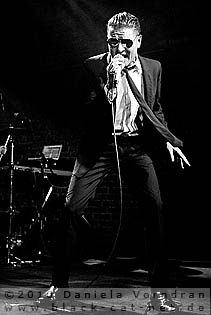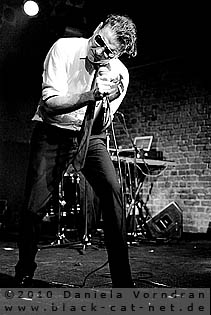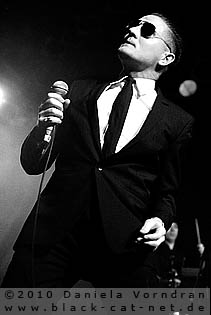 NITZER EBB showed no mercy and hammered a series of classics into the round - 'Let Your Body Learn' created a cute little mosh pit, sustained by 'Shame' and 'Hearts & Minds'. It didn't show at all that sickness had just made its round through the band's entourage - Bon Harris even had to go to the hospital the next day - and NITZER EBB performed with their usual energy. It was great to see that the 'Industrial Complex' songs received a warm welcome as well, and especially 'Once You Say' has become a live anthem already. Biggest surprise of the night was 'Warsaw Ghetto', a NE classic from 1985 that hasn't been played live since 1990! Needless to say that this smasher heated things up a little more, and the three clever lads on stage added fuel to the fire with more up-tempo live killers like 'Murderous' or, as the grand finale, 'Join in the Chant'.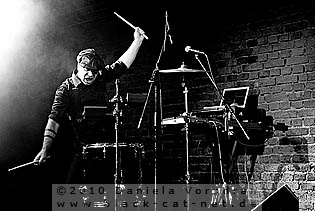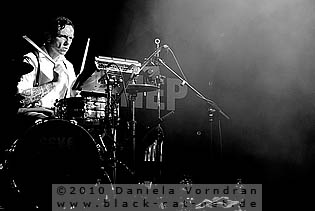 By this time the concert had everything you'd expect from an intense NITZER EBB live experience - girls in the front row jumping up and down, big boys with sweaty naked chests dancing behind them, spilled beer, and a reviewer falling over in the mosh pit with his buddy on his back and a big grin on his face. Well done everyone; can't wait for the next time!
Setlist

01. Intro
02. Promises
03. Let your body learn
04. Shame
05. Hearts and minds
06. Once you say
07. Lightning man
08. For Fun
09. Hit you back
10. Blood Money
11. Payroll
12. Godhead
13. I am undone
14. Warsaw ghetto
15. Down on your knees
16. Murderous
17. Control I'm here
18. Join in the chant
---
19. Getting closer
20. I give to you
Rating

Music: 10
Performance: 9
Sound: 8
Light: 7
Total: 9 / 10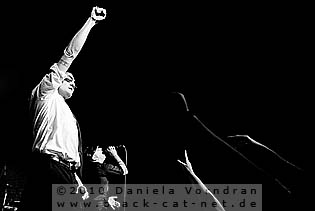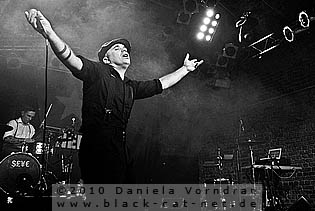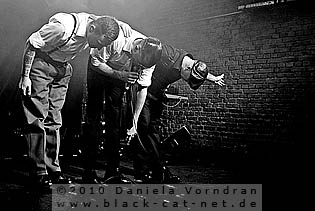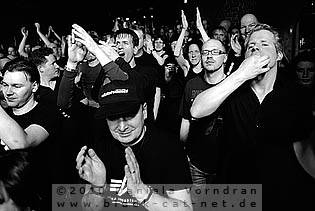 All pictures by Daniela Vorndran (
http://www.vorndranphotography.com/
/
http://www.black-cat-net.de/
/
www.myspace.com/vorndranphotography
)
{jos_sb_discuss:17}