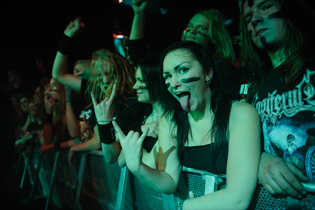 Nosturi, Helsinki, Finland
7th December 2013
Turisas & Ensiferum

Finnish Battle Metal heads TURISAS released their fourth album 'Turisas2013' in this year's summer. Of course, the release is followed by a tour, leading them to their home country in December where they played in Helsinki on December 7th, supported by ENSIFERUM, who also had a home play in Finland.



Ensiferum

The name of this Finnish battle metal band is translated as "a sword bearer". They sing in English and the lyrics has mainly of heroic thematic. The band is known rather widely, is a solid part of local metal scene and has little problem to be booked solid both in Finland and abroad, including not only EU states but also US. http://www.ensiferum.com/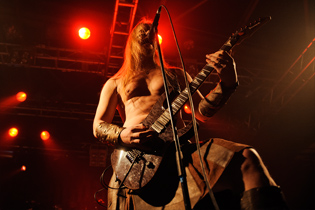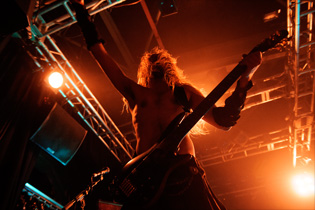 Music & Performance
Traditionally, ENSIFERUM members play topless (they have only male members), apparently, to signify some warrior-ness, but lack of some pronounced bodybuilding effort do not make that look too spectacular. Two posters with abstract heroic illustrations were, as always, installed on stage and band usually wears black stripes on their faces. Traditionally, the bass player Sami Hinkka took most of action upon himself, the second most energetic person being Petri Lindross, the singer. The gig was played solidly. The surprise act happened at the end of the gig, when all band members put on oversized sombreros and hit the crowd with a metal version of a classic Bamboleo song.

Setlist
01. Into Battle
02. In My Sword I Trust
03. Windrider
04. Unsung Heroes
05. Burning Leaves
06. From Afar
07. Treacherous Gods
08. Twilight Tavern
09. Ahti
10. Tumman virran taa
11. The Longest Journey (Heathen Throne, Part II)
12. The Longest Journey Outro
---
13. Wanderer
14. Bamboleo (Gipsy Kings cover)

Rating
Music: 7
Performance: 7
Sound: 8
Light: 6
Total: 7 / 10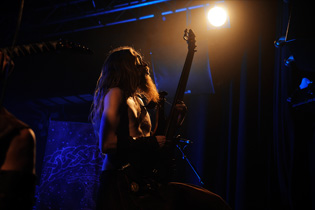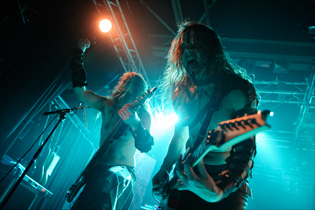 Turisas

Another archetypical example of Finnish battle metal (the term itself was coined as the title of first TURISAS record) was the primary cause of the fact that the gig was sold out. TURISAS plays in "bloody" fur armour with faces painted in black-red warrior stripes. The classical TURISAS heyday was in 2004-2007, before copious changes in line up. Presently only two members remain from the time when the band produced their hit songs. http://www.turisas.com/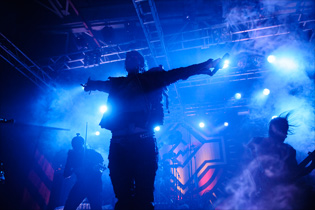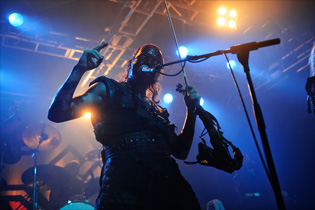 Music & Performance
It is rather difficult to express my not so excited feelings, because TURISAS is a great band, but I like less what the band does in last two years. They changed "Viking-style" artwork to abstract black-red geometric design; in the same time, the music became more monotonic as if complexity and melodic were subdued together with artwork changes. Maybe band decided not to exploit some "guaranteed hit" approaches and try something different, but for me new material do not trigger the feelings from their original 'Battle Metal' and 'To Holmgard and Beyond'.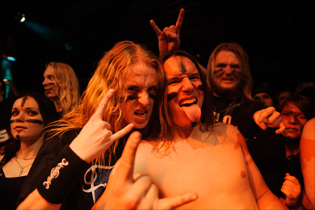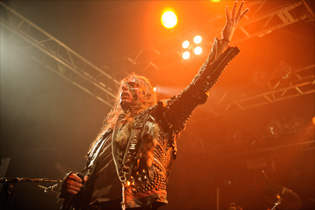 Both bands made fans crazy, circular pit happened for most part of the show, making it really scary to pass by in the crowd. Everything was there: extremely adorable Matias Nygard, powerful music, but it was still missing something important, some key ingredient. For me, probably it's time to pass on year or two of TURISAS gigs. Let the teenagers of today enjoy it and remember it by current material.

Setlist
01. Ten More Miles
02. Take the Day!
03. To Holmgard and Beyond
04. For Your Own Good
05. Rex Regi Rebellis
06. Greek Fire
07. Battle Metal
08. No Good Story Ever Starts With Drinking Tea
09. We Ride Together
---
10. Stand Up and Fight
11. Täällä Pohjantähden alla

Rating
Music: 6
Performance: 7
Sound: 8
Light: 6
Total: 6.8 / 10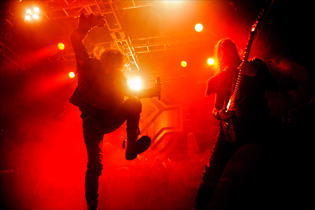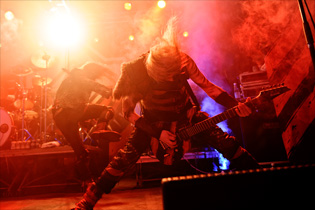 All Photos by Askar Ibragimov