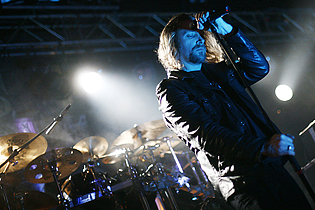 Live Music Hall, Cologne, Germany
22nd February 2010
Paradise Lost, Samael
Sadly, the initial show of PARADISE LOST planned to take place in Dortmund had to be cancelled for known reasons. But finally the date of the re-scheduled show had arrived and I was very excited travelling to Cologne this time. I was expecting nothing less than a blast.
Samael
From Black Metal to synth-driven Industrial Metal to symphonic Rock back to Black Metal. It's hard to describe SAMAEL's musical evolution, and that short sentence probably doesn't do the band justice but might give an idea. SAMAEL, starting out as a Death & Black Metal group in 1987, are surely one of they key innovators of the scene. They released their first album, 'Worship Him', in 1991 followed by 'Blood Ritual' one year later. The lyrics were often about Satanism, Alistair Crowley, Cthulu and occult themes in general. Exactly what you would expect from your favourite Black Metal band!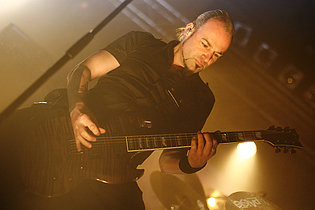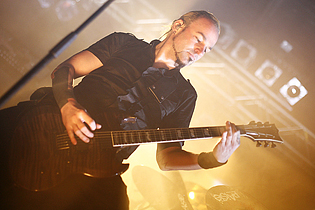 The mid-nineties saw a rapid evolution of SAMAEL's sound which - similar to PARADISE LOST's career - divided the fan base in two camps. Those who moan the good old days of the first few albums, and those who embraced the new, much more electronic and much more varied sound since the album 'Passage'. The öates album of the band is called 'Solar Soul'. SAMAEL is Vorphalack (vocals, guitar), Makro (guitar), Masmiseîm (bass) and Xytraguptor (drums, keys, programming).
http://www.samael.info/
/
http://www.myspace.com/samael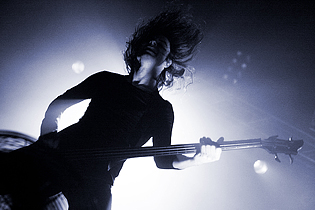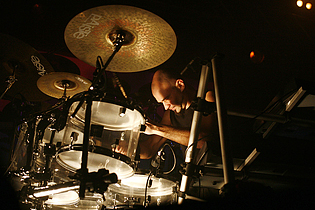 Music & Performance
I had horrible memories of the first SAMAEL performance I've attended at a M'era Luna festival and my expectations were accordingly. Yet a lot of it depended on the environment I had to admit while the show was rolling forward from the impressive introduction with the drum aerobics of Xytraguptor though the brutal ambush of 'Rain', onward to the melodic depth of 'Solar Soul'. It's been plain to see everyone of the band was completely in their element, which particularly goes for mastermind Vorphalack. He drove his voice through the abysms of darkness with a passion that's rare to find, and also he never tired of punishing the audience as well. That, on the other hand, was finally rewarded with huge applause after the highly atmospheric tune 'Infra Galaxia'.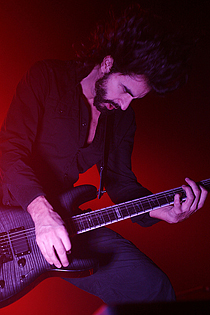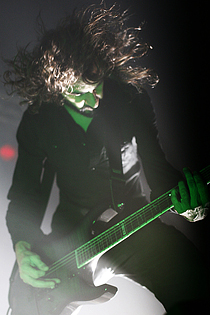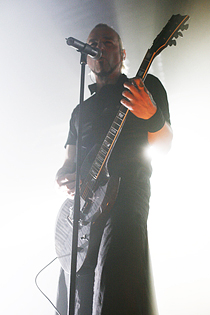 With 'Into the Pentagram', the band made a journey to their roots and a disturbing, sinister inferno of sounds before the 'Symphony of Opposites' was celebrated to end a show that definitely was better than the first one I've seen and to a certain extend I can even cope with the music now. I'd only wish for a less booming and overdriven sound from the mixing desk next time.
Setlist
01. Intro
02. Rain
03. Solar Soul
04. Reign of Light
05. Infra Galaxia
06. Year Zero
07. Western Ground
08. Black Hole
09. Slavocracy
10. Into the Pentagram
11. Ceremony of Opposites
Rating
Music: 6
Performance: 7
Sound: 6
Light: 6
Total: 6.3 / 10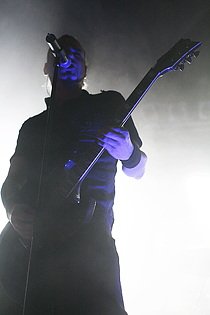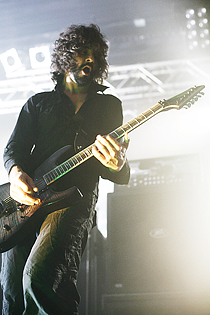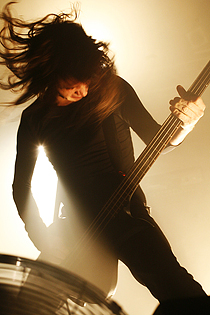 Paradise Lost
No one would have thought at that time when a couple of friends formed a band called PARADISE LOST, that it would be the birth of what would one day become one of the most influential in their area and the founder of a complete new genre. But first things first. As the first songs, amongst others, included on the legendary 'Frozen Illusions' demo were more Death Metal with some Doom influences than anything else, a style they also celebrated on the debut 'Lost Paradise'(1990). The following 'Gothic' then was the album eternalizing their name in the annals of musical history as the inventors of 'Gothic Metal' However, the Death Metal influences on the album still were quite strong. They significantly decreased though, starting with 'Shades of God', especially Nick Holmes' chant made through a remarkable change.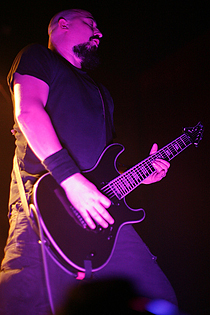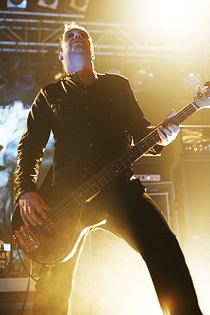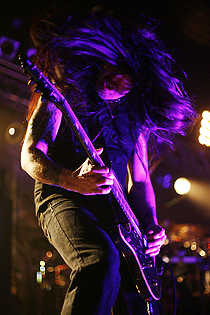 The preliminary peak of their popularity was reached around 1995 with the release of 'Draconian Times'. From there on the style changed with almost every new album and more and more electronic elements found their way into the sound of PARADISE LOST, much to the discontent of the old fans, and culminated in the still controversial 'Host' album. Fast forward to 2009. The band releases 'Faith Divides us - Death Unites Us' and gets celebrated just like in the old times. It unites influences from every chapter of the band's history and therefore is their most mature work to date. PARADISE LOST are Nick Holmes (vocals), Greg Mackintosh (lead guitar), Aaron Aedy (rhythm guitar), Steve Edmonson (bass) and Adrian Erlandsson (drums).
http://www.paradiselost.co.uk/
/
http://www.myspace.com/paradiselostuk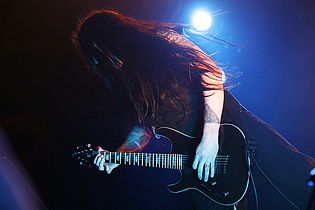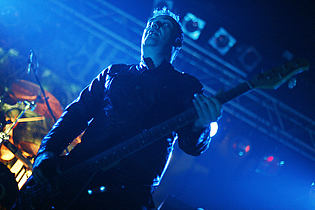 Music & Performance
SAMAEL was only the warm-up for what really had make me come to Cologne in the first place. With Greg Mackintosh back on board it would become a splendid concert experience, I was pretty sure of that. A majestic intro then finally announced the band's coming and already with the set opener 'The Rise of Denial' you saw how keen Greg was on playing live again, and that there's still lots of pressure to release. At times he rocked like a mad man let loose. Was so great to watch. But he would even go on to increase the intensity during the following 'Pity The Sadness', one of their classics. Also the other ones didn't want to stand behind, but while Steve delivered a rather restrained performance in my opinion, Aaron came up with the exact opposite and always looked like being in a complete, all-encompassing state of trance.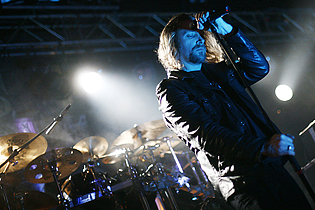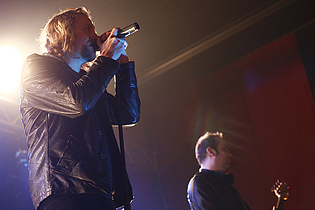 Nick also was in an extremely good mood by his standards and called for participation already short after they've entered the stage, while joking with the audience between the songs in his typical dry sense of humour. 'Erased' as the third one in line, proved to be one of the crowd's favourite and enthusiasm sounded out of every corner, once the opening piano sounds became audible. But it was even better in my opinion with 'I Remain', one of my personal highlights on the current album. Nick's performance here was bursting with intensity and made it a very special few minutes of this concert.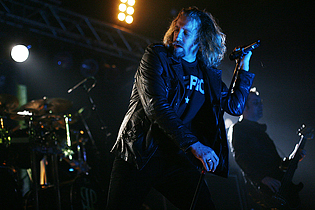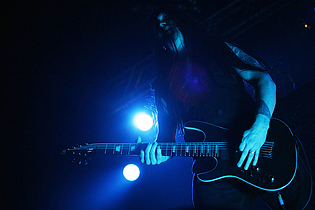 Another classic came up with 'As I Die' before the roaring guitars and powerful rhythms of 'The Enemy' cut across the air. Hell, I could go on like this forever and count down even more great moments of the show with 'Frailty' or the immensely poignant 'No Celebration'. That show also was a celebration, a celebration that was ended with a furious encore giving the audience the rest before everyone headed back home happy.
Setlist
01. The Rise Of Denial
02. Pity The Sadness
03. Erased
04. I Remain
05. As I Die
06. The Enemy
07. Eternal
08. First Light
09. Enchantment
10. Frailty
11. No Celebration
12. One Second
13. Requiem
----
14. Faith Divides Us - Death Unites Us
15. Say Just Words
16. The Last Time
Rating
Music: 9
Performance: 8
Sound: 7
Light: 7
Total: 8.1 / 10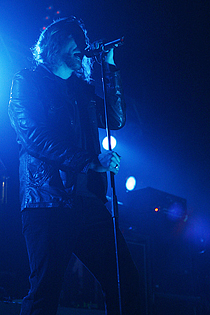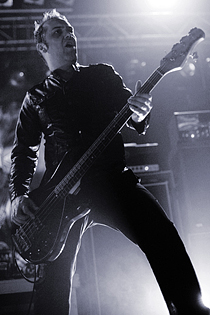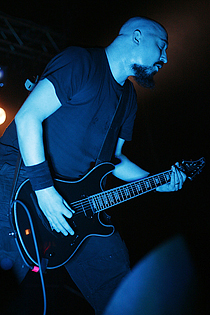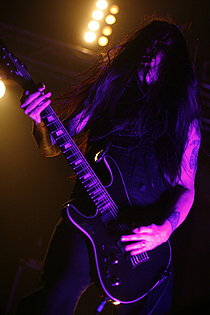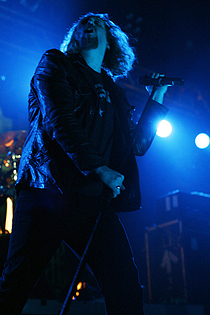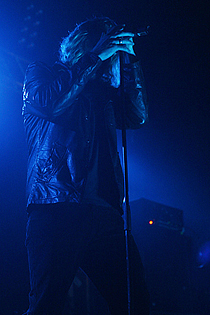 All pictures by Dajana Winkel (
http://www.nocturnalhall.com/
)
{jos_sb_discuss:17}