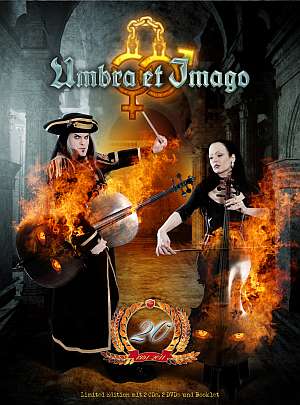 Artist: Umbra Et Imago
Title: 20 (2DVD + 2CD - Limited Edition DigiPack)
Genre: Gothic Rock / Darkwave / Neue Deutsche Harte
Release Date: 25th November 2011
Label: Oblivion / SPV GmbH



Album Review

'20' is not only a "best of" of UMBRA ET IMAGO that spreads over the 20 years of their career, at least in the Limited Edition, but much more. It includes not only the live show in Karlsruhe (30th July 2011) but also the acoustic versions of songs, some of them never performed live plus the rock version of newer songs and two brand new studio ones.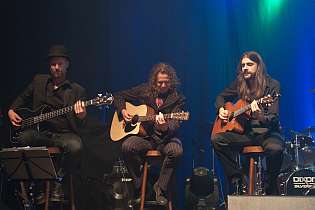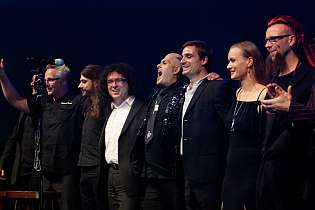 After 20 years some conclusions can be drawn with some certainty. First of all, the band, inspired by Freud, started its own polemics against the modern society that promotes the sexual fantasies in order fiercely to refute them. On that front UMBRA ET IMAGO renounced the asexuality of contemporary music, a stance inspired by, and reflecting, an almost burlesque Dadaistic nihilism and early Surrealism (especially the one that can be found within the work frame of G. Apollinaire and P. Lloys). The band armed with a peculiar sense of humour and a fin du siècle aesthetics and thematology in order to launch its own counterattack. This stance holds something from Romanticism in their belief things can change through music. What is questionable though is Mozart's thought about subculture; "Only the sub-culture creates culture, the way it's always been and will be…" His mistake on the exclusiveness of the subculture, its essence as a quintessential primum movens of culture has leaded the band into some exhibitions of provocation for the sake of provocation.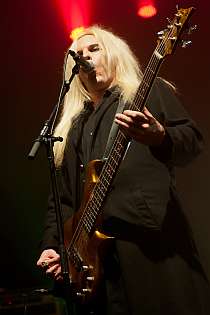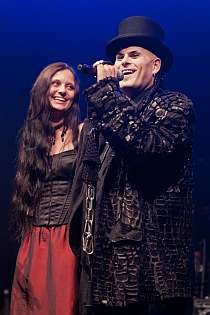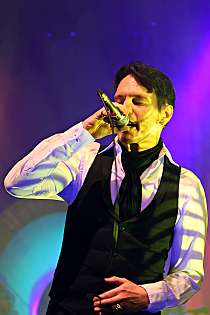 As far it goes for the songs included here, 'Herzblut' and 'Agnos' are the new studio tracks. 'Herzblut' is closer to Gothic Metal as seen through the eyes of UMBRA ET IMAGO, which means that is not only a danceable song but also a potential hit in the alternative billboard despite its slow tempo. Faster and more uplifting is 'Agnos' that moves in the same music direction as the previous one but also has a manic aspect. The acoustic set can be a reason in itself to buy this release. Partly due to Le Roy's superb vocals or the use of violin and cello in the songs, the melancholy, the lyricism and the theatricality of the band are highlighted. Munz and of course UMBRA ET IMAGO have created a splendid atmosphere with songs like 'Erotica', 'Vanser' or even 'Winterage' that show the multifaceted talents of the band. The Rock set is strong as well and quite twisted (!), something that can be felt in the cover of the 'House Of The Rising Sun' in which you have the feeling akin to the band being somehow closer for its interpretation as a prison or a slave plantation rather as a brothel. Another exceptional song here is 'Gebet Nr.1' that shows that UMBRA ET IMAGO have no problem whatsoever to swirl among Gothic Rock, Darkwave and N.D.H.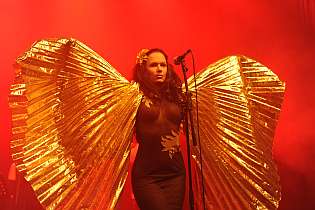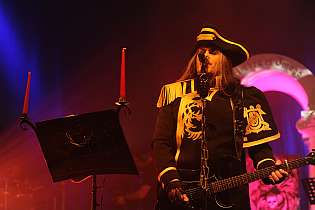 Though this review is focussed mainly to the CDs that are included in this release, it is certain that UMBRA ET IMAGO will not disappoint their fans but also that they are ready to expand into a broader fan base thanks to the perfectionism and the artistic integrity of Mozart who once again manages to excel himself. A highly recommended release!


Tracklist
DVD1 (Acoustic Set)
01. Märchenlied
02. Jahr Und Tag
03. Kleine Schwester
04. Mein Herz Und Meine Seele
05. You Are Poison For Me
06. Erotica
07. Der Freie Geist
08. Vater
09. Ein Letztes Mal
10. Wintertage

DVD2 (Rock Set)
01. Intro
02. Liebeslied
03. Perfect Baby
04. House Of The Rising Sun
05. Gebet Nr. 1
06. Ignoranz
07. Goth Music
08. Davon Geht Die Welt Nicht Unter
09. Ode An Die Musik
10. Final Last Dream
11. Ohne dich
12. Sonntagsandacht
13. Alles schwarz
14. Amadeus
15. Depressionen

CD1
1. Herzblut
2. Davon Geht Die Welt Nicht Unter
3. Agnos

CD2 (live)
Acoustic Set:
01. Märchenlied
02. You Are Poison For Me
03. Erotica
04. Vater
05. Ein Letztes Mal
06. Wintertage
Rock Set:
07. Liebeslied
08. Perfect Baby
09. House Of The Rising Sun
10. Gebet Nr. 1
11. Ignoranz
12. Goth Music
13. Ode An Die Musik

Line-up (current)

Manuel Munz (a.k.a Mozart) - Vocals
Sascha Dannenberger - Guitar
Freddy Stürze - Guitar
Madeleine Le Roy – Vocals


Websites

http://www.umbraetimago.de/ / https://www.facebook.com/umbraetimago.official


Cover Picture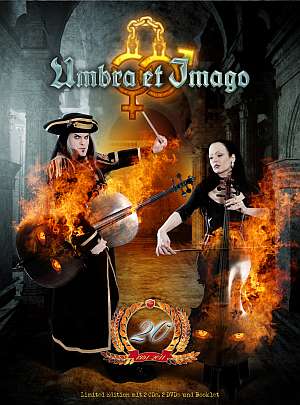 Rating

Music: 9
Sound: 10
DVD: 8
Total: 9 / 10

Used pictures are DVD-Previews