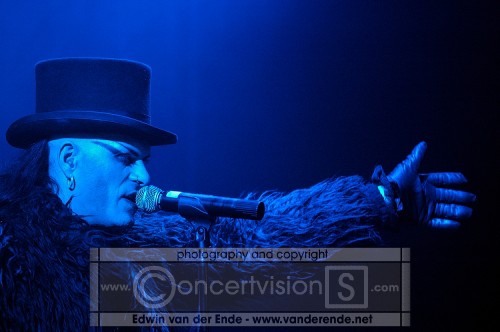 Festhalle, Karlsruhe, Germany
May 1st 2005
Umbra et Imago
After a long day in a very warm car we arrived at the Festhallen in Kahrslruhe. Umbra et Imago fans had gathered in an even warmer venue to see their favourite band. The hall seemed a bit big for the amount of people visiting this concert but there was a nice calm and friendly atmosphere. The ladies from the merchandise stand hardly got a rest for everybody was looking at and buying the t-shirts, bags, necklaces and albums of Umbra et Imago.

This concert was a special performance because it was the last club concert Umbra et Imago will give before they will take a long break. The only other performances they will give are shows at the Wave Gottik Treffen in Leipzig on Sunday the 15th of May and at the Benzin und Rock festival on the 16th of May. Both band and audience seemed to have been looking forward to this show. When the show was about to start all people in the hall came to the stage and awaited their favourite band with anticipation.
Music
Umbra seemed to have agreed to give their all for this (almost) last performance, all sounded great and full of conviction. Lutz proved to be a great singer again when he sung his part of 'Hörst du mein rufen'. Nanne (vocals, stage act) sung along with several songs but unfortunately it was hardly audible. Umbra sounds heavy at times while in other songs a more delicate sound is being used to achieve just the right mood to bring across their message. The words and intonations of Mozart's (vocals) singing were emphasized by his theatrical performance. The sound of the snare drum was echoing around the building, this was due to the fact that this hall was huge and probably not really build for concerts like this but probably more for acoustic performances or plays.

Performance
The intro sounded, the stage was dark all you could see was a lit logo of Umbra et Imago on the black back drop, and dark outlines of instruments and the construction of Nanne and Miri (stage act). Tension rose and then the moment we had all been waiting for arrived. The band came on stage and with their song 'Dunkele Energie' Mozart' (vocals) immediately got the entire audience screaming while asking us to give him 'energie, meeeehhhhhr energie'. It was en energetic start to the show. Then 'Märchenlied' set in, it was great to see the sweet and tender interaction between Nanne and Mozart, ending with a small kiss while singing to each other 'ich liebe dich' (I love you). 'Sweet Gwendoline' was the wake up call for the fetish lovers in this audience. Miri was tied up in their BDSM-frame with black ropes and then swung back and forth by Nanne, nice change to the swings on the playground? This was not their only act of course, besides the candle wax and sparkles they had a new addition to their performance this evening. All rapped up in microwave foil Miri followed Nanne on stage. Nanne with a dangerous look in her eyes licked her knife and then cut off the microwave foil. Sometimes Mozart wanted a piece of action too but Nanne made clear that Miri was hers by kicking Mozart off their little platform and she wasn't gentle. During 'Schlag Mich' Mozart got his fair deal in ass whipping. Besides all this hardness there were also gentle sweet kisses exchanged between Miri van Nanne, together they sat on a monitor speaker at the front of the stage and kissed. Miri almost fell off but many helping hands from the audience eagerly came to her rescue. With the wise life lesson, each day can be your last, Mozart announced 'Ein Letztes Mahl'. The audience had to be loosened up a bit; luckily Mozart is just the person to do so. During 'Mea Culpa' he even jumped in to the audience and was then lifted up and walked around while sitting on someone's shoulders. On stage the band members have great fun amongst each other, when something goes wrong they just laugh about it, self-mockery is no problem either, when they came on for the second encore we were asked to give some applause for the old grandpa's. The concert went out with a bang. 'Amadeus ' (a cover of the Falco song) is always a party song, every body sung along. Even thought the laser beams were a nice extra effect the rest of the lights this evening were awful. There was a lot of smoke and the front light came from above and because of that, the band members were mostly hidden behind a wall of coloured smoke.
Set List
Intro
Dunkle Energie
Märchenlied
Egoismus
Sweet Gwendoline
Devotion
Lieber Gott
Memento Mori
Hörst du mein Rufen
Schlag Mich
Sagt Nein
Money
Stalker
Ein Letztes Mal
------------------------
Mea Culpa
Kleine Schwester
Amadeus
Rating
Music 8
Performance 8
Sound 5
Light 6
Total 8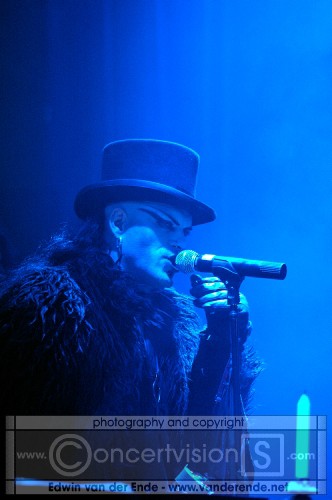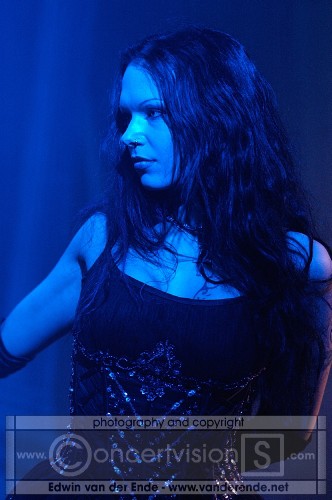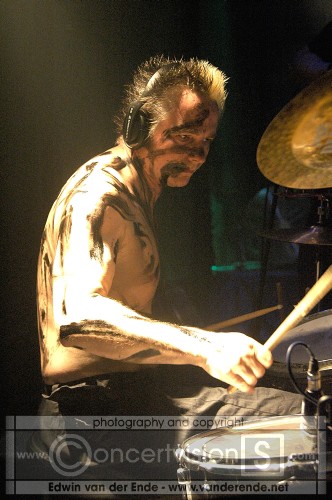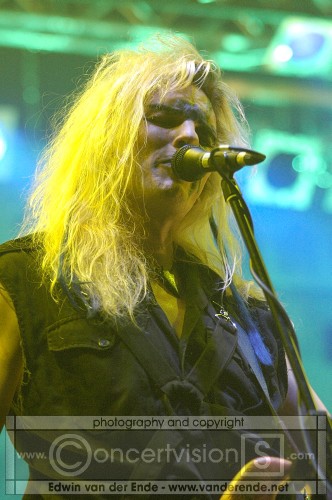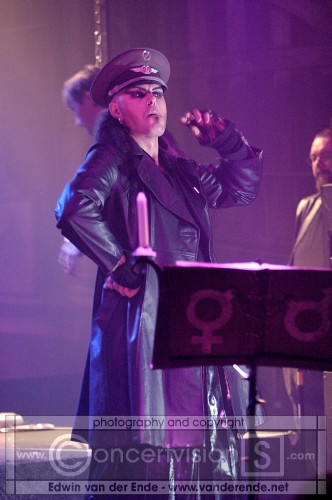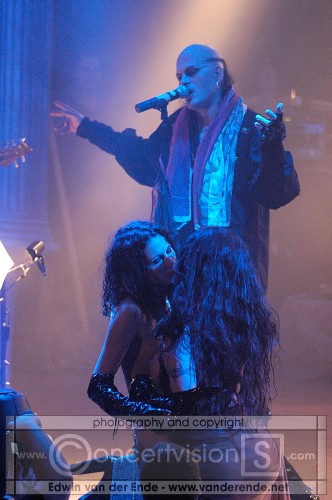 More articles about Umbra et Imago
More photos
See also (all categories):