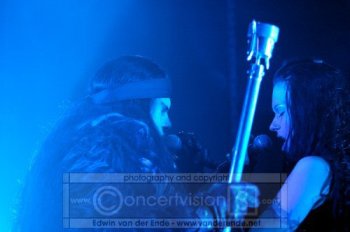 Zeche Carl, Essen (Germany)
January 16th 2005
Umbra et Imago, Thanateros and NFD

On a cold winters night in January three bands came together to give their all to the audience. Thanateros, NFD and Umbra et Imago played together in the Zeche Carl in Essen Germany and they rocked!!!

Thanataros started as a solo project by singer Ben Richter. He recorded a demo under the project name Thanateros. After receiving many positive reactions to this demo he decided to fully concentrate on this new project. Not long after these decisions he signed a contract with Andromeda records and then it became time for Thanateros to go public. Being joined by friends from former bands and other musicians Ben Richters project Thanateros began its journey as the band Thanateros at the beginning of 2001. And the story still continues.
Music
The first song was announced by a piece of fast folk like violin play, followed by metal guitars. The songs were sung in three different languages; German, English and Gaelic. When a song was sung in English the lyrics were very clear and every word could be heard.
There were influences of the Irish culture because even Tir Na Nog was mentioned.
The sound was good, every instrument and the voice of the singer came to justice.
Performance
Entering the stage with a huge sheepskin over his shoulders the singer of Thanateros seemed a bit to enthusiastic for a concert and indeed after the first song he took it off. Just like the singer the guitarists wore some sort of black skirt these were decorated with bronze circles on them with the sign of the band. These clothes fitted their sound and it gave them a Celtic appearance.
The lights were mostly warm colours, giving the show a warm and friendly appearance. There was also some smoke used but it wasn't disturbing it just gave the stage a little mist.
During their performance they really tried to make a connection with the audience. During some songs the audience was asked to clap along but there was little response. They wanted more but perhaps these expectations were too high for the first band of the evening.

Rating
Music 7
Performance 7
Sound 7
Light 7
Total 7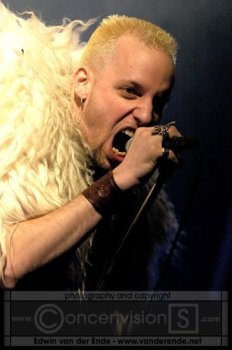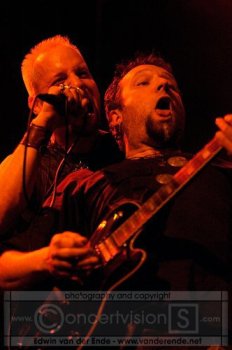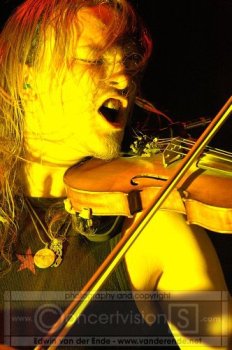 NFD
NFD was founded by Peter 'Bob' White, Simon Rippin and Tony Pettit. Simon and Tony met while playing alongside each other on huge festival tour of Europe in 2000. Bob White was then playing in the London based band Sensorium. NFD first started to develop its own sound while writing and recording demos. Tony contributed part-time but when his marathon Nephilim album sessions ended in 2002 he joined NFD full time and thus added his own mark to their music.
Music
You can hear that this band knows what it's doing, they use some heavy metal riffs and these sound great. They mix classic gothic rock with modern metal sounds. Underneath the metal riffs and the very emotional voice of Peter White NFD produces great dance beats which make it hard to stand still.
Performance
Peter White really seems to feel what he is singing. His face is full of agony while he spits out his lyrics. The guitarists seem more relaxed; one of them even had a cigarette behind his ear. Still they were one with their guitars; you could see they were really 'feeling' the music. There was little interaction between the band members.
The light was good, not to much flashing which made it comfortable to look at.
After a while I saw that everybody on stage loosened up, this made me wonder how it would be to see an entire show of NFD. I think being headliner will do them more justice.
Rating
Music 7
Performance 6
Sound 7
Light 7
Total 7 (6,7)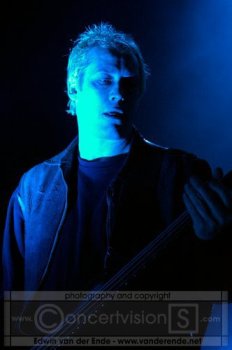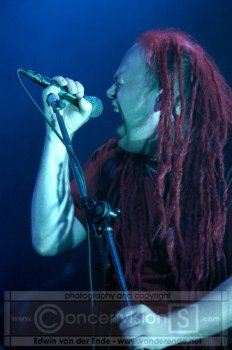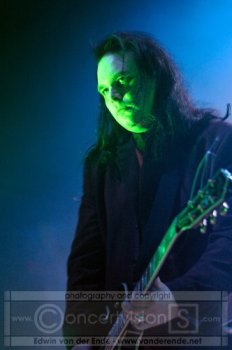 Umbra et Imago
Umbra et Imago was founded in the fall of 1991 by Mozart. From the first show on they presented their music with an erotic act which made the band hard to deal with. The band was feared, cheered and at all times charismatic. The media reacted very hard and didn't understand this band at all. This automatically lifted the band to the cult status. When their line up changed in 1995 so did their sound. Where first electronics ruled the guitar now took the lead. After a few more changes in their line up Umbra et Imago came to its present members, hardened by hard times and still going strong. Finally then, time for the headliner of the evening: Umbra et Imago.
Music
Umbra et Imago brings a wonderful mix of danceable beats and metal. On stage the metal side comes out more but still it is very danceable music. Mozart sings most of the songs but during 'hörst du mein rufen' it was Lutz's (bass player) turn. He seemed a bit shy to take the lead but still sung with a very clear voice. Besides this he really knows how to work his bass guitar.
In some songs Nanne also has a part. Her voice is soft and sometimes difficult to hear but such a soft female voice does give a song an extra dimension, a soft touch.
I think what makes this band special is that besides a good show they also make great music.
As with the other bands the sound in the venue was good.
Performance
In the darkness of the blue stage two ladies walked on carrying long white candles, in the background a metal frame with chains hanging from it. A dark but serene atmosphere took hold of the venue. After the beauty comes the beast, Mozart, in his hand a big staff with red lasers shining around the venue, putting his spell on the audience. Mozart is a very impressive appearance, he wore many layers of clothes taking something off every once in a while caused his costume to change constantly. During 'sagt nein' he put on an army hat as he impersonated a soldier by marching up and down the stage. Using a megaphone he shouted 'sagt nein' in to his microphone and to the crowd, who all were happy to join in. The temperature was rising because of the energy in the venue. Both Umbra et Imago and the audience were having a great time.
The interaction with the public was great. Mozart made many jokes, unfortunately I couldn't understand them. At one point during the show he even stage dived and crowd surfed, he was put back on stage very gently. With every song announcement the crowd cheered with recognition. The new song 'Stalker' was also received with a loud cheer.
During 4 or 5 songs Nanne (also vocals) and Miri performed different erotic bdsm acts. With every act they had put on something else, they looked great in everything they wore from a simple black dress to just stockings or feather boas, a feast for the eyes.
The light was great; it really gave an extra dimension to the show, small clouds of mist added to the mystical atmosphere of the evening. After the encores 'lieber gott' and 'alles schwarz' the crowd kept on cheering for more. And they got it alright. Umbra et Imago came back on stage and Mozart started a German rap which sounded very familiar to me. Then Thanateros and NFD came back as well. Once the refrain started and it hit me, it was 'Amadeus' the song by Falco. It was one big party, everybody sung along, the bands and the audience. Someone even took Mozart on his neck and carried him around the stage. It was a fantastic finale to a spectacular show.

Set list
Intro
märchenlied
dunkle energie
gwendoline
egoismus
schlag mich
hörst du mein rufen
sagt sein
memento mori
stalker
money
ein letzes mal
lieber gott
alles schwarz
amadeus

Rating
Music 8
Performance 9
Sound 7
Light 7
Total 8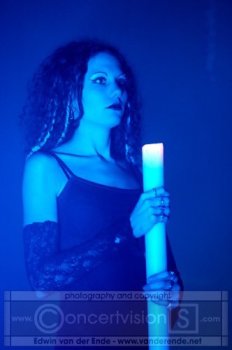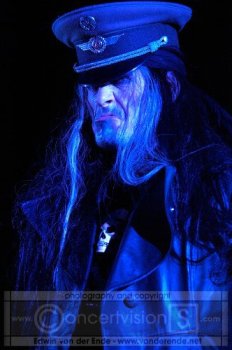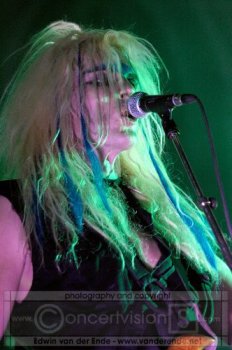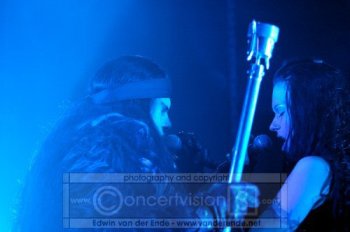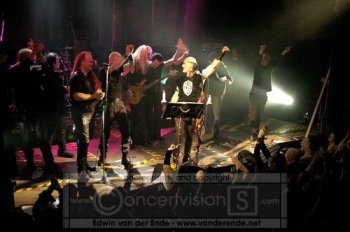 Zeche Carl
Food and drinks
There is a bar area in the venue where you can eat something and have a drink before going to the actual part where he actual concert took place. In that hall, there was a bar as well where you could get drinks for reasonable prices.
Stage
The stage was high enough to get a good few. It was about 7 meters wide and 5 meters deep.
Audience area
There was one big floor. And there was a big balcony covering the back and one side of the venue. On the other side there was just one little balcony where about 4 people could stand. This venue used to be a coal mine and the concert hall used to be the showering area.
Due to the high sealing, the temperature stayed low, maybe even a bit cold. But that depends on where you were standing. Since smoke goes up, there was no trouble there either.
The only trouble was getting out since the merchandise stands were in the hall where everybody needed to pass so we needed to wait a while before we could get out.
Staff
The staff consisted of all young and friendly people.
Rating
Facilities 7
Accommodation 8
Staff 8
Total 8 (7,6)
See also (all categories):