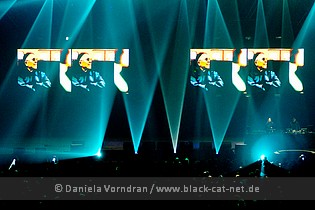 Ethias Arena, Hasselt, Belgium
30th October 2011
Sinner's Day 2011 - Side Stage: Blancmange, Gene Loves Jezebel, Recoil, Visage, Diamanda Galas, Karl Bartos

The huge stage of the Ethias arena was split into three parts: a big one in the middle as main stage and two small ones at the sides forming the side stages, which had a great program to offer as well. For example there was KARL BARTOS, former member of legendary electronic robots of KRAFTWERK, brining some electronic wizardry and one or the other surprise. Talking about surprises, probably the biggest one came in shape of Alan Wilder's RECOIL who after the acclaimed past performances in Germany was going to cater for a mesmerising performance and a highlight of the festival. With DIAMANDA GALAS, one of today's divas was present as well. But the concerts at the side stages and the festival in whole was offered by legendary BLANCMANGE followed by GENE LOVES JEZEBEL, who replaced THE PSYCHEDELIC FURS and more or less JOHN FOXX at once, who both had to cancel their appearance.



Blancmange

This British pop duo, consisting of singer Neil Arthur and keyboarder Stephen Luscombe, was founded 1979 in Leeds and took its name from a sweet dessert. After releasing a song on the famous 'Some Bizarre' compilation they signed a record deal with London Records. First single and debut album 'Happy Families' were released in 1982. With two more albums and single hits like 'Feel Me', 'Living on the Ceiling' or 'Blind Vision', the band had quite some success within the charts. In 1986, the band split up. But now, in March 2011, a new BLANCMANGE album, 'Blanc Burn', was released. For their live performance, the duo added a percussionist to the line-up. http://www.blancmange.co.uk/ / http://www.myspace.com/blancmange2006 / http://www.facebook.com/pages/Blancmange/116356598425703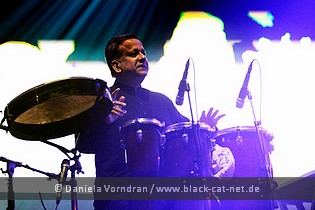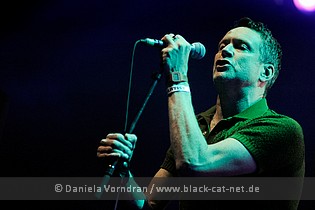 Music & Performance
On Sunday noon, BLANCMANGE were opening the festival. Even though the hall was not filled up yet, the mood within the attendees was great. Anyone was looking forward the bands to follow and soon BLANCMANGE entered the left side stage starting dignified and empathetic with 'Drive me' out of the current album 'Blanc Burn'. "Older" visitors were just thrown back into their youth and the "younger" ones were starting the day with an "Oldie Show". Second song 'Don't Tell Me' made couples come closer and listen to the melodic sounds in cosy togetherness. But the band just was warming up hesitantly. Maybe the reason was that the band just united last March after a long split, maybe it was the early hour the band was playing and so, a slight uncertainness was accompanying their show. But the band got safer with 'The Western', also from the new album, and 'I've Seen The World' from their very first album 'Happy Families' released in 1982.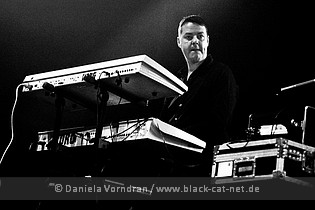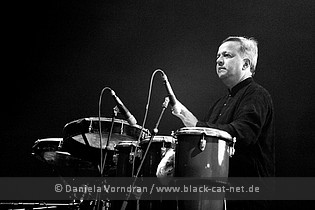 Big hit 'Living on the Ceiling' could not be missed and finally, the show ended with 'Feel Me' and 'Blind Vision' where Bongos and electric pop tunes were melting and reviving the Eighties for a little while.

Setlist
01. Drive me
02. Don't Tell Me
03. The Western
04. I've Seen the Word
05. Living on the Ceiling
06. Feel Me
07. Blind Vision

Rating
Music: 8
Performance: 7
Sound: 8
Light: 6
Total: 7.5 / 10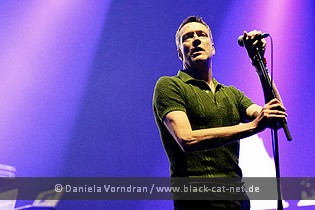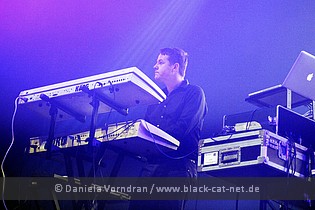 Gene Loves Jezebel

This gothic rock band from the early 1980s, originally called SLAV ARYAN, is now two separate bands of the same name, founded by identical twin brothers, Michael and Jay Aston (born John Peter Aston). In May 1982, the demo single 'Shaving My Neck' was released followed by the first album 'Promise' in October 1983. The band became quite popular in radio, played lots of live shows and underwent several line-up changes. End of the eighties, the sound of the band became more mainstream oriented making Michael Aston split up with the band leaving Jay Aston as the main songwriter. The rest of the band continued as GENE LOVES JEZEBEL, which Michael was not happy about. Anyway he worked within other projects in the meantime until he worked briefly together with Jay again in the mid-nineties. After a tour in 1997, Michael left the band again but playing shows under the name GENE AND JEZEBEL as well.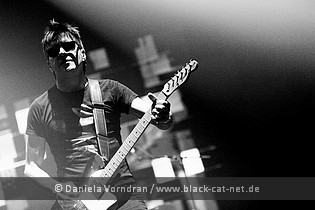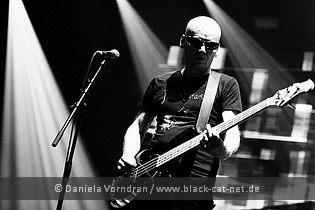 Anyone of the brothers claimed the band name for himself and end of all the court battles was, that Michael owns the trademark in the US while Jay owns it in the UK causing a lot of confusion within their fans. At Sinner's Day, we saw Jay Ashton's GENE LOVES JEZEBEL consisting of Jay Aston, James Stevenson, Pete Rizzo and Robert Adams. http://www.genelovesjezebel.co.uk / http://www.myspace.com/genelovesjezebeluk / https://www.facebook.com/GeneLovesJezebelUK

Music & Performance
Originally planned for the main stage playing after KMFDM, GENE LOVES JEZEBEL was moved to the right side stage since JOHN FOXX had to cancel his show. Also this band saw the light of day in the early Eighties, but were BLANCMANGE more poppy we got a Rock band now. 'Upstairs' was the opener of GENE LOVES JEZEBEL's show. This song from 1983 went directly into people's ears, back than as now. The whole set was uncomplicated and tangible. And like you would expect it from guitar and bass players, there was a lot of posing on stage. But sadly all the single one-man shows on stage gave not the impression of an overall concept. With 'Over the Rooftops' and 'Heartache' the show powerful went on, the songs had rhyme and reason and were sounding like typical Goth Rock.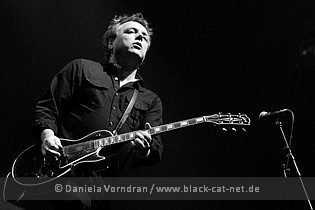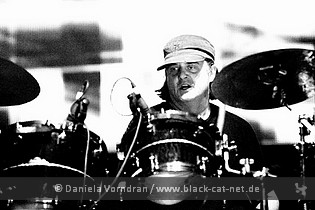 Even though I missed a little "soul" in the songs. Anyway, the audience was quite excited giving lots of applause. As finish of the set, the band presented 'Desire', a song from 1986, heating up the audience once more.

Setlist
01. Upstairs
02. Over the Rooftops
03. Heartache
04. Who Wants to Go to Heaven
05. ?
06. ?
07. Desire

Rating
Music: 7
Performance: 7
Sound: 8
Light: 7
Total: 7.2 / 10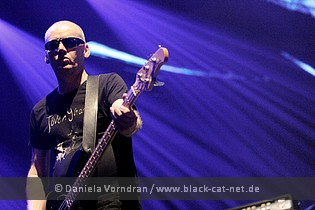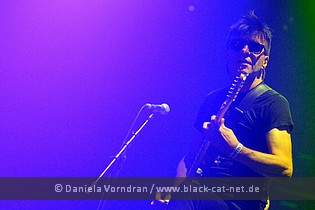 Recoil

Alan Wilder, the man behind RECOIL, is probably mostly know for his works within DEPECHE MODE. But besides his work in this super group, he has much more to offer. Alan is a classically-trained musician and renowned contemporary music producer. RECOIL was brought to life in 1986 already releasing a two-track experimental EP. The album 'Hydrology' followed in 1988. Thos two released showed Wilder's position as a pioneer in the newly emerging world of sampling technology. After working intensively with DEPECHE MODE again, in 1991 the next RECOIL album 'Bloodline' was released containing guest vocals for the first time, among others by Douglas McCarthy (NITZER EBB) or MOBY. Finally in 1995, he left DEPECHE MODE and started working in his own studio recording the next release, 'Unsound Methods' followed by 'Liquid' in 2000. Following a 5 year break from recording, Recoil returned in 2007 with its 5th full studio album. Entitled 'subHuman', it was released in Europe and in the US. At the moment, Wilder is working on new RECOIL material. Details will be told hopefully soon. http://www.recoil.co.uk / http://www.myspace.com/recoil / https://www.facebook.com/recoilofficial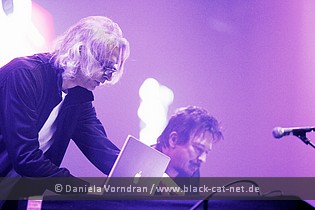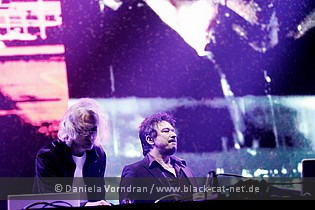 Music & Performance
Together with Paul Kendall, Alan Wilder again invited to another strange hour. With the name Alan Wilder, most people probably connect the band DEPECHE MODE at first. But besides his work in DM, he started his project RECOIL already in 1986, concentrating on it primary after he left DEPECHE MODE. Working mostly with pre-recorded songs, sampling and some live mixing, you at first would not expect something great happening on stage. There was a table, some equipment and two men behind it. They looked a bit lost on the big stage. But of course there was more than this. There were special videos created to each song supported by an extraordinary light show. And especially when watching the show from the tribune, this combination came to full effect, taking you to another world. Right from the start, such songs like 'Want' with wonderful vocals by Nicole Blackman or 'Jezebel' with vocals by the Golden Gate Jubilee Quartet and additional vocals by Diamanda Galas, who was coming up in the Sinner's Day stage later.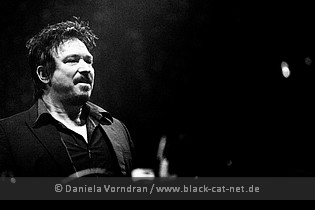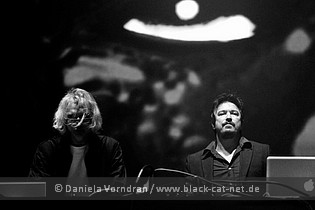 Interwoven sound structures surely divided the audience. Anyway the mood in the hall was heated up and latest when RECOIL was mixing some DEPECHE MODE songs into the set, namely 'Never let me Down' in the Aggro Mix and 'In Your Room', people got moving. A dancing and waving crowd gathered in front of the stage enjoying the mix of music and surreal strange pictures shown on the video screens. Other songs exciting the audience were THE NORMAL's 'Warm Leatherette' from the late Seventies or a cover version of the SENSATIONAL ALEX HARVEY BAND, where Alan is a fan of, classic 'Faith Healer' from 1973 with NITZER EBB's Douglas McCarthy delivering vocals. This was not the last appearance of Dough since in the course of the show, Wilder mixed the NITZER EBB song 'Family Man' into the set, together with a piece of Daniel Myer's ARCHITECT (this project was supporting him during the tour). The accompanying video showed a gratitude message to both bands at the end. Finally, the show's end came closer, mixing some more DEPECHE MODE tunes, namely some snippets of 'Personal Jesus' into the set. Great show!

Rating
Music: 9
Performance: 8
Sound: 9
Light: 9
Total: 8.8 / 10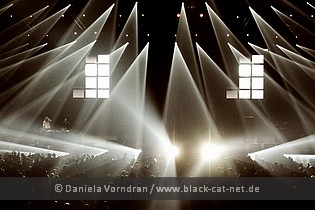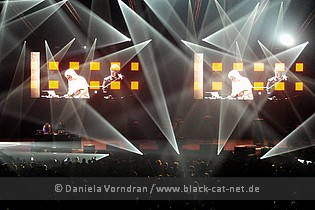 Visage

British New Wave band VISAGE, mostly known for their 1980 hit 'Fade to Grey', was founded in 1978 being soon linked to the New Romantic fashion movement of the early 1980s. The band's self-titled debut album had been released in November 1980 when the band was signed to the major label Polydor Records. The single 'Fade To Grey' became a major hit in early 1981, even reaching number one in German charts. Second Album 'The Anvil' was released in 1982 and became Visage's only UK top-ten album. Third and last album 'Beat Boy' was released two years later, after the band solved several internal problems. The band split up in 1985, seeing founder Steve Strange working in the band STRANEG CRUISE. During following years he was still performing VISAGE songs having success with it. This made him forming a second version of VISAGE with people from several electronic bands and projects. VISAGE now is Steve Strange (vocals, synth), Laura Duval (vocals), Steven Young (synth), Sandrine Gouriou from SEIZE (synth, not present at Sinner's Day), Rosie Harris from SEIZE (bass, synth) and Ross Tregenza from JETSTREAM LOVERS / GOTEKI (guitar). https://www.facebook.com/pages/STEVE-VISAGE-STRANGE/44053193184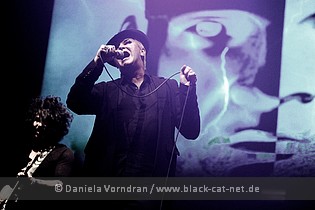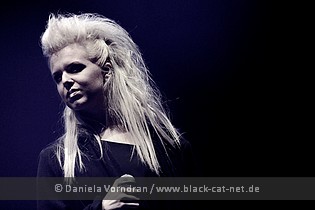 Music & Performance
The show of VISAGE was one I was really curious about, especially since I have a terrible appearance at WGT some years ago in mind. Any child of the Eighties knows VISAGE and their biggest hit 'Fade To Grey' still is a constant on many radio and TV playlists and on DJs' wish lists. So, you can imagine the excited welcome the audience gave to the band. The new VISAGE entered the stage, just Sandrine was missing. Instead, Steve introduced the female vocalist, Laura Duval. The sound they started with was like in the good old times with a little modern touch. But when Steve started singing you questioned yourself if there was a technical problem. His voice sounded terribly wrong and trembling. I had the impression he did not hit a single tone. Also the audience was surprised. Some visitors told us later that this fact already was the problem during several VISAGE shows in the past. Anyway, since the band is not playing so much live, the fans celebrated the show which started with 'Night Train' followed by 'Visage' and 'The Mad Man'.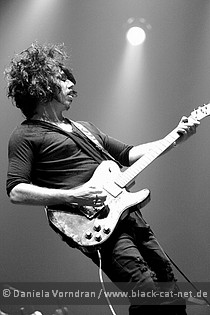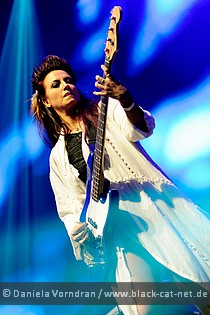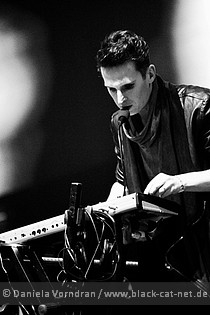 Afterwards, Steve asked the audience if they already heard enough and of course this was loudly denied. About 'Pleasure Boys' he said it was about the ego-shooter 'Halo' followed by a little advertising for the game. After 'Tar' and 'The Anvil (Der Amboss)' it soon was time for the uber-classic, 'Fade To Grey' ending the set releasing the fans with a laughing and a crying eye…

Setlist
01. Night Train
02. Visage
03. The Mad Man
04. Pleasure Boys
05. ?
06. Tar
07. The Anvil (Der Amboss)
08. ?
09. Fade to Grey

Rating
Music: 5
Performance: 5
Sound: 7
Light: 8
Total: 5.5 / 10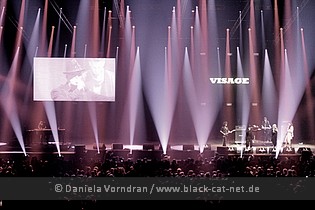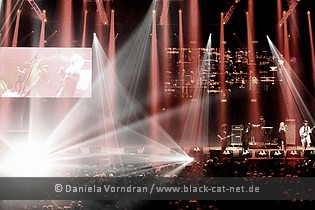 Diamanda Galas

American avant-garde composer, vocalist, pianist, organist, performance artist and painter DIAMANDA GALAS has been described as "capable of the most unnerving vocal terror", with her three and a half octave vocal range. She released her first album he 'Litanies of Satan' in 1982. During her career, she released several albums, books, worked together with such artists as ERASURE or RECOIL, she worked for the film industry and joined the AIDS activist group. In 2011, she collaborated with Soviet dissident artist Vladislav Shabalin for "Aquarium", a sound installation inspired by the environmental disaster in the Gulf of Mexico. She is hailed as one of the most important singers of our time, has earned international acclaim for her highly original and politically charged performance works, as well as her memorable rendition of jazz and blues. Her latest album released in 2008 is 'Guilty, Guilty, Guilty' http://www.diamandagalas.com/ / http://www.myspace.com/songsofexile / https://www.facebook.com/pages/Diamanda-Gal%C3%A1s/179721188708370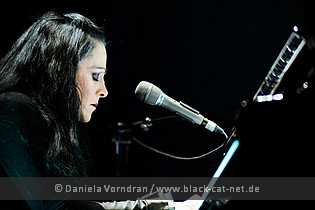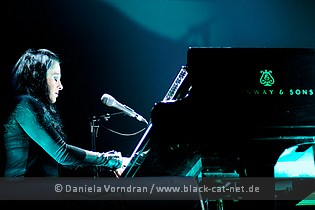 Music & Performance
DIAMANDA GALAS is a real diva. And very diva-like her she let the fans wait for additional 10 minutes before the presenter appeared on stage to announce the "High priestess of avant-garde". And maybe this multitalented artist was too avant-garde for Sinner's Day, even though the promoters proved a lot of courage inviting her. Anyway, already during the first song, the hall emptied and people rather occupied the food and merch booths instead of the space in front of stage. Just a small group of people stayed to experience the show if this extraordinary artist, who was just playing the piano while intonating the songs with her special art of singing. Surely this show was something special for lovers of this musical style, but nothing that really fitted to the frame of Sinner's Day. I could rather imagine her sitting in a small smoky club or in a theatre with red velvet chairs, presenting her art to a attentive audience being into her avant-garde style. Since the circumstances did not fit to her show, I don't even dare rating it…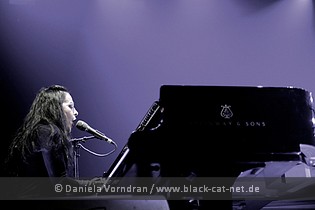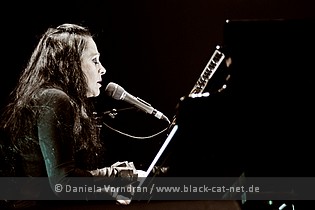 Karl Bartos

Hardly any other name in pop music is as much a synonym for electronic lifestyle as KARL BARTOS. Originally a classically trained percussionist and keyboarder, he became a member and author of the legendary German group KRAFTWERK later. He took part in creating some of modern music's most influential classics like 'Radioactivity', 'Trans Europe Express', 'The Man Machine', 'Computer World', 'Tour de France', 'Electric Café' and 'The Mix', and altered our perception of sound. Besides lots of albums with KRAFTWERK, he also released the solo album 'Communication' in 2003 and is currently working on new material and an audio-visual show. In March of this year, he also released Mini-Composer, an IPhone app: it's a simple 16 steps sequencer with 4 basic wave synthesizers. http://www.karlbartos.com/ / https://www.facebook.com/karlbartos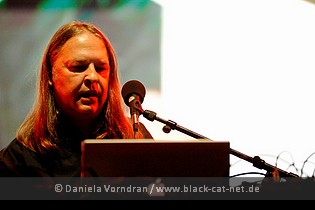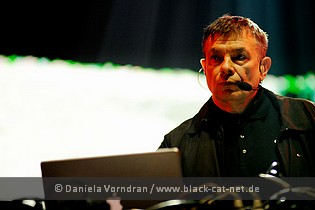 Music & Performance
After the experimental performance of DIAMANDA GALAS, the last project playing the side stages was KARL BARTOS with his straight-forward electronic sound. Before the band even started, they occurred a minor technical problem: the intro was all of a sudden caught in an endless loop, starting over and over again. This caused quite some laughter within the audience. But finally the problems were overdone and KARL BARTOS was entering the stage together with Matthias Black accompanying him. Both musicians had the same "problem" like RECOIL earlier: just two men behind a desk with lots of technical equipment. On first sight rather boring. But also KARL BARTOS has created an audio-visual concept for the show underlining the songs with videos on big screens fitting to the presented KRAFTWERK classics like 'Computer World', 'The Model', 'The Robots' or 'Tour de France'.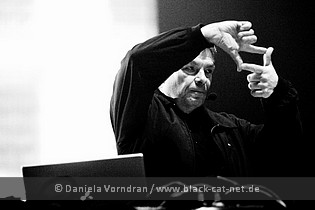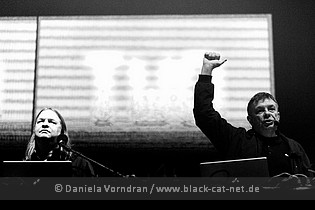 The set, containing all in all 11 songs, was taking you back in time, especially when you closed your eyes making you experience the rebirth of the electronic visionaries. With 'Neon Lights', BARTOS ended the show.

Setlist
01. Numbers
02. Computer World
03. The Camera
04. The Model
05. The Robots
06. Pocket Calculator
07. Tour De France
08. Interview
09. 15 Minutes of Fame
10. Ultraviolet
11. Neon Lights

Rating
Music: 9
Performance: 8
Sound: 8
Light: 9
Total: 8.5 / 10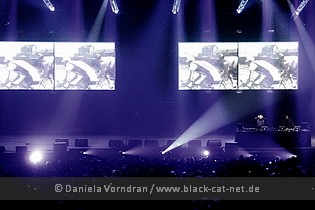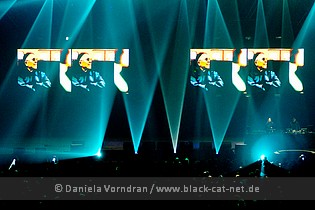 What's left to say at the end? Also the third edition of Sinner's Day was a big success with several thousand attendees. The organisation was perfect and also the 1-stage concept so you could enjoy all bands in full. The staff was friendly and competent. Besides that, the selection at the food marked was really great not just offering the typical Belgium fried stuff. It seems the promoters improve the festival every year. Be sure we'll be there again for the next edition!

All pictures by Daniela Vorndran (http://www.vorndranphotography.com / http://www.black-cat-net.de/ / http://www.myspace.com/vorndranphotography / http://www.facebook.com/blackcatnet)