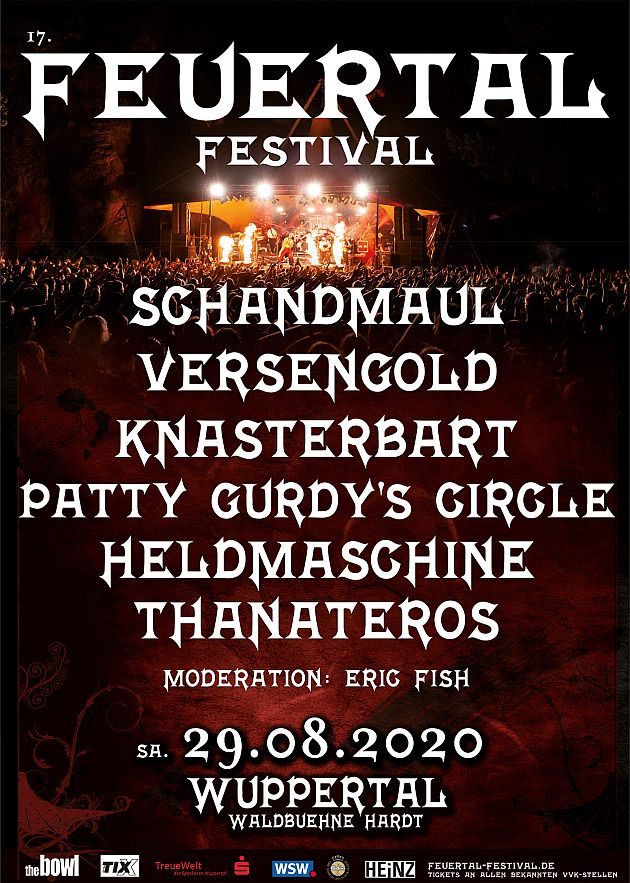 Hardt, Wuppertal, Germany
29th August 2019
Feuertal Festival 2020 with Schandmaul, Versengold, Knasterbart, Patty Gurd's Circle, Heldmaschine, and Thanateros

Attention: Due to the Corona pandemic, Feuertal Festival 2020 is cancelled. Next edition will be held on 28th August 2021. Line-up will stay the same excelt HELDMASCHINE, who will be replaced by THE O´REILLLYS AND THE PADDYHATS. All tickets remeain valid for 2021!
Feuertal Festival - Atmospheric place of longing from another time: on August 29, the journey through time at the Hardt goes on. Buying a ticket for the Feuertal Festival in Wuppertal is the beginning of an atmospheric time travel through past times and to a long forgotten world. As usual, the open air festival is sold out long before, and when the day comes, the place of longing opens its doors and invites with medieval hustle and bustle, a breath-taking location and the "Who is Who" of the Medieval Rock scene. On August 29, 2020, it's the 17th edition of the Feuertal Festival, and so far, SCHANDMAUL, VERSENGOLD, KNASTERBART, PATTY GURD'S CIRCLE, HELDMASCHINE, and THANATEROS are confirmed.
SCHANDMAUL from Munich belong to the ultimate spearhead of German Medieval and Folk Rock. With various number 1 hits and gold records, they are one of the leading bands. The latest album, 'Artus', was released in spring and gives further proof of their importance as a band. With 'Artus', SCHANDMAUL once again demonstrate their skills that have grown over the years, and what seems to be very helpful, is the fact that the founding members are still part of the band: singer Thomas Lindner, Birgit Muggenthaler-Schmack as specialist for old wind instruments, string instrumentalist Martin Christoph "Ducky" Duckstein, and drummer Stefan Brunner. Even "new member" Matthias "Hiasl" Richter (bassist) is part of SCHANDMAUL since 2002. Only violinist Saskia Forkert is the real newest member - since 2018, she is successor of founding member Anna Katharina Kränzlein, after the band hired guest musicians like Ally Storch (SUBWAY TO SALLY) for one year.
Two years ago, the Folk rockers of VERSENGOLD landed their first major coup with 'Funkenflug'. It started as insider tip, and with a loyal fan base behind, the down-to-earth band from Bremen reached number two of the German album charts. The subsequent live tour included considerable festivals, sold out club and hall shows in Germany, Austria, and Switzerland. The distinctive, spirited, pushing Folk sound garnished with demanding and sharp-tongued, German lyrics gained great popularity in German-speaking countries, and they are well-deserved one of the rising bands of the German music scene. With 'Nordlicht', the Hanseatic citizens of Bremen released their ninth studio album that seamlessly tied in with the successor of previous records and reached the upper part of the album charts.
While elsewhere milk flirts with a chocolate bar, and Coca Cola kisses an orange, the band KNASTERBART purrs mad lyrics, masterly presented Folk arrangements and a good portion of Punk Rock attitude into a shot glass and mixes it properly. Domiciled at open air events of all stylistic complexion, the Folk Rock combo recently has proven with their "Abschaumparty" tour that they able to fill the halls of their own concerts and bring the mood to the boil. While other bands of the genre like to sing of great heroic feats like a knight in shining armour, the seven guys of KNASTERBART are proud of their tooth gaps, patched gowns, and drunks' noses. With their appearance and their stories, the audience is catapulted into gutter channels and most dim dives of human history. Even though parts of the combo are successfully on the road with their own bands VERSENGOLD and MR. HURLEY & DIE PULVERAFFEN, KNASTERBART is far more than just a side project or an insider tip for scene experts.
Patty Gurdy successfully brought the hurdy-gurdy to the mainstream of the international Folk scene. Gurdy is a versatile musician, singer, and songwriter. People from all around the world follow her YouTube channel and Instagram account, where she directs music and shares impressions of her life as an artist. Patty was on stage together with ASP or Patti Smith, and for her latest album 'Pest and Power' (2019), she worked together with band members of FAUN and SALTATIO MORTIS. For the new Amazon Prime series 'Carnival Row' featuring Orlando Bloom and Cara Delevingne, she lends her singing voice to the 'Aisling Querelle' fairy, and she composed the two most important songs for that character in season one.
Currently, HELDMASCHINE belong to the most emerging acts of the so-called Neue Deutsche Härte. Their album 'Im Fadenkreuz' was released overnight so to speak: there was no announcement, no waiting period. Four studio albums, a live double album, and a live DVD - this is what was on the table so far. What would come next? The band decided for an atypical moment of surprise - and hit the mark. HELDMASCHINE are in great demand for their live performances - their stoic sounds paired with pure live energy is highly contagious.
After ten years of deep sleep, THANATEROS are back with new cast, new sound, and new album, which will be released in autumn 2019. Founded in 2000 by songwriter and lyricist Ben Richter, over the next ten years the band released four highly praised albums, went on tour with bands like IN EXTREMO, UMBRA ET IMAGO, and the FIELDS OF THE NEPHILIM successor NFD, and played numerous headliner concerts. Additionally, there were several festival appearances (with bands like SALTATIO MORTIS, SUBWAY TO SALLY, ASP, CLAN OF XYMOX, FIDDLER'S GREEN, TRISTANIA, POTHEAD, or FINNTROLL), and of course regular publications in well-known scene magazines. Through the years, THANATEROS carved themselves a permanent place in the Gothic/Folk/Metal scene. Now they return with their comeback album.
"Back to the roots" refers to the programme and to the period. Despite the fact that it's a one-day festival, the camping site is open for three days. Besides the traditional and atmospheric medieval market, on Friday evening there will be a warm-up programme at the open-air swimming pool. More details to come soon. The open-air event at the Waldbühne Hardt, where all is about Middle Ages Rock and a breath-taking, historic atmosphere, already gained cult status within and beyond the scene. Besides the main stage, a traditional medieval market invites for strolling in former times. There will be handicraft, all kinds of beautiful things, and a splendid gourmet mall for culinary well-being very much in the spirit of medieval hospitality. For two days, there will be hustle and bustle in the heart of Wuppertal.
Original tickets available at Extratix, the Ticketzentrale and the Haus der Jugend Barmen in Wuppertal:
www.extratix.de / www.eventim.de / www.wuppertal-live.de / www.adticket.de
More information: www.feuertal-festival.de