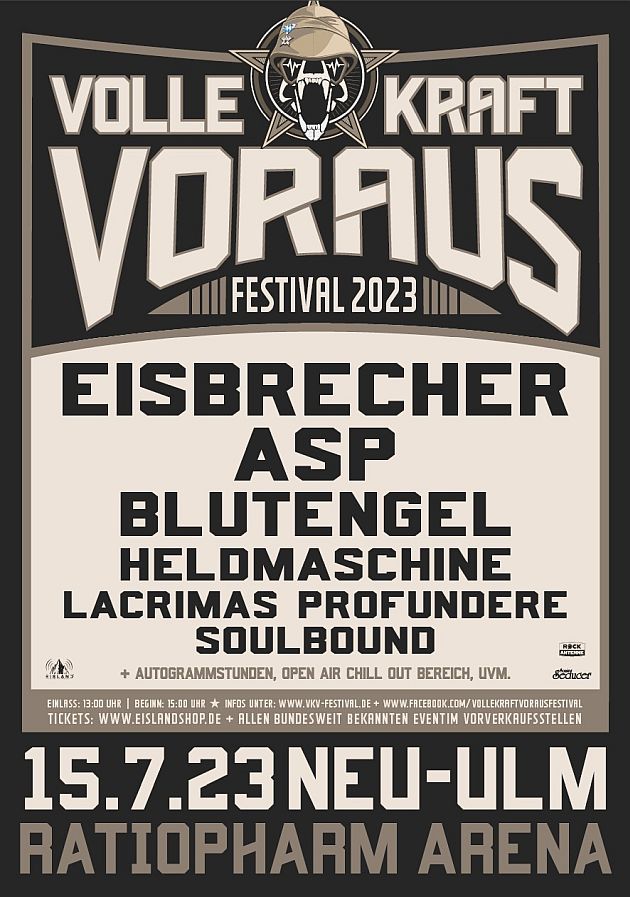 Ratiopharm Arena, Neu-Ulm, Germany
15th July 2023
Volle Kraft Voraus Festival 2023 with Eisbrecher, ASP, Blutengel, Heldmaschine, Lacrimas Profundere, Soulbound

EISBRECHER invite you to the Ratiopharm Arena in Neu-Ulm next year on July 15 with ASP, BLUTENGEL, HELDMASCHINE, LACRIMAS PROFUNDERE, SOULBOUND. The wait until the next Volle Kraft Voraus Festival is two months shorter. In 2023, the successful Munich rockers from EISBRECHER invite you two months earlier than before, namely on July 15 at the Ratiopharm Arena in Neu-Ulm.
The indoor festival is established as a major event. As in the years before, EISBRECHER will be accompanied by five band with whom they have friendly and collegial ties:
Founded in 1999, ASP has been one of the most successful acts in the Gothic scene for many years. With their 'Der Liederzyklus des Schwarzen Schmetterlings', the band has created an unprecedented work. Berlin-based BLUTENGEL are known for their spectacular live shows and rousing electro anthems. With them, Neu-Ulm will turn into a boiling dance pit. The 2023 line-up is completed with the NDH band HELDMASCHINE, the Gothic rockers LACRIMAS PROFUNDERE and the Bielefeld-based Metal band SOULBOUND.
EISBRECHER do not need a long introduction. For years they have been among the spearheads of the German music landscape: two number 1 chart entries with the album 'Sturmfahrt' and 'Liebe Macht Monster', largely sold-out tours in 2017 and 2019, gold awards for their albums 'Schock' and 'Die Hölle muss Warten' are part of the recent history of the group around exceptional frontman Alexx Wesselsky. The intelligent play with machine-like riffs, pure heaviness, social issues and the own scene paired with a lot of background text humour and the ability not to take yourself too seriously makes EISBRECHER a unique piece worth seeing and listening to is successful beyond the German-speaking borders.
Advance sales for the VOLLE KRAFT VORAUS FESTIVAL on July 15 in Neu-Ulm have already started. In addition to the shows by the artists, there will be autograph sessions again in 2023, as well as a spacious chill-out and food area in the outdoor area.
Festival: 5th VOLLE KRAFT VORAUS FESTIVAL 2023
Line-up: Eisbrecher | ASP | Blutengel | Heldmaschine | Lacrimas Profundere + Soulbound
Venue: (Germany) Neu-Ulm, Ratiopharm Arena
Date: Saturday, July 15, 2023
Doors open / start: 01:00 p.m. | 03:00 p.m.
Homepage: http://www.vkv-festival.de/
Facebook: https://www.facebook.com/vollekraftvorausfestival/
Instagram: https://www.instagram.com/vkvfestival/
Tickets: Eislandshop (original tickets – standing place) https://www.eislandshop.de/de/vkvfestival23.html / Eventim (fan ticket – seat /standing place) www.eventim.de as well as at all nationwide ticket offices!