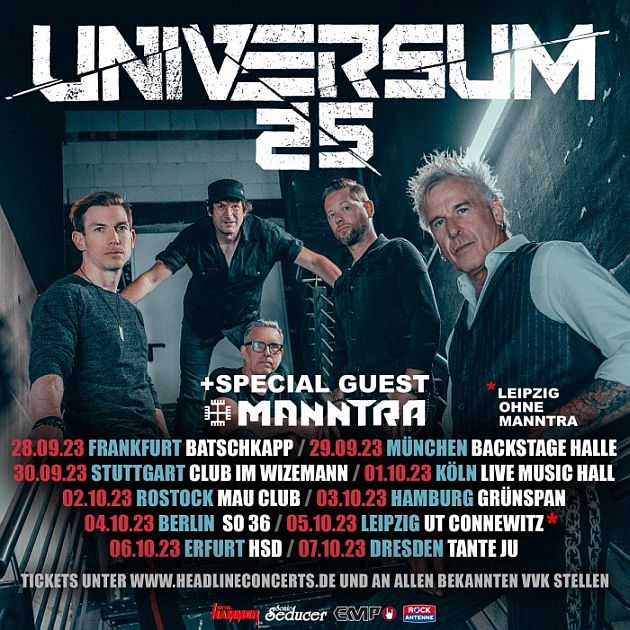 Grünspan, Hamburg, Germany
3rd October 2023
Universum25 - "Horizont in Flammen Tour" - Support: Manntra

New all-star band with Micha Rhein, Rupert Keplinger, Pat Prziwara, Gunnar Schroeder and Alex Schwers released the first single 'Der Traum ist aus' from their debut album on 10th November 2022 with Tour in autumn 2023!
A new all-star band has come together to rouse humanity from its twilight sleep with their uncompromising hybrid mix of Electro-Metal and Punk Rock. Behind the name UNIVERSUM25 are none other than Michael Robert Rhein (IN EXTREMO), Rupert Keplinger (EISBRECHER, ANTITYPE), Patrick "Pat" Prziwara (FIDDLER'S GREEN), Gunnar Schroeder (DRITTE WAHL), Alex Schwers (SLIME), as well as the renowned producer Jörg Umbreit - together, the formation reckons with all warmongers and crisis winners on their self-titled debut album, with ideological arsonists and naïve deniers of reality, with religious fanatics, populists, conspiracy theorists and other social divisive fungi, while holding a mirror up to the world with their furious crossover.
Hard Rock guitars, atmospheric electronica, and relentlessly frank lyrics that put their finger in the wounds of a planet on the brink of self-destruction: that's the sound of UNIVERSUM25's gloomy, dystopian sound cosmos. Instead of wildly wagging their moral finger, however, the quintet understands their first album as an unembellished stocktaking of the global status quo; combined with a proper motivational boost and a call for change - and for non-violent resistance. "We interpret the experiment 'Universe 25' at that time as an analogy to humanity and as a symbol for today's world," explains guitarist Gunnar Schroeder. "Although we live in abundance and could all coexist peacefully, we fight and destroy each other. We want to start a discourse with this album."
UNIVERSUM25 will give a first taste of their post-apocalyptic sonic power on 10th November 2022 with the remake of the TON STEINE SCHERBEN classic 'Der Traum ist aus', which could celebrate its 50th release anniversary in 2022 and whose lyrics have lost absolutely nothing of their topicality and meaning in these times. An anti-war song to which singer Micha Rhein has a very special connection. "I had the great honour of meeting Rio Reiser in person a few times during his lifetime." The single 'Der Traum ist aus' can be streamed / downloaded via https://umg.lnk.to/DerTraumIstAus.
<iframe width="560" height="315" src="https://www.youtube.com/embed/i0BQZrE6uxw?si=viZCn0S6u-7d37ia" title="YouTube video player" frameborder="0" allow="accelerometer; autoplay; clipboard-write; encrypted-media; gyroscope; picture-in-picture; web-share" allowfullscreen></iframe>
Welcome to a new dimension of German rock music. Welcome to UNIVERSUM25.
Additional Concert Info

Doors: 19:00
Start: 20:00
Tickets: are available for 33.00 euros (plus charges pre-sale) vie
Eventim
Facebook Event: https://www.facebook.com/events/s/universum-25-live-hamburg-grun/547831603822020/
See also (all categories):