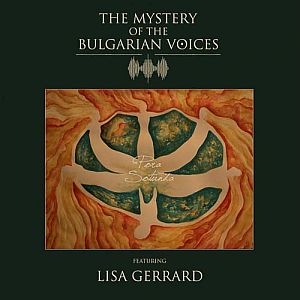 Artist: The Mystery Of The Bulgarian Voices feat. Lisa Gerard
Title: Pora Sotunda (Advanced Single)
Genre: World Music / Folk
Release Date: 8th December 2017
Label: Prophecy Productions
Review Flash

With her unique voice former DEAD CAN DANCE singer Lisa Gerard has not only shaped the dark, unearthly and mythic sound of the Australian band that is known for pushing the boundaries of music since the eighties, but has also been involved in many projects concerning movie-scores, first of all the historic drama 'Gladiator', presenting her singing technique to a wide audience. This special singing technique now is highly influenced by a traditional Bulgarian folk choir, THE BULGARIAN STATE TELEVISON FEMALE CHOIR that is idolized by Gerard since her early years.
Nearly 20 years after releasing the last new material the internationally renowned world music ensemble collaborates with Lisa Gerard, for whom this project is the fulfilling of one of her dreams since she heard the choir for the first time. The advanced single, 'Pora Sotunda', gave a foretaste of the following album, 'BooCheMish', which was released in 2018. Being one of the strongest songs on the album, 'Pora Sotunda' demonstrates traditional rhythmic choir patterns of Bulgarian Folk music in combination with Gerard's sung solo-melodies and gives a glance of a sound that can be located in a mythic realm somewhere between the Modern and the Ancient.
Conclusion: Emotionally touching and music-theoretically interesting at the same time, the advanced single 'Pora Sotunda' is an exotic avant-garde piece of world music that is worth listening to.
Rating: 9 / 10
See also (all categories):