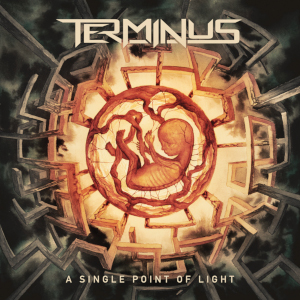 Artist: Terminus
Title: A Single Point of Light
Genre: Epic Metal
Release Date: 8th November 2019
Label: Cruz Del Sur Music
Review Flash

I rather seldom review stuff from Northern Ireland simply because not many bands I would like to listen to hours on end hail from there, this changed with TERMINUS. Belfast based multi-instrumentalist David Gillespie and vocalist James Beattie formed this rather special outfit in 2012. 'A Single Point of Light' is TERMINUS' second full album and its sound reminds me strongly of bands like VISIGOTH, ETERNAL CHAMPION and TRAVELER. Beattie's voice sounds very much like those of many European bands, his intonation and overall vocal approach is quite different to those bands I normally review.
I cannot put my finger on it but he sounds a bit uncut, not bad at all but distinct. The best comparison is VISIGOTH's Jake Rogers I think, the highs and middles bring him to mind even if Beattie sounds a bit more like a natural singer who has learned his craft from scratch (no offense meant, I love VISIGOTH to death). This is the second record I review with a multi-instrumentalist steering the whole composing process and I must say I am impressed once again, I will have to check out the first output 'The Reaper's Spiral' to see the whole picture.
Conclusion: If you like the mentioned bands and rather complex arrangement with lots of rhythmic transitions you will want to check out TERMINUS.
Rating: 8 / 10