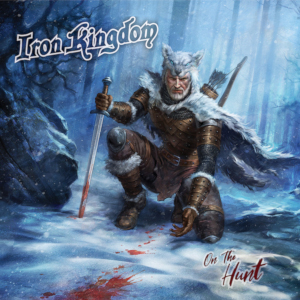 Artist: Iron Kingdom
Title: On the Hunt
Genre: Heavy Metal
Release Date: 4th October 2019
Label: Independent
Review Flash

The Canadian Heavy Metal band IRON KINGDOM was Inspired by legendary pillars of Heavy Metal such as IRON MAIDEN, JUDAS PRIEST, THE SCORPIONS, and RUSH. This four-piece is (according to the press text) well known for their energetic and electrifying stage presence, as well as catchy melodies that bring listeners back to a time when Heavy Metal was in its glorious prime.
Formed in Surrey, B.C. Canada, in June of 2011, the bands core members were Chris Osterman on guitar and vocals, bassist Leighton Holmes, and Amanda Osterman on drums, joined by Jordan Wright on guitar. This quickly changed, after recording their debut album 'Curse Of The Voodoo Queen'. Jordan was replaced by guitarist Kenny Kroecher. 'Curse Of The Voodoo Queen' was released on Dec 14, 2011, and the band took the opportunity to tour western Canada, along with an appearance on the TV Show, Canada's Got Talent. A near-fatal car accident and a sad departure of Amanda Osterman obviously could not stop IRON KINGDOM.
I am the lucky dude to review these odd dudes making music on their fifth album. The overall approach is kinda MANOWAR meets IRON MAIDEN meets KATANA, highly skilled musicians with vocals that aim ever higher and higher. Lyrical-wise this is "Keep it Steel" Metal-Pride with glimpses of Historic and Fantasy themes. It is not an easy task to write a review while fighting the urge to raise your fist and praise the Metal gods...
Conclusion: If you like music that is played very well and a tad bit hysteric at times and like the mentioned bands than you are in for a treat.
Rating: 8 / 10