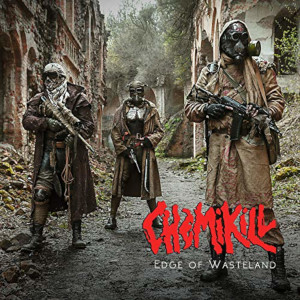 Artist: Chemikill
Title: Edge of Wasteland
Genre: Heavy Metal / US Power Metal
Release Date: 30th September 2019
Label: Self-Released
Review Flash

CHEMIKILL's origin is rather different than many others and truly Metal at that, in the bio they sent me it is said "CHEMIKILL formed under the shadow of the Perry Nuclear Plant in the summer of 1988". Yeah that is the shit Heavy Metal dreams are made of. Cleveland's CHEMIKILL play traditional US Power Metal with high pitched screams and very distinctive vocals. 'Edge of Wasteland' is the band's first full-length output to date. Why the delay? The band was a victim of really fucking bad luck I would say, vocalist Fred Flory had surgery because of polyps in his throat and needed time to heal delaying recordings for the demo (there were two). In the mid-nineties CHEMIKILL disbanded and live went on.
The members did spread over the United States to live their life but word of mouth kept the band alive in the underground and finally in 2017 CHEMIKILL blessed the scene with their reunion resulting in this nice piece of music. The material is a raw mix, you can clearly hear that the guys know what they are doing: awesome old-school vocals, top-notch drumming patterns and breaks, ripping guitar riffs galore and a bass that structures the melodies without overpowering the overall sound. You can hear that Flory tested his Metal in eight bands and refined his technique over the years making him the underground answer to Ripper Owens. I am truly happy these guys can finally make their mark with a full-length record and I hope they will be heard by many ears all over the world.
Conclusion: If you dig US Metal with the flair of the underground give these guys a listen.
Rating: 8 / 10