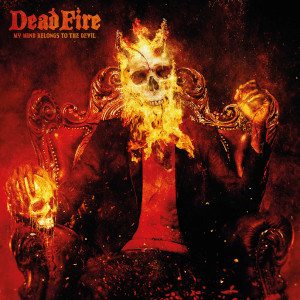 Artist: Deadfire
Title: My Mind Belongs To The Devil
Genre: Heavy Rock / Stoner
Release Date: 29th February 2020
Label: Fat Hippy Records
Review Flash

Just this morning, Charles Munro of DEADFIRE contacted me due to the difficult times we are endure at this moment because of big C. The guys have a new 3-track EP called 'My Mind Belongs To The Devil' and of course I gave it a few spins. So, before we come to what I have to say about it lets check what the Facebook page reveals: "DEADFIRE are a Boozy Rock'n'Roll band from Aberdeen, Scotland. With high Energy stage shows, they are the real deal. Frontman Charlie commands attention with his large presence and powerful rough vocals. While Jonny, Boothy and Tunk provide a tight as fuck rock platform for the band.
Having previously toured and supported the likes of PHIL CAMPBELL AND THE BASTARD SONS, and HAWKWIND, and also solo toured throughout Holland, Germany, Poland and Belgium, as well as well as Manchester, Glasgow, Edinburgh, Dundee, London, Inverness, and pretty much everywhere else in the UK. DEADFIRE never disappoint with old school rock mixed with stoner grunge vibes. Fuck the rest, you've found the best." OK, so what have we got here? A mix of 90s influenced grungy Hard Rock with Stoner influences, say DANZIG meets NIRVANA but fast and rough. A party monster reeking of weed, booze and lots of beers. Loud but adorable.
Conclusion: If you like riffs, party and volume check out DEADFIRE.
Rating: 6 / 10