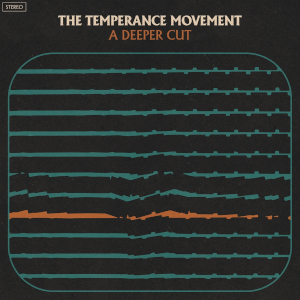 Artist: The Temperance Movement
Title: A Deeper Cut
Genre: Rock'n'Roll
Release Date: 16th February 2018
Label: Earache Records
Flash Review

The list of bands I once had on my radar for a second, forgot and find again is an ever-growing one. I don't quite remember how many years ago this was but I remember still that THE TEMPERANCE MOVEMENT had a new LP out and I saw an advertisement on a German TV channel (I think it was RTL2). At that time, I thought for a second "That sounds cool" and quickly forgot it again. Now years later in the mid of a global pandemic that already claimed 538,000 lives I tend to work a bit of backlog to take my mind of things and stumbled over this little gem named 'A Deeper Cut'. Backlog is still quite big but hey it shrinks as I work my ass off on all fronts (multiple front-lines so to speak). So, let's talk about music, shall we?
Bad news first: Phil Campell, vocalist par excellence left the band in January 2020 and man that sucks because he is a real talent. Soulful, variable and a full-blood singer and performer. Phil, together with Luke Potashik and Paul Sayer formed THE TEMPERANCE MOVEMENT in 2011. 'A Deeper Cut' is the bands third output and sadly the last one with Campbell on vocals. The whole musical direction is rather 70s oriented and quite far away from the usual Metal stuff I so dearly love. Like with almost every modern retro band this is top notch in every division: melody-driven, beautifully crafted and lovely narrated little audible treasures with great riffs, drums, bass and vocals.
Conclusion: If you dig bands like THE ANSWER, THE DEAD DAISIES or RIVAL SONS you should make a bit of space for this in your vinyl collection...
Rating: 9 / 10