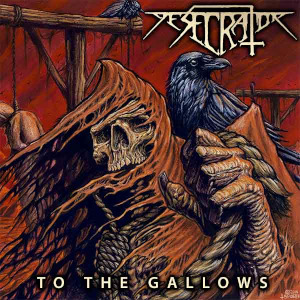 Artist: Desecrator
Title: To The Gallows
Genre: Thrash Metal
Release Date: 27th October 2017
Label: Violent Creek / Soulfood Music
Review Flash

Flashback to 2017: Trump becomes president, Helmut Kohl dies aged 87, a mass shooting in Texan Sutherland Springs results in 26 deaths... one of the few good things was that DESECRATOR from Melbourne were formed too in that dumpster fire of a year. As often when you come to think: "Why is the fucker reviewing stuff from years ago again?" the answer is: Backlog, I was on hiatus for a few years and most people here don't love Metal as much as me so I have to review a bit of old stuff every once in a while. So, 2017 was a shit year but some cool bands were formed or released cool records or did something cool (COOL!!!).
'To The Gallows' was DESECRATOR's full-length debut and a good one at that, even though not entirely up my alley I can tell good from bad stuff and this here is pretty solid as in a solid kick in the nuts while you lie on the ground. The overall sound is pretty US Thrash and even a bit Hardcore influenced if you ask me. Fast, aggressive and sometimes rather spoken than sung. The pure, raw aggression is felt at every moment and to be honest it is not of the negative sort and feels kinda punky at times. Vocalist Riley Strong has his hands full that much I can say: he shouts, screams, barks in every aspect his voice can provide, the riffs and hooks provided by him and Finch are fast, galloping staccato cascades. The drumming is a violent revelation in itself and the bass, when heard, is the lining in the riff superstructure.
Conclusion: If you dig bands like NUCLEAR ASSAULT, SACRED REICH or FORBIDDEN you should risk an ear (literally)...
Rating: 8 / 10