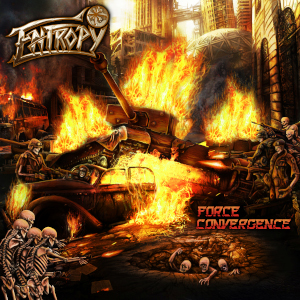 Artist: Entropy
Title: Force Convergence
Genre: Technical Thrash Metal / Groove Metal
Release Date: 14th August 2020
Label: Inazone
Review Flash

And once again a great Thrash band from Canada! This time it is ENTROPY from Brampton, Ontario. ENTROPY came to be in 1989 the year the Berlin Wall fell and Michael Keaton showed critics the ropes with his overwhelming performance as Bruce Wayne / Batman. ENTROPY is a rather odd story considering the release history. The first demo came out in 1991 followed by the critically acclaimed first full-length 'Ashen Existence' which did set the bar fuckin' high for anything afterwards; 1995 saw the second LP 'Transcendence' and the last release 'E3' in 2012. after another eight years of waiting, fearing they have disbanded, ENTROPY surprises us with the new LP 'Force Convergence'.
I don't know why they paused 17 years between 'Transcendence' and 'E3' or why it took another eight years to complete and release their new output but I think we all can agree that it is always a fine thing to have a great Thrash band back among the living. Most of the time when reviewing bands that play a bit on the rough side, I just hope it doesn't suck, well nothing sucks on this one I can tell ya! Ger Schreinert on vocals is a dope ass vocalist, totally fit to tear and scream through the songs without skipping a beat and worshipping 90s JUDAS PRIEST every now and then, Dan Lauzon on Guitars shreds, riffs and generally kicks ass on six-string duty while Blake Lemieux punches and kicks his drum-kit in and out of coma and Oscar Rangel on Bass kills it and really makes his presence known (I can hear the bass, like CLEARLY!). To be honest this shit really kills!
Conclusion: If bands like HEATHEN and TESTAMENT give you a spiritual boner you should check out ENTROPY! Do it because I said so!
Rating: 8.5 / 10