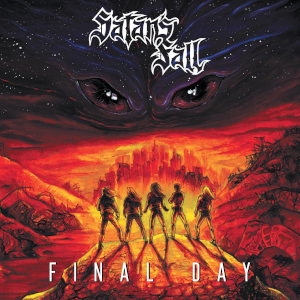 Artist: Satan's Fall
Title: Final Day
Genre: Heavy Metal
Release Date: 11th December 2020
Label: High Roller Records
Review Flash

SATAN'S FALL from Helsinki, Finland come from a very classical corner when it comes to their musical approach. The band was formed in 2015 (the year of the assault on Charlie Hebdo and the Germanwings Airplane crash). 'Final Day' is the band's first LP to date. But let's check the press text first:
"The self-recorded material was mixed and mastered by veteran producer Mika Jussila at Finnvox Studios, and since the guys are "dealing with war, depression and the end of the world" according to co-founder Tomi Mäenpää. "the lyrics address mortality and how to push on through all the shit life throws at us." With the compilation, "we basically closed the doors behind us in order to enter a new realm", the guitarist continues. "If previously, we were more speed-oriented, now we are more focused on content than ever." Which does not imply that the five-piece fails to deliver the heavy goods, with tunes such as the truly demonic 'They Come Alive' or 'Juggernaut' offering memorable riffs and melodies galore, taking unexpected turns and changing key in a breath - of which banshee front man Miika Kokko never seems to run out."
Sure, this is nicely produced, composed and executed but there is no need for hyperbole to advertise a solid record like this. If something is decent in heavy metal your audience will find you. Miika Kokko's voice is a thing of its own and he is greatly supported by riffs en masse and a very present drummer, the bass is more in the background but that is a common point of arguments nowadays.
Conclusion: If you dig bands like: MIDNIGHT PRIEST you will want to check this out.
Rating: 7 / 10