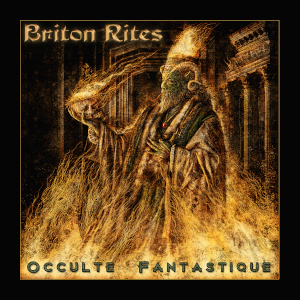 Artist: Briton Rites
Title: Occulte Fantastique
Genre: Doom Metal
Release Date: 18th December 2020
Label: Echoes of Crom Records
Review Flash

How many bands can claim to have been formed because if a 19th century Gothic novella? Well BRITON RITES can! The books story revolves around an undying beautiful female vampire named Carmilla, it is said that this very story inspired Bram Stoker to write about Dracula. However, BRITON RITES formed in 2006 in Atlanta, Georgia and later relocated to Pikeville, Kentucky. 'Occulte Fantastique' is the band's second LP and with 55:01 playtime it is worth every last cent of your money. Phil Swanson has the perfect voice for a Doom band, somewhat similar to that of Ozzy Osbourne yet more capable and definitely more variable when it comes to technique and intonation.
The whole arrangements are quite theatrical without losing their gloomy, creepy class. Neither Howie Bentley on guitars nor John Leeson on bass are expendable, not for a second! The riffing and sheer elegance of the bass being played as rhythmic counter-attack steadily fighting for dominance in the lengthy compositions manages to further empower the riffs while being an essential part of the musical narrative (I love how audible the bass is). The drums are the only part that is in the background, not fighting for dominance at all, feeling self-sufficient while keeping the rest of the band in line pace-wise. When it comes to lyrics a lot of bands can learn a thing or two of these gents.
Conclusion: Check out 'Occulte Fantastique' and don't forget to check out the predecessor 'For Mircalla'.
Rating: 8 / 10