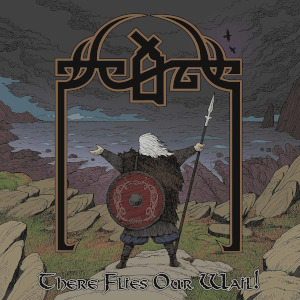 Artist: SCALD
Title: There flies our Wail!
Genre: Epic Doom
Release Date: 26th February 2021
Label: High Roller Records
Review Flash

SCALD is one of those bands, one LP and after that a tragedy destroys all that could have been. Not long after 'Will of Gods is a Great Power' was released (1996) SCALD's vocalist Agyl (Maxim Andrianov) died in a railroad accident in 1997 which spelled an end to SCALD's moment in the sun. The band disassembled and became a cult in the Epic Metal scene. In 2019 SCALD reunited for the "Hammer of Doom" festival (with ex-SOLSTICE vocalist Felipe Plaza Kutzbach). Luckily, they have kept going so the Heavy Metal world could hope and pray for new masterpieces, what can I say? The gods have answered our prayers, new material is here in form of the EP 'There flies our Wail!'. OK there are only two songs on this release but they are really absolutely epic, one is a new interpretation of 'Eternal Stone' and the second one is the name giving title track: 'There flies our Wail!'. In all honesty the new vocalist, even though never filling the gap that Agyl left, is phenomenal and more than worthy to give SCALD a new voice.
Conclusion: If you love Epic Doom, you will need this in your life!
Rating: 9 / 10