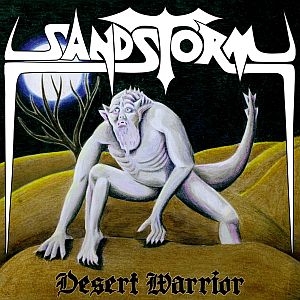 Artist: Sandstorm
Title: Desert Warrior
Genre: Heavy Metal
Release Date: 26th February 2021
Label: Dying Victims Productions
Review Flash

Oh Canada... my love and respect to this rough and beautiful piece of this ugly shitshow of a planet is quite big I have to say. To an extent even, that I am getting giddy as fuck as soon as something from the Great White North lands in my mailbox. I, of course, am no stranger to the artistic merits of SANDSTORM. The three Canucks won me over last year when I had a blast listening to 'Time to Strike' (well, I was a year late on this one…). 2021 cannot be that bad according to the music that comes out in this year. It is also important to mention that SANDSTORM's new EP 'Desert Warrior' will be released over Dying Victims Productions.
The first thing to notice is that this EP is a bit heavier on showing the skill of the involved artists, this shift in balance goes to the expanse of the fierce catchiness of the band's sound (no banger like 'Death is near' this time). BUT!!! The equilibration also obliterated the "weaknesses" of the first EP. The material itself is less catchy but very well balanced and more well-adjusted when it comes to arrangements, song-length and sound. 'Evil Wins' is the most kick-ass song hands down, and there is no stinker on this one. I said it before and I will continue doing so: this is one of the bands that have what it takes to be heroes of tomorrow, mark my words!
Conclusion: I really look forward to more and more and more...
Rating: 9 / 10