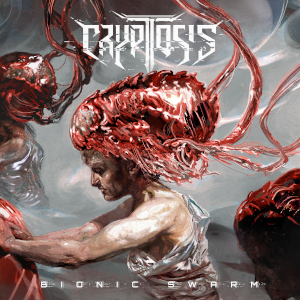 Artist: Cryptosis
Title: Bionic Swarm
Genre: Progressive Thrash Metal
Release Date: 26th March 2021
Label: Century Media Records
Review Flash

CRYPTOSIS is a brand-new beast or rather the next step in the evolution of former band DISTILLATOR. DISTILLATOR was formed in 2013 in Enschede, Netherlands and after seven years and two full-length outputs Frank te Riet (bass, mellotron), Marco Prij (drums) and Laurens Houvast (vocals, guitars) buried the band and their former approach to rise like a Progressive Thrash Metal Phoenix out of the ashes as CRYPTOSIS! If you like your music aggressive, yet technically superior to the competition: this is the way! Fast-paced, merciless and wild is what awaits thee but behold! These guys can do wild and sophisticated all at once. Former band DISTILLATOR played Thrash Metal but that was not enough so CRYPTOSIS had to be born.
Laurens' vocals are both wild and raw, always on the border between high pitched screams and almost Death Metal like shouting (a real special sounding vocal hybrid bastard), not to forget that he is the riff master of the three-piece which means he is furious on double duty supposedly burning the creative candle from both ends simultaneously. Frank te Riet on bass is mostly audible cloning Laurens riffs to enhance their punch (which works just fine as they hit hard as fuck). Marco Prij on battering and kicking duty resorts to absolute violence when it comes to his kit (which sounds great, mate must be sleeping like a baby after rehearsal). My favourites are: 'Conjuring the Egoist' which is a brutal, fast paced masterpiece of a banger and 'Game of Souls' because the rhythm work on this one is right of the bat totally insane.
Conclusion: Like it smart and hard? This is your flavour!
Rating: 8 / 10