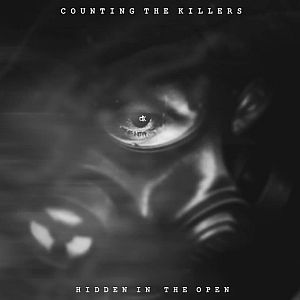 Artist: Counting The Killers
Title: Hidden In The Open EP
Genre: Alternative Rock
Release Date: March 2021
Label: Self-released
Review Flash

Always good to see a bit of innovation, adaptation and classic stiff-upper-lip, especially in the face of unprecedented disruption. The UK's COUNTING THE KILLERS got together late in 2019, deciding to give a much-needed poke in the ribs to the alt-rock/metal scene, write awesome music, do a million gigs, that kind of thing. Only to watch it all fall apart as the horrors of 2020 unfolded. So, what to do? Slow-release six singles, six accompanying videos, and then draw them together as an EP, keep on getting the name out there, and be ready for gigs once gigs can be a thing again. Admirable.
Musically, this collection is expertly varied, the melody of FEEDER, the twists and turns of SLIPKNOT, power and subtlety and the odd fabulous riff all thrown together and worked into a refreshingly now sound. The title track is a hard-rock belter, 'Head Above Water' a powerful and timely call to arms tackling mental health issues full-on, and 'Royal Ten' messing about gleefully with genres, sounding uncannily like any number of bands at the start of their careers. 'Whispered Torment' is bold and balladry and will be fabulous live, and 'Winter' is nicely complex and big of chorus, stomping about like it owns the damn place. There's even a guitar solo. Remember them?
Conclusion: This is a promising debut collection from a band straining at the bit to get out and play live - you can sense it. Proof that sitting on your arse and complaining will not win the day, there's a feeling COUNTING THE KILLERS have used the time well, and will be one of the break-out rock acts of 2021/2. They deserve it.
Rating: 8 / 10