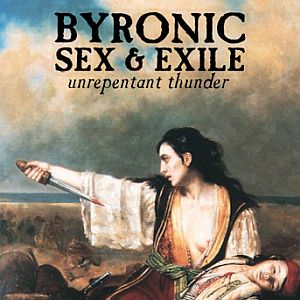 Artist: Byronic Sex And Exile
Title: Unrepentant Thunder
Genre: Gothic
Release Date: 3rd September 2021
Label: Goth City Records
Review Flash

If there's one musical genre guaranteed to cause a flatulence of self-righteousness, tribal black-flag waving, and ludicrously unwarranted snobbery, it's Goth. What is Goth? What is Gothic? Simple. Ask Joel. Joel Heyes, in his current guise as BYRONIC SEX AND EXILE, just gets on with the relatively simple task of being Goth, and Gothic, injecting the more obvious dark preoccupations with much neglected Romanticism, classical sexuality, historical passion, and intelligent black humour. Douse with a revolutionary's zeal and a storyteller's eye for detail and the macabre, and you have a reconfigured definition of a tradition that far extends beyond music, and into the abyss of our oldest, darkest longings and passions.
Based loosely on Byron's participation in the struggle for Greek Independence (well, it's better than banging on about dark angels and being misunderstood) 'Unrepentant Thunder' gallops through so much territory it's frankly knackering. There's the gorgeously repetitive '114', relentless and epic, rich evocative spoken word on 'I Speak', haunting piano and dancefloor percussion on 'Ecstasy (Lovers Make Better Goths)', blacker-than-black despair oozing down the damp walls of 'A Boy Called Jihad' and nearly eight minutes of hair-blowing-in-the wind fabulousness with 'Hercules'. Nothing subtle or restrained here at all, thankfully. Which is the whole point.
Conclusion: A thorough, intellectual - but immense fun - perambulation through a genre now reclaimed. Waving those neon sticks about while wearing furry green boots just got another shove off the edge of Whitby's crumbling cliffs.
Rating: 8 / 10