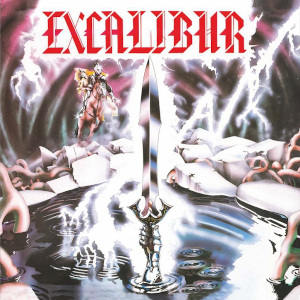 Artist: Excalibur
Title: The Bitter End (2021 Re-Issue)
Genre: NWOBHM / Heavy Metal
Release Date: 24th September 2021
Label: No Remorse Records
Review Flash

I am a big fan of the NWOBHM but even I don't know all the bands that emerged and disappeared in this short period of time, one thing tough is crystal clear: the amount of talent that saw the light of day between roughly 1975 and 1983 was enormous and it shaped the landscape of Rock Music to this very day. UK band EXCALIBUR was formed in 1981 in Bradford, West Yorkshire. They only managed to release one full-length in 1990 called 'One Strange Night'. I was made aware of these guys when a video of the re-issue was played on the YouTube channel for Keep it True TV and immediately knew that I want to listen to more of their stuff. What got me sold on the band is Paul McBride's vocals mixed with the strange energy that the band gave off, like listening to the love-child of Sweden's TNT, UK's IRON MAIDEN and SKID ROW from the United States.
Everything is highly melodic, played and sung with unbelievable self-confidence and a very good sound. No wonder this became a cult classic over the years, the overall sound is top notch from the riffs, the audible rad bass-lines, the efficient and punctual drums to McBride's awesome vocals (mind you, these guys were teenagers at that moment in time). 'The Bitter End' will be available on CD for the first time, as well as limited coloured vinyl variants and as a special limited edition box set. It will also be available across all popular digital and streaming services. The CD features a full colour twenty page booklet, while the vinyl album comes with a special four page insert, both containing lyrics, liner notes, memorabilia and never before seen photographs. The limited edition box set will consist of the CD, exclusive box set silver vinyl album (Excalibur Mix), 'Back Before Dawn' demo cassette replica, T-Shirt and patch.
Conclusion: The cult around this band and their few releases is well deserved, epic musicianship and catchy tunes make me happy so go check this out!
Rating: 9 / 10