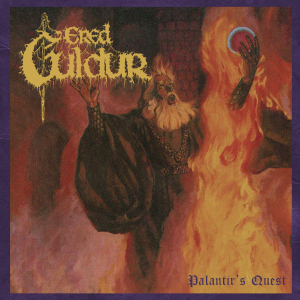 Artist: Ered Guldur
Title: Palantir's Quest
Genre: Doom Metal
Release Date: 6th September 2021
Label: self-released
Review Flash

ERED GULDUR was formed in 2018, originally by the name MAHARA. In 2020 the band was renamed first NECROMASS and then, finally, ERED GULDUR. January 2021 saw the first full-length feature of the band and 'Palantir's Quest' is their first single after that release. This is an 18-minute epic so I f you dig well thought out doom epics like this I guess you got the steadiness to endure a long ass track like this. 'Palantir's Quest' is a song full of variety and more than just one structure, this even has multiple bridges and transitions. The feel of the whole composition is like a Babushka of Doom, with songs crammed into other songs that unfold if you take your time to listen to this in full.
Musically this is classic Doom all the way, dragging, slow riffs that have been down tuned to a degree that is barely bearable. Vocalist Marta is mixed into the song in a not so classic way, she is not entirely in the foreground but she ain't in the background too, the vocals sound more like the waver above the rest of the soundscapes. The work done by Litus, Pablo and Marc are also remarkable because as much as it seems like a wall of sound, if you listen closely, you can hear what each of them contributes. As this is only one song and probably just a tiny window into the band's sound ERED GULDUR only gains seven points this time.
Conclusion: I am curious as to what the next release will sound like, time will tell I guess.
Rating: 7 / 10