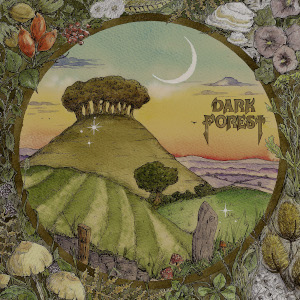 Artist: Dark Forest
Title: Ridge Furrow
Genre: Epic Metal / Power Metal
Release Date: 30th September 2022
Label: Cruz Del Sur Music
Review Flash

Two years ago, amidst a worldwide pandemic that should wreak havoc all over this planet and hundreds of thousands of people there was, and still is, a light that always helped me when I felt like drowning in sorrow: Music. Most of the people that might read this will instantly recognize the feeling I clumsily clad in words and even if this is as cheesy as it gets it is art that safes some of us in their time of need. One of the better moments in the first year of the ongoing age of the plague was DARK FOREST's 'Oak, Ash & Thorn'. DARK FOREST is a band from the UK's West Midlands and together with acts like SEVEN SISTERS (Josh played on their demo 'The Warden') and WYTCH HAZEL (which is Josh Winnards former field of activity) the spearhead of today's English Melodic Metal.
The band was formed in 2002 and 'Ridge & Furrow' is the first musical sign of life of the British four piece since 2020. Fun fact: this year marks the band's 20 jubilee which may be a reason they popped out this very nice EP this year instead of writing a couple more songs and release a full-length. In the end I don't give a flying fuck to be honest, this is a remarkable piece of music EP or LP does not matter at all. The re-recording of 'Under The Greenwood Tree' (a fan favourite since 2011) is one of the best moments of this well-written and brilliantly melodic mini-masterpiece. My favourite aside from the aforementioned track is 'Ridge & Furrow' the title track as I am a big fan of the more epic moments (which are plentiful).
Conclusion: If there is just one Trad Metal EP you want to buy in 2022 it ought to be 'Ridge & Furrow' by DARK FOREST.
Rating: 10 / 10