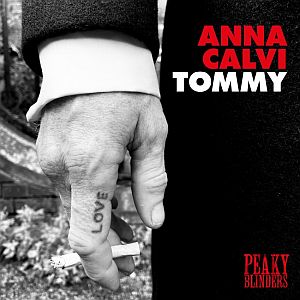 Artist: Anna Calvi
Title: Tommy EP
Genre: Alt-Rock
Release Date: 6th May 2022
Label: Domino Records
Review Flash

For those not familiar with a Birmingham accent, UK's 'Peaky Blinders' drama - featuring a preposterous amount of violence - will be somewhat impenetrable. But like all social phenomena, it gets everywhere, not unlike Cilian Murphy's naked arse, which seems to pop up, or down, in every episode. Providing the soundtrack for season six was ANNA CALVI, and this EP release handpicks four tracks most likely to distract you from the flesh wobbles and blood splatters of the show.
There's a cover of 'Red Right Hand', by NIK CAVE AND THE BAD SEEDS, which loses some of the sinister, dusty darkness of the original, but has a strange dissonant terror all of its own. Also covered is BOB DYLAN's 'All The Tired Horses', beautifully sung, hovering and haunting like some heavy distant cloud. There are also two originals especially written for the show - 'Ain't No Grave' stalks menacingly along, picking up pace and shaking its claws and fangs, climaxing in some kind of silhouetted stand-off where no-one is left alive. And 'Burning Down' slinks about like a candlelit shadow, flickering and lingering, an odd, queasy sense of unease running through this one.
Conclusion: Soundtracks rarely work outside of the visuals, but these are stand-alone songs and mood pieces of the highest quality, and there's a consistent ebb and flow here, like a dirty tide lit dimly by a blood moon.
Rating: 8 / 10
Written by Stephen Kennedy