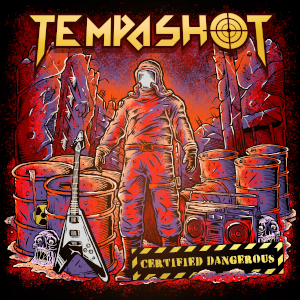 Artist: Tempashot
Title: Certified Dangerous
Genre: Thrash Metal
Release Date: 27th January 2023
Label: self-released
Review Flash

If you dig the good old Thrash Metal but are always open for a new and different spin on the genre you will, very likely, get a kick out of TEMPASHOT from London, England. These guys decided to form a band in 2020, because why the fuck not? Aside from Guitarist Simon Ellis everyone was involved with the band STATE OF ANXIETY before forming TEMPASHOT. So, what is it that makes this band stand out in the monthly flood of new and sometimes awesome releases? Vocalist Luke Alexander not only sings he is quite a fast-rapping frontman too, yes you read that correctly. TEMPASHOT is an old-school hardcore influenced Thrash Metal outfit that is using gang-shouts and fast as fuck vocals to leave the competition behind.
I am not a big Rap fan to be honest but, in this context, it is something that I actually like about the band because it, aside from the well written tracks and clever arrangements, manages to put them in the spotlight as the one band that really is something else. I remember when I did a review for the 'Moshing the Roof On' sampler last year, I listened to all these different bands (some were awesome, some were just good) and TEMPASHOT was the only band that got to me in a way that accomplished a thing the others did not: I remembered their name, a day, a week and a month later. My favourite song is 'No Way Home' which comes as a hybrid between LINKIN PARK and old-school METALLICA and I mean that in a good way. So, if you search for something new that has one foot in the glorious past and one in the presumed future of said genre, search no more!
Conclusion: I expected a well written and executed record that brings new influences into the Thrash scene and I got exactly this.
Rating: 8 / 10