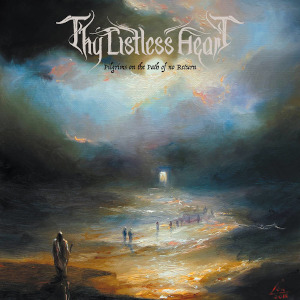 Artist: Thy Listless Heart
Title: Pilgrims On The Path Of No Return
Genre: Atmospheric Doom Metal
Release Date: 18th November 2022
Label: Hammerheart Records
Review Flash

Me and Simon, the multi-instrumentalist and mastermind behind THY LISTLESS HEART, already followed each other on the socials way before we decided to interact in this kind of professional kind of way. He asked me if I want to check out his music and I, of course, said "Yeah!" Now that I sit here and listen to this extremely dense, atmospheric, melodic collection of songs I ask myself why it wasn't the other way around? Why did I not ask him if I may get a shot at a review. Either way, I am in the privileged position to lay my ears upon this and delve into the melancholic depths of Simon Bibby's mind. If that name rings a bell, it may be due to the fact that Simon played in illustrious bands like AMARANTH and SEVENTH ANGEL (which is still active and according to the Metal Archives still features Simon as a member).
If you need references in the form of bands with a similar sound I can offer you MY DYING BRIDE, ANATHEMA and THE GATHERING but due to the fact that the fact of Mr. Bibby is a beast of its own the sheer comparisons are not fit to release you from the task, the mission to hear the man and his project for yourself. THY LISTLESS HEART is the musical equivalent of sadness, if not grief itself. Everything I hear feels like intense suffering made audible in a musical and extremely emotional and melodic form, to call the music I am listening to right now a thing of beauty would be no exaggeration. If you got a weakness for well thought out, composed and executed Doom, there is no way around 'Pilgrims On The Path Of No Return' by THY LISTLESS HEART
Conclusion: Insanely mournful Doom intensely bordering on Goth without being cheesy, a thing to be applauded for.
Rating: 9 / 10