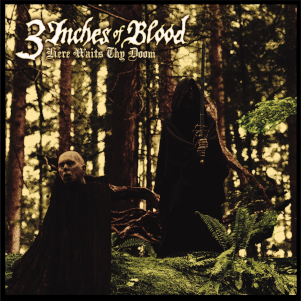 Artist: 3 Inches Of Blood
Title: Here Waits Thy Doom
Genre: Power Metal / Heavy Metal
Release Date: 11th August 2023
Label: Golden Core
Review Flash

Once upon a time there was a Canadian band that was as fierce as a weathered blade and as glorious as a barbarians last stand. The band was 3 INCHES OF BLOOD and in that short period of time they graced our scene with their existence, this mortal plane was a better place. From 1999 to 2015 they gave us five records, doubtless proof of their heavy metal bad-assery. Eight years have passed since Cam, Shane, Justin and Ash have called it quits and now we finally get two of their finest releases remastered on vinyl. The first one for me to write about is 'Here Waits Thy Doom' which originally came out in 2009. At that point in time 3 INCHES OF BLOOD was already a well-known act with a growing fanbase.
I always jokingly say that these guys build a career on sounding like 'Painkiller' from JUDAS PRIEST and I still think that this fits. Cam Pipes with his insane chainsaw falsetto is the clear centrepiece to base the sound on but this does not mean that the rest of the band is forgettable (no way Jose). The riffs and melodies of both Justin Hagberg and Ash Pearson reawaken the glory of the golden age of heavy metal with their riffs, the drums and the bass are the living, breathing heart of the songs that is literally pumping liquid steel through this Juggernaut of a band. To say that 'Here Waits Thy Doom' is a monument of metal is an understatement and to say that this is valid for the whole band, their sound and their body of work is one too. Both this and the last stand of our beloved Canucks 'Long Live Heavy Metal' are newly re-mastered for vinyl and come limited to 500 pieces each so be sure to get your hands on them as long as you can.
Conclusion: Finally, we get to own these masterpieces on vinyl, my heart is full.
Rating: 10 / 10
See also (all categories):