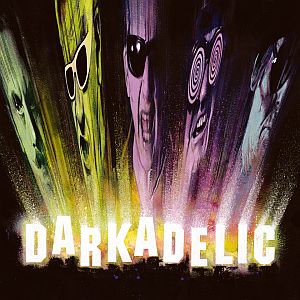 Artist: The Damned
Title: Darkadelic
Genre: Alternative / Rock / Goth
Release Date: 28th April 2023
Label: earMUSIC
Review Flash

THE DAMNED are around for almost half a century and while the band matured, their sound developed away from Punk, Goth Rock and remains somewhere in-between. After a reunion for a tour, the band released 'Darkadelic'. The album's opener 'The Invisible Man' comes with amazing guitars riffs that indicate the songs drifts towards Blues until the band does a sharp turn and punches directly into your faces, making it clear that they lost none of their psychedelic attitude ever since. If you like horror films, 'Bad Weather Girl' is for you, thunderstorms, bells and a psychedelic atmosphere send a shiver down your spine, while you are listening to excellent guitar work. If you want to hear David Vanian at his best, try 'You're Gonna Realise'. Vocals in clear voice and a kicking Punk riff are combined to a wonderful song. Goth Rock at its finest can be found in 'Beware Of The Clown', that starts rather simple but if you listen close, more and more elements come in and the chorus will be on your mind for a while.
If you are into 80s Goth and looking for a ballade, try 'Western Promise'. This one comes with melancholic vocals, while the lyrics indicate, that it's not all lost. The sound sphere with the vast choruses carry the song along and make it a wonderful 80th reminiscence. 'Follow Me' is an amazing with unexpected changes in the songs mood and some Rockabilly elements. Captain Sensible gets his space for guitar work in 'Motorcycle Man' that comes with wonderful melodic work. A masterpiece coming to melodies is 'From Your Lips' that takes you to the Vampire prone side of THE DAMNED. A perfect one for the next Halloween party. The band sees you off with a song that is almost like a movie story, coming to atmosphere and tension. 'Roderick' reminds you of one of Morricone's or Zimmer's works for epic movies, especially if you pay attention to the piano lines.
Conclusion: This might not be a typical THE DMANED album but it's definitely one of the most interesting albums the band released so far.
Rating: 8 / 10
See also (all categories):