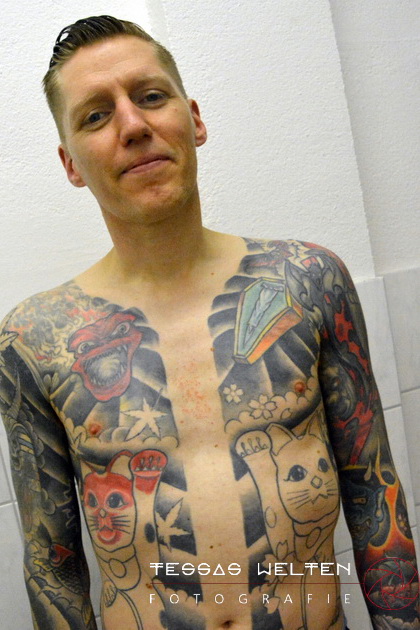 Not all of our interviews are planned. Sometimes I come to the concert to take pictures and see somebody on stage and think: "Oh yes, that's it!". Exactly this happened with Scott. I was at a concert of
DROPKICK MURPHYS
and as opener at this evening,
SKINNY LISTER
from UK were guest on stage. I could not take my eyes away from the amazing tattoos of the bass player. Later at this evening I got the possibility to talk with Scott and I was happy about the offer and so he agreed to be a part of the project. So, let's look at the results of our spontaneous collaboration.
Reflections of Darkness [RoD]
: When did you get your first tattoo and what was it? Did it take much time until you decided to get it done?
Scott
:
I was only 17 (pretending to be 18), I only thought about it for a short time, and I went to a tattoo studio I had heard about in Oxford. I choose a flash design of a double-bass player from the wall and had it done.
RoD
: How many tattoos do you have? Could you please tell us their story?
Scott
:
Just two, my left side and my right side ;-). After my first two tattoos I never wanted lots of small tattoos, so the first two tattoos were joined together and grew into a sleeve above the elbow and onto my chest. I started the top of my other arm with a large tattoo which also grew in the same way.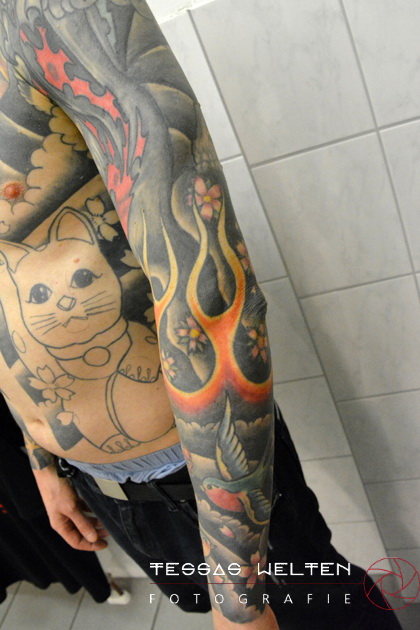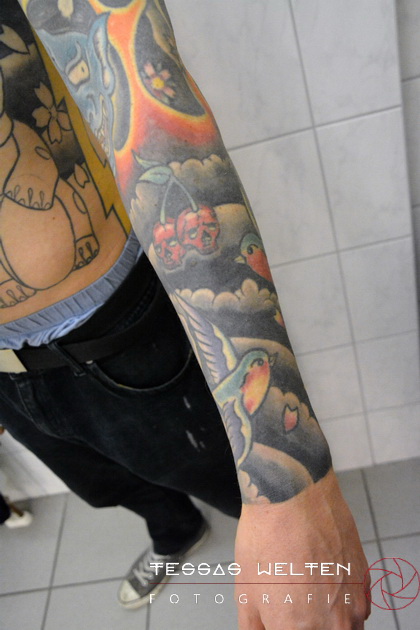 RoD
: Have you already got all the tattoos that you wanted or will you get some new ones in the future?
Scott
:
My arms are finished and my stomach just needs some more colouring in, but I plan to have a complete back-piece tattoo, joining everything together.
RoD
: Have all your tattoos been done by one tattoo artist or by different ones? How do you choose the tattoo artist? In addition, who draws your sketches?
Scott
:
My first tattoo was in Oxford, then I had the tops of my arms tattooed by "Ian of Reading", a well-known artist in the UK. The lower half of my left arm and stomach was tattooed by Klunky (singer of one of my bands, the COFFIN NAILS). The lower half of my right arm was tattooed by U-jiro in Tokyo. U-jiro also plays bass for Japanese psychobilly band CRACKS.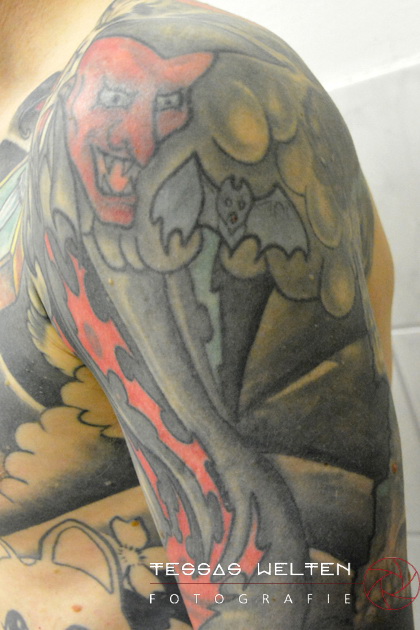 RoD
: Getting tattooed hurts, how do you cope with the pain during the sessions?
Scott
:
The arms were ok for me, but sore of course. Parts of the stomach hurt like hell, I have tried one cream on the market to help with the pain, but the numbing effect only lasted a short while.
RoD
: Do you regret getting tattooed sometimes?
Scott
: No regrets with that! I did have a couple of my earliest tattoos covered over though.
RoD
: What is your taboo in terms of tattoos? What kind of tattoo would you never get done and don't like to see on other people?
Scott
:
I really not a fan of tribal tattoos, but if everyone had the same style tattoos, that would be boring too.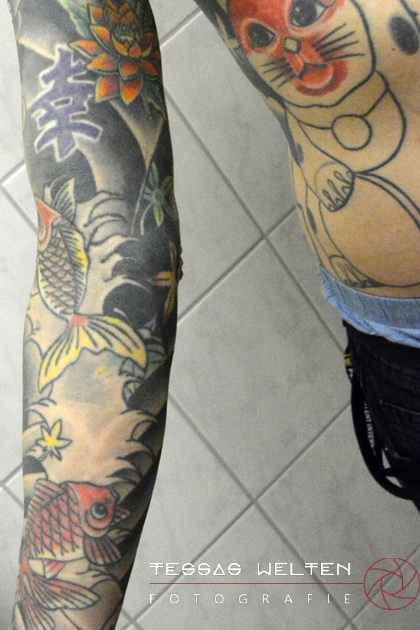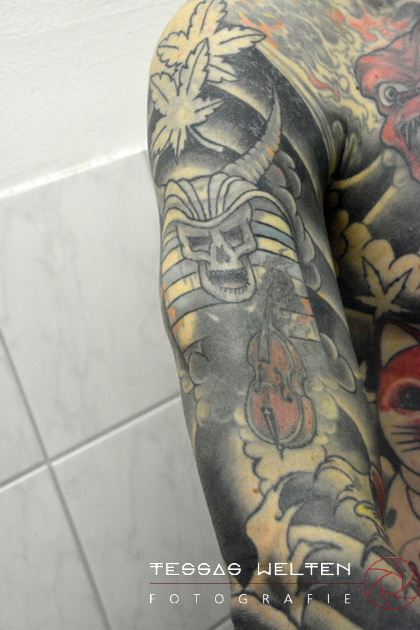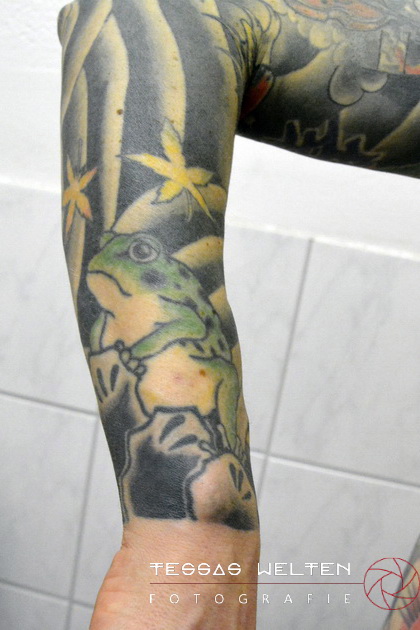 RoD
: Some people say that the drive to acquire body art is addictive while others say it fails to meet the true definition of an addiction, simply calling it a passion. Is it really impossible to stop?
Scott
:
I'm not sure if it's an addiction or just a passion, but I would have found it difficult to stop being tattooed when I was younger. For me it was the whole build up, anticipation leading up to the day, travelling to the studio, the wait and then the pain of course. Once the tattoo was finished, there was a sense of achievement and the adrenalin rush etc., which left me wanting to do the whole thing again.
RoD
: Currently, tattoos are a new trend; many people do not care about the meaning, they just want to have something coloured on the skin, to be in trend. Those people often just go into a tattoo salon and ask which drafts they have. Tattoo artists are not artists any more, they produce consumer goods. Not all of them, of course. How do you feel about this situation?
Scott
:
There have been many trends in tattooing over the years, like the "Celtic band", tramp stamps, tribal and stars etc. There will always be people following these trends, which can then look out of date a few years later, but I guess are also a part of peoples own history and taste at that time. If you are talking about the football-player style grey sleeves that are in fashion right now, yes it does appear some people just walk into to a tattoo studio and ask for grey arms without really caring what they are having tattooed. Maybe this will become embarrassing like a tramp stamp, or out of date/ fashion in few years, but only time will tell.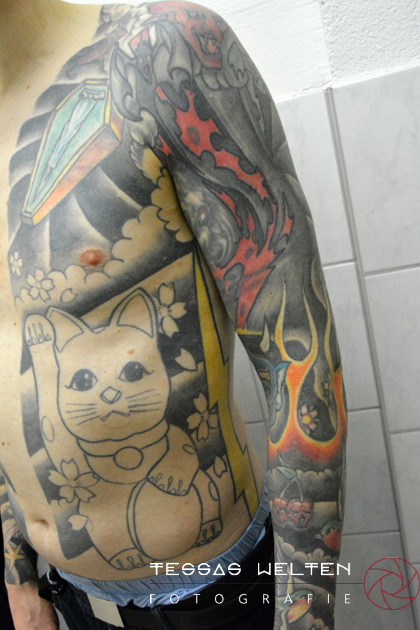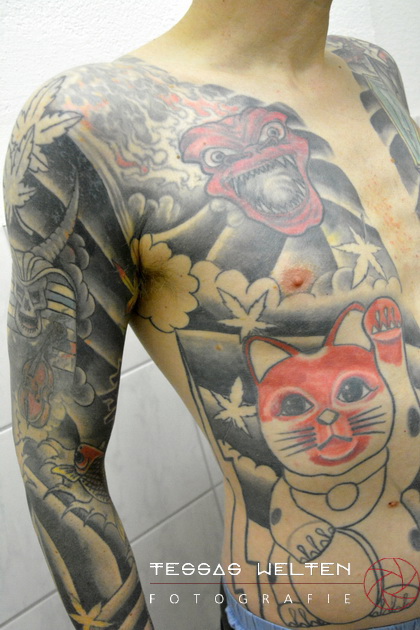 RoD
: I would like to talk about the social aspect of tattoos, too. Previously, many people believed that if you have a tattoo, you will be never be successful and will not find a "good" job. Have this state of mind and people's perceptions changed or are these prejudices still alive?
Scott
:
I think perceptions have changed somewhat and most people are less judgmental, but prejudices are still alive. It is still more common to see people with hand, neck or face tattoos working in more creative or service sector employment, but there are certainly a lot of tattooed people with "good" jobs.
RoD
: Which advice would you give to people who are going to get their first tattoo? How to choose a tattoo artist? Colour or black and white? Any practical advice?
Scott
:
If you want to be the odd one in a crowd these days, don't get a tattoo. ;-) But if you're determined, find a tattooist that specializes in the style you want and look at photos of their work (not many tattooist can do ALL styles really well). If you see a tattoo that you like on a person, and it is polite to, ask which tattoo artist did the tattoo. …and I'm all about colour!! J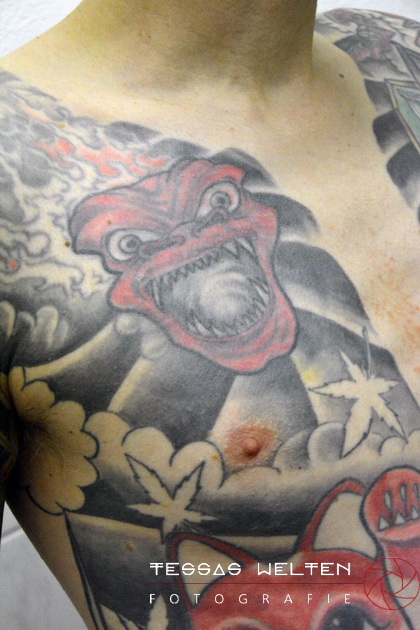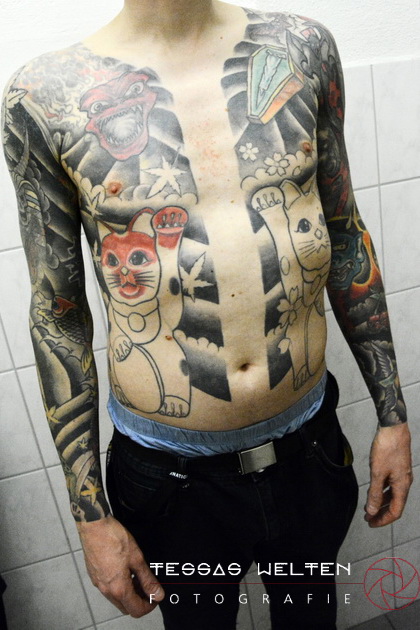 Project by Daria Tessa and Daniela Vorndran, Interview by Daria Tessa
Pictures by Daria Tessa (
https://www.facebook.com/tessaswelten
)