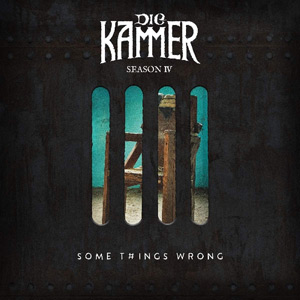 Artist: Die Kammer
Title: Season IV - Some Things Wrong
Genre: Singer / Songwriter / Acoustic / Alternative Rock
Release Date: 19th October 2018
Label: Delicious Releases
Album Review

DIE KAMMER is an acoustic formation of eight musicians, founded by Marcus "Max" Testory (ex-CHAMBER) and Matthias "Matze" Ambré (ex-ASP) in December 2011. In addition to vocals and guitars supplied by the aforementioned, the outfit consists of bass, drums, violin, viola, cello and tuba. With this somewhat unusual combination of instruments (yes, tuba), the band has most recently played M'era Luna and Autumn Moon Festival, and is currently on tour with their new album, 'Some Things Wrong'. The band divides its creative work into seasons. Starting with 'Early Adoptions', a small video series on Youtube back in 2012, it's been telling the story of the little girl Sophie, whose adventures lead right into the release of the first single, and who's been a recurring character throughout the past seasons.
When we last met Sophie about two and a half years ago, she'd found 'Solace in Insanity'. Re-joining her at the beginning of 'Season IV', we're confronted with a haunted, spooky atmosphere, the girl's once positive and brisk attitude lost to a sneaky determination to lure us into the 'Home of the Wrong' by reassuring us that we're in the right place, that all the wrong things are locked away, attractions to be admired safely through the slits in the doors. With a little throwback to 'Season One's 'Labyrinth of Despair', singer Marcus Testory joins Sophie's welcoming words to this season's tales and mysteries.
However, locked doors actually do little to protect the curious guest from being affected by the featured attractions. The stories of indifference, betrayal, tragedy, death, destruction and greed have great potential to hit home, occasionally with a decidedly darker, rougher attitude than the placid melancholy we've come to expect (and love) from DIE KAMMER over seasons past. While there's still plenty of the latter in songs like the single 'Bedroom Wars', 'In Dubio' or 'Second Man on the Moon'; the likes of 'Forced to Survive' (previously released as a slightly tamer 'Taught to Survive' on the band's Minimized EP earlier this year) and 'This Story Won't End Well' noticeably pick up the pace.
Even though Ambré insists that DIE KAMMER is not a political band, several of the songs also touch upon social issues. The accusatory 'How Dare You' and the lament 'Mercy Me' lead to the breaking point in 'Sick and Tired' and the resulting realization in 'Something Wrong With Me'. In the end we are left to wonder how complicit we are, and while we still wonder how to wash off the 'Gunshot Residue', Sophie reassuringly whispers to us once more before the doors of 'Season IV' close.
'Some Things Wrong' is a small step away from the tried and true, but never too far for Testory's deep and compassionate voice to easily nudge us along. With its unusual set of instruments, DIE KAMMER stays easily recognizable, if not unique, in its ways of not-quite-gothic, almost wave, passionate acoustic rock, fitting snugly in its very own niche. The look of the chamber, the home, might've changed a little, but it's just as much a place to be adopted by soul mates as it was six years ago. Or, as Sophie said: This is the right place.
Post scriptum: The Deluxe Box, available through the website of the band's label Delicious Releases, comes with a bonus disk featuring an alternate version of 'Bedroom Wars' with added vocals from the tour's support ROMIE, and a single cut of 'In Dubio'. 'Mirror' featuring LETZTE INSTANZ singer Holly Loose is a German version of a song from 'Season II', and 'Will You Close My Eyes', once more featuring ROMIE, is an a capella version of a song from 'Season III'. The box also includes the photo book 'Home of the Wrong' with photographs of abandoned asylums, disturbing yet fascinating imagery captured by photographer Sven Fennema that influenced the album and became the basis of its artwork.
Tracklist

01. Home of the Wrong
02. How Dare You
03. Bedroom Wars
04. Till the Break of Dawn
05. Forced to Survive
06. This Story Won't End Well
07. Mercy Me
08. In Dubio
09. Second Man on the Moon
10. Sick and Tired
11. Sedlazcek's Attic
12- Something Wrong With Me
13. Gunshot Residue
Deluxe Box Bonus Disk "Another Home of the Wrong"

01. Bedroom Wars (featuring Romie)
02. Mirror (featuring Holly Loose)
03. In Dubio (Single Cut)
04. Will You Close My Eyes (A Capella Version featuring Romie)
Line-up

Marcus Testory – Vocals, Guitar
Matthias Ambré – Guitars, Backings, Bass, Mandolin
Matthias Raue – Violin, Viola
Tabea Rotter – Cello
Harold Nardelli – Tuba
Ingo Römling – Bass
Oliver Himminghofen – Drums
Sabine Bohlmann – Voice-over / Narrator
Nadja Testory – Hackbrett
Aline Deinert – Viola (live)
Anne Eberlein – Viola (live)
Dominique Schäfer – Viola (live)
Benni "Cellini" Gerlach – Cello (live)
Linda Laukamp – Cello (live)
Website

https://die-kammer.com/
Cover Picture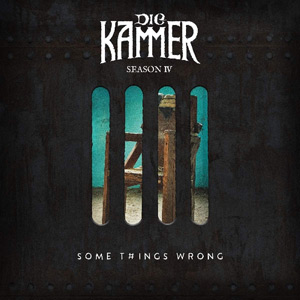 Rating

Music: 9
Sound: 9
Total: 9 / 10