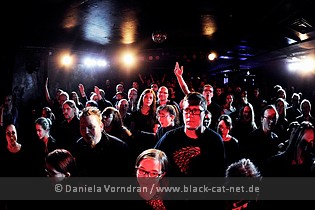 Luxor, Cologne, Germany
20th February 2016
Die Kammer & Delva

There are bands and musicians you have on your bucket list as "must have seen" you saw once and then you don't need to see them live again or at least not so soon again. And then there are those you just cannot get enough of. DIE KAMMER is certainly one of the bands I'm not tired of seeing again and again. Thus I was very much looking forward to see the show in the Luxor, a small club in Cologne.
Delva

The singer- songwriter/ Folk trio DELVA was founded 2012 in Munich, Germany. Inspired by Irish Folk and German language Rock music, the band developed its own style blending different genres with even Classical and Jazz elements with are underlining the dark romantic lyrics. The incentive to form a band was given by Eric Fish (SUBWAY TO SALLY) as he invited the singer Johanna to be supporting act for the tour of his solo project ERIC FISH & FRIENDS. Thus she, her sister and Michael Löwe got together as a band. An eponym EP was already released. Delva are: Johanna Krins (vocals, lyrics, piano, flute, frame drum), Judith Krins (violin) and Michael Löwe (guitar, banjo).
http://www.delva-band.de
/
https://www.facebook.com/DELVA-554838114538197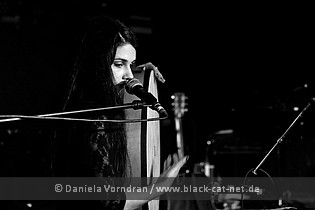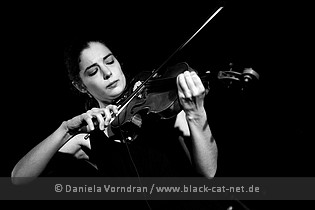 Music & Performance
Unfortunately I couldn't make it on time. So I missed the beginning of the show. But I think I got nevertheless a good overview of the show of DELVA. The band presented some really nice songs and Johanna convinced to be a good singer. Later on she joined DIE KAMMER for singing 'The way you are' with the guys as she contributed the remix version on the bonus CD.
Rating

Music: 7
Performance: 7
Sound: 8
Light: 6
Total: 7 / 10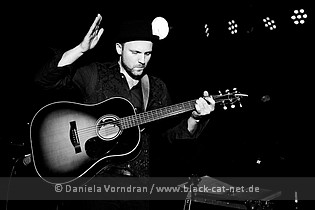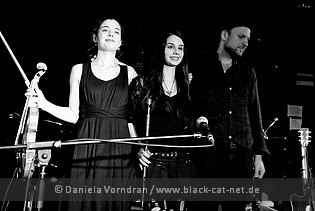 Die Kammer

This project was founded in December 2011 by the singer Marcus Testory, ex member of CHAMBER, and Matthias Ambré, former member of ASP. In April 2012, Oliver Himmighoffen, another former member of ASP, joined the band as drummer and Dirk Klinkhammer as tuba player. The first concert took place at the Wave-Gotik-Treffen in May and a couple of weeks later Matthias Raue, a film composer, was introduced as a new member, playing the violin and viola. The band was then completed with the cellist Tabea Müller (currently on hiatus for family affairs. Veronika Münstermann now appears for her) and violinist Aline Deinert. Soon after Matthias Raue joined the band, the first single 'The orphanage' was released and already in October its debut album 'Season I: The Seeming and the Real' was launched.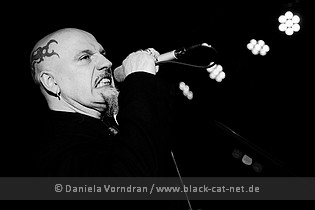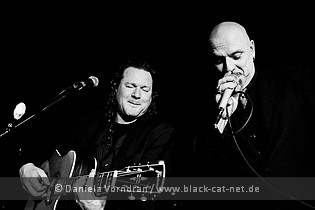 In the course of the two days open-air festival in Cologne, in order to celebrate the 15 years anniversary of SCHANDMAUL, DIE KAMMER was supporting act amongst VERSENGOLD, LYRIEL and FIDDLERS GREEN in 2013. The third album of DIE KAMMER 'Season III: Solace in Insanity' was just released in February of this year (2016). Like the band's name indicates the music is purely acoustic in the old singer – songwriter tradition. The lyrics contain sarcastic, humorous, melancholic, morbid and tongue-in-cheek charm elements. DIE KAMMER is Marcus Testory (vocals, guitar), Matthias Ambré (guitar, Irish bouzouki, vocals), Dirk Klinkhammer (tuba, bass), Oliver Himmighoffen (minimal drums), Veronika Münstermann (cello), Aline Deinert (violin), Matthias Raue (violin, viola) as well as new band member Ingo Römling (bass).
http://www.die-kammer.com
/
https://www.facebook.com/diekammer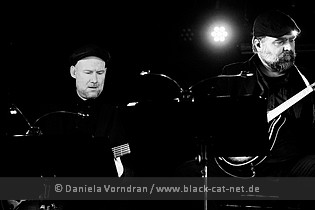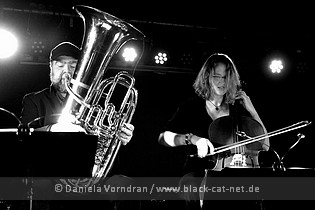 Music & Performance

While the spoken intro of 'Solace in insanity' was played from the playback, Marcus, Matthias and their chamber orchestra, enhanced by the bassist Ingo Römling, entered the stage, took their seats and started to play the song to the end. Once again this band charmed us with their joy of playing, its music and a performance that carries you away in an instant. Every one of them is an exquisite musician who puts his/ her whole heart in the playing without being all too serious. And so it is no wonder that the audience parties with the band. Of course a lot of fans from the early hour were there, too, dancing and singing along with DIE KAMMER. The chemistry is just right between the band and the audience. Everyone was in a merry mood. In between Marcus always has a tale to tell about the next song. Not only did he impress us with his sounding voice but also with his theatrically performance - always with a twinkle in his eye.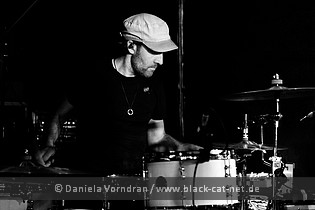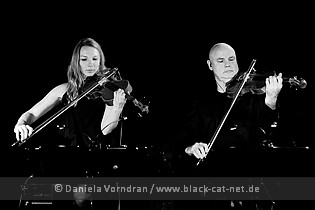 The music is fantastic mixture of singer-songwriter, Folk, Rock, Cabaret, also blended with Waltz and Tango elements. Actually it is hard to pigeonhole the music but that is not bad at all. While enjoying the show I imagined this band performing at a fair, not the ones of medieval times but rather those of the Victorian era with imaginarium, diverse curiosities and tale-tellers of macabre, sombre, mystery murder stories in the style of E.A. Poe, accompanied by music. But then there are some Rock elements in the life performance where Marcus isn't able to hold his horses. I'm pretty sure if he had long hair, he would do some head-banging, too. Of course we wouldn't let the band go without an encore and we got two. When they all returned for the first one, Marcus mentioned that now everybody is finally off his seats. But one guest, sitting in a wheelchair, shouted "Not me!" in a humorous way, which caused a bout of laughter on both sides before the band was able to play.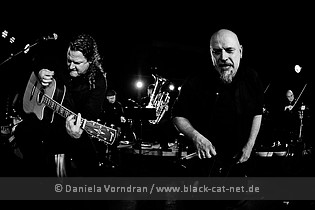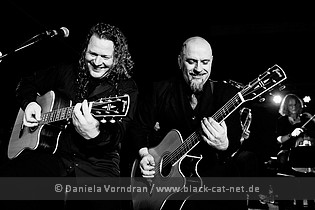 Though we surely would have loved to party longer with the band, this show has to end for good. But there was at least the chance to have a short chat with all the members of the band at the merchandise stand.
Setlist

01. Solace in insanity
02. Sophie's circus II
03. Sophie's circus III
04. The drunk Welshman
05. The line of last resistance
06. Love for life
07. The galant enticer's tango
08. Gingerbread heart
09. Intoxication intravenous
10. The grand graveyard of hopes
11. Mirror
12. The way you are (with Johanna)
13. Fairy on the wire
14. Endangered memories
15. Slipping around the corner
16. Carnival of the peculiar
17. Sinister sister
---
18. The orphanage
19. Sedlaczek
---
20. Final days
Rating

Music: 10
Performance: 10
Sound: 9
Light: 7
Total: 9.5 /10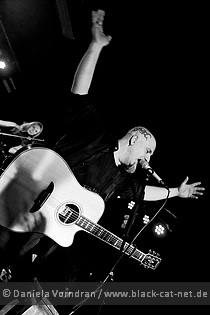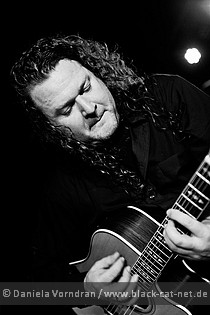 All pictures by Daniela Vorndran (
http://www.vorndranphotography.com
/
http://www.facebook.com/blackcatnet
)
See also (all categories):