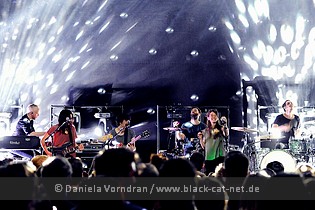 KuFa, Krefeld, Germany
12th March 2016
Boy & Small Fires

It's been four years that fans of the German-Swiss duo BOY had to be patient: Then, in August last year, Valeska Steiner and Sonja Glass released their second album called 'We Were Here' and were as successful with it as with their debut 'Mutual Friends' in 2011. On their recent "We Were Here Tour", BOY are presenting their refined tunes with their band in a pure and authentic manner. On March 12, they were sending out colourful sparks at the Kulturfabrik in Krefeld.
Small Fires

Let me just quite the press release of this Indie Pop band from Hamburg: "With just a few choice ingredients the German-British trio play an atmospheric mixture of Indie-Pop and Electronic. The pulsating drums and warm synthesizer bass are surrounded by the echo of the guitar, crackles and electronic beats spark all around. It's all about melody and sounds. In combination with the narrative lyrics of their British singer, they create a sound greater than the sum of its parts. Small is beautiful." SMALL FIRES is Benjamin Galliers (vocals, drums), Lars Dahlke (guitar) and Ruben Seevers (keyboard, bass, vocals).
http://www.smallfires.de
/
https://www.facebook.com/listentosmallfires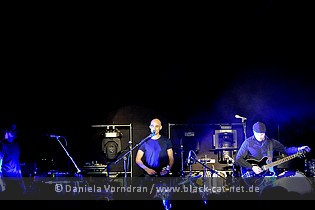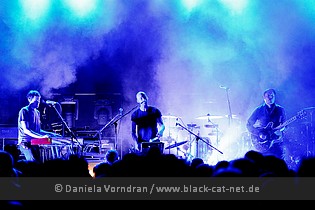 Music & Performance

Never change a winning team! According to this motto BOY again brought along their support SMALL FIRES for the second part of their tour that started in last year's fall. Personally announced by BOY's Valeska Steiner, the Hamburg-based three-piece casted a spell on the audience at Krefeld's KuFa. Especially the charming former soccer professional and UK-born Benjamin Galliers on vocals and drums caught the eye of the widely female crowd. So it was no surprise that their spherical indie-pop Debut EP 'Charcoal & Vines' sold like hot cakes at the merch on this evening.
Rating

Music: 8
Performance: 9
Sound: 8
Light: 9
Total: 8.5 / 10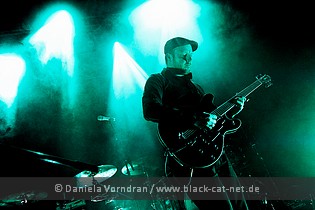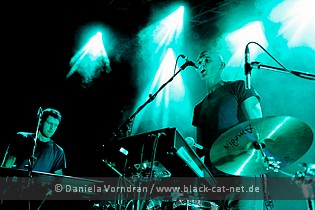 Boy

BOY is a Swiss/ German pop duo founded in 2007 by Swiss singer Valeska Steiner and German bassist Sonja Glass. The two met while at a pop-music course at the Hochschule für Musik und Theater Hamburg in 2005. The debut album 'Mutual Friends' was released in 2011. Then, in August last year, Valeska Steiner and Sonja Glass released their second album called 'We Were Here' and were as successful with it as with their debut album. An airy weave of stories and experiences, profound arrangements, and touching lyrics made the new record go straight to the top three of the German charts. BOY has already played numerous concerts in major cities as well as at the remotest corners of the world. And they unfold the potential of their songs best, when they perform them live.
http://www.listentoboy.com
/
https://www.facebook.com/listentoboy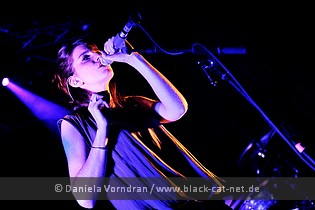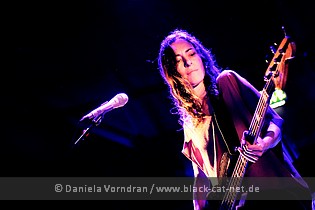 Music & Performance

After SMALL FIRES left the stage guided by enthusiastic cheers and applause BOY started off with the anthemic title track of their current album and tour 'We Were Here'. Constantly smiling, Valeska on vocals and Sonja on bass guitar instantly created the same familiar living-room atmosphere in the cosy venue KuFa as I experienced at Dortmund's FZW before with their light show and catchy melodies. The ladies were backed by their four-piece band containing keys, drums, percussions and guitar and together they brought the warm and comforting sound of their two long-players on stage. Swiss Valeska did not only sing but also anchored through the evening with her sweet accent and contributed some witty and interesting anecdotes every here and there. Her stage presence was topped off with her constant interaction with the audience. It was easy to see and hear that they were comfortable on stage and also well attuned after all this time of touring together.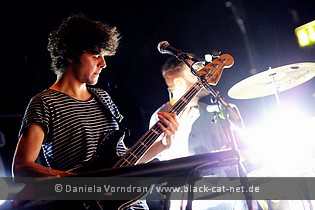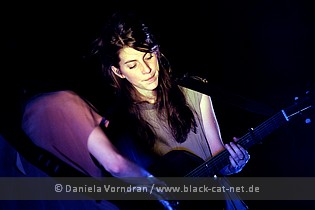 Every single song was hailed and sung along by the dancing crowd, particularly the light-sounding but very socio-critical 'Hit My Heart', the strong 'Boris' and of course 'Little Numbers', their number-one hit from 2011. Since the setlist did not differ from the one at their fall tour 'No Sleep' was also the last song to be played in the main set. Another thing that fortunately hadn't changed since last year was the thankfulness with which they re-entered the stage for the first encore that consisted of the silent 'Into The Wild' and one of their oldest songs with the indicative title 'This Is The Beginning'. They disappeared but due to continuing applause they returned shortly after for another encore which was a stripped-down acoustic version of 'Skin' that intensified the message of the song enormously and made it even more memorable. Seeing BOY a second time cemented my first impression of a talented and excellent live band and if they ever play somewhere near you attending their concert should be on top of your to-do list.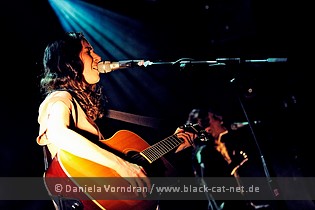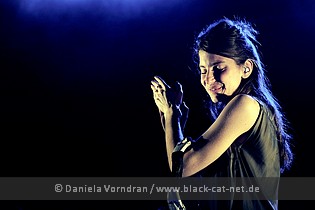 Setlist

01. We Were Here
02. Fear
03. Waitress
04. Army
05. Hit My Heart
06. Drive Darling
07. Railway
08. Boris
09. Oh Boy
10. Hotel Room
11. New York
12. Little Numbers
13. No Sleep
---
14. Into The Wild
15. This Is The Beginning
---
16. Skin
Rating

Music: 10
Performance: 10
Sound: 8
Light: 9
Total: 9.3 / 10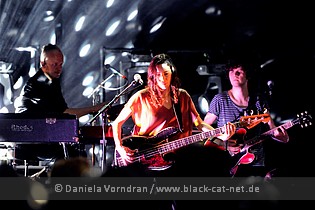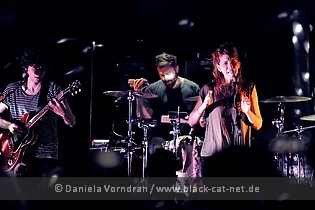 All pictures by Daniela Vorndran (
http://www.vorndranphotography.com
/
http://www.facebook.com/blackcatnet
)
See also (all categories):