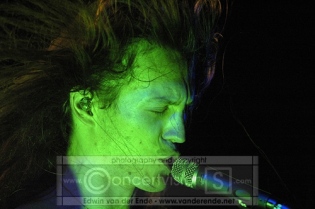 P60, Amstelveen, the Netherlands
September 23rd 2005
Epica and Trisomy

While it gets darker, earlier day by day, the fans of Epica had used the cover of night and gather at the entrance of P60 in Amstelveen. A very nice, modern, venue with plenty of room for tonight's audience and good facilities for both bands. Epica was supported this night by Trisomy, whose guitarist Michiel was playing a home town show today.
Trisomy
As mentioned above this is the place where their guitarist spends quite a lot of time and the band does most of it's practice in a local musical centre.
Music
Trisomy likes to describe their music as dark melodic metal but all these names often mean nothing else than: we like to be different form the rest, so let's give our music a new name. Of course Trisomy does make the kind of popular female fronted metal which is popular in the Netherlands and surrounding countries, but with their own touch, at least not at all trying to be an Epica clone. The two guitarists manage to create a good sound together going deep in most cases leaving enough room for singer Martine's voice to excel. Martine clearly shows she's talented when it comes to singing, good timing, good power and no noticeable out-of-tune singing. The bass and drums are well placed in the mix but most of the time doesn't really draw too much attention, which is with this music what they need. Too bad is that the keyboards were hard to hear, a bit low in the mix, but all this due to a very short soundcheck as we learned later. The sound in the venue was nicely done once the sound engineer had adjusted it during the first few songs. During this concert Trisomy proved to us what we already expected last time we saw them, they have the potential, just sometimes the venues they have to play in can't provide them enough facilities for Trisomy's music to be done any right.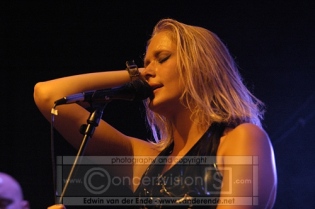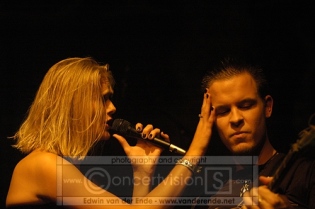 Performance
With only a small stage left for them to play at Trisomy tried to make the best of it. While Frank (Drums) and Maarten (Keys) were keeping things simple the rest of the band was trying to interact both with the audience as well as the rest of the band. Some near collisions were the result of that but it didn't stop them from doing a good set. Singer Martine frequently looked for her male colleagues and with her good looks I don't think any of them objected. Martine's moves are not your typical gothic moves; she might want to work a bit more on that to fit in a bit more. On the other hand it does have its charm as well, it's different from what we see so often. It was good to see that Epica didn't restrict to much of the use of light, Trisomy was able to produce some good light on their vocalist while when she moved away Eric (Guitar), Michiel (Guitar) and Pieter (Bass) quickly filled the sunny spot for some seconds of fame and glory.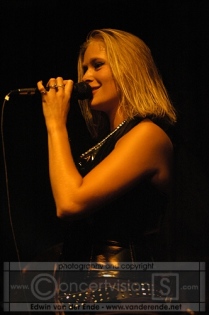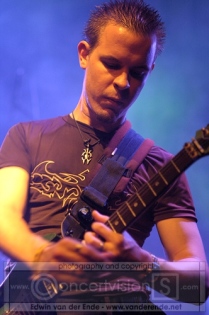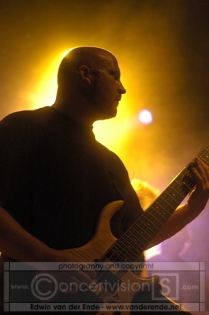 Setlist
00. Intro
01. Lost
02. Cold Feet
03. Despair
04. Brainteasers
05. Freaked Mind
06. All Alone
07. Imprisoned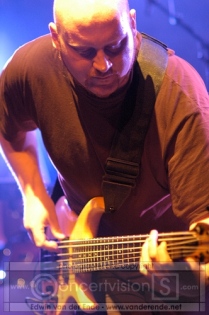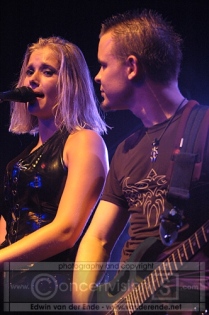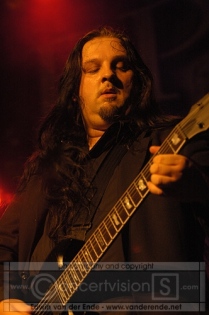 Rating
Music: 8
Performance: 7
Sound: 7
Light: 8
Total: 8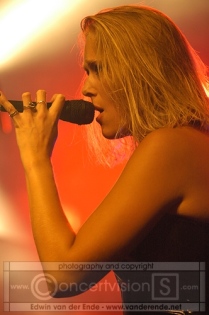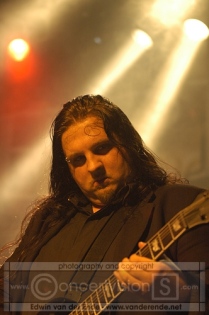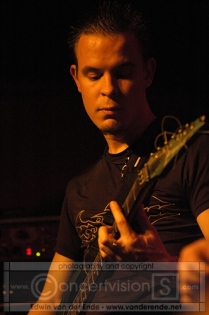 Epica
What is left to say about the Dutch metal formation around Mark Jansen and Simone Simons that we haven't mentioned before? The fact that have just recently released a new album with mostly film score music, appropriately named 'the Score'. This combined effort of Mark Jansen, Coen Janssen and Yves Huts led to a surprising albums inspired by the Dutch road movie 'Joyride' where many of Epica's 'the Score'-songs have been used.
Music
Like we can expect from a band as Epica they did give away a good show. The setlist was versatile and had enough up-tempo songs to get the crowd moving. Of course we raise the bar when it comes to rating the musical achievements of Epica but even then they prove they are very skilled, no better, today they were just very good. Apart from forgetting her lyrics during the first songs Simone did sing well, Mark's vocals were full and aggressive again and the rest of the band made sure the music had the right feel to make the audience beg for more. And they got more, what to say about the new track 'Linger' soon to be released on their new single. Or ending your concert with 'The Phantom Agony' and then in you encore treat the audience with 'Consign to Oblivion'? Together with 'Facade of Reality it seemed like the band wanted to play their most impressive songs in this concert. The sound was not too bad although a little adjustment in the mix should be made during the show. When at quiet times the keys were clear in the mix, during other parts they just seemed to have disappeared into the background. The vocals of Simone did seem to lack depth in the mix, which made it all a bit high and this does get annoying at times.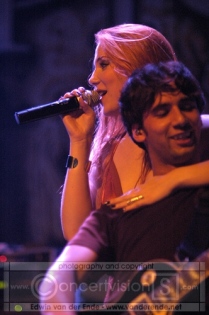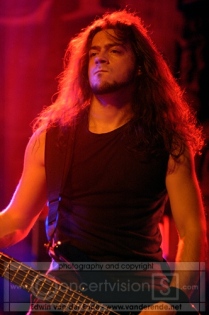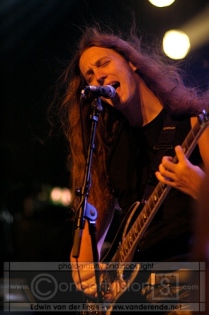 Performance
With an enthusiastic crowd Epica always seems to gain some extra energy and this time was no exception. Even though the venue was not sold out the fans that were present greeted the band with a loud roar. Simone addressed the audience between songs while Mark tried to get them wild. This resulted in two small mosh pits that grew together. People you wouldn't expect at an Epica concert all of a sudden went berserk in the pit while the rest was enjoying the show. The band had different faces, looking pretty (Simone Simons-Vocals), looking tough (Yves Huts-Bass), looking cool (Ad Sluijter-Guitar), looking enthusiastic (Mark Jansen-Guitar), looking crazy (Coen Janssen) or being almost invisible (Jeroen Simons-Drums) the band has it all. There was quite a bit of interaction ith the audience but also on stage where band members joined up at times 'posing' for their fans just centimetres away. All of this could well be seen by the crowd because the lights were good during the show; Simone got her share of attention which is a great move when you have such a pretty lady doing your vocals. Although we love to complain about the light at times, this time light technician Richard gave us a good show to look at. Let's hope we get more like this in the future.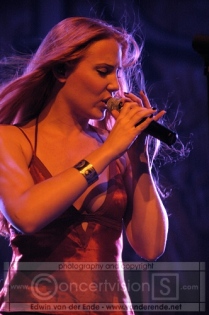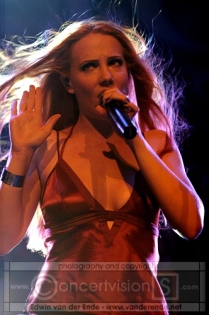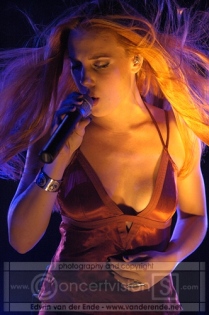 Setlist
00. Hunab K'u
01. Mother of Light
02. The Last Crusade
03. Sensorium
04. Run for a Fall
05. Illusive Consensus
06. Linger
07. Blank Infinity
08. Cry for the Moon
09. Seif al Din
10. Façade of Reality
11. the Phantom Agony
----------
12. Quietus
13. Consign to Oblivion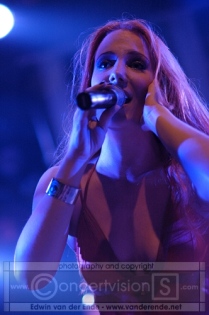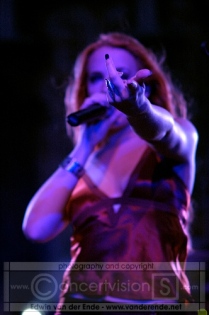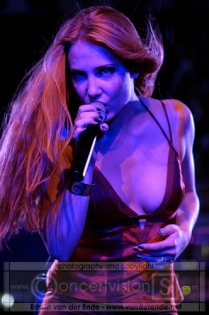 Rating
Music: 9
Performance: 8
Sound: 6
Light: 8
Total: 8