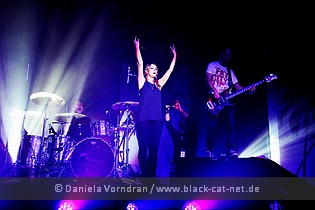 Stahlwerk, Düsseldorf, Germany
7th February 2012
Guano Apes & Alpha Academy

GUANO APES are back! Do you still remember their first big hit, 'Open your Eyes', and Sandra's powerful voice? Many fans were sad when the band split up in mid-2000. But in 2009, the were back releasing the album 'Bel Air' in 2011. Now it was time to check out how the new GUANO APES will do live on stage!



Alpha Academy

ALPHA ACADEMY is a young band from Germany, formed in 2008, also heading from Göttingen. Within that quite short time since the inception, they've built quite an impressing fan base with fan clubs in several cities. The very first release, the EP 'The City is Burning' which turned some heads is sold out by now and is only available online. The debut album 'The Promise Of The Light' was co-produced by GUANO APES drummer Poschwatta. Following were tours with DIE HAPPY and REVOLVERHELD. The follow-up album 'Impossible:Possible' will be released on 24th February 2012. ALPHA ACADEMY is Dominik Dubik (vocals, guitar), Michael Wenski (guitar), Sebastian Hunger (bass) and Niko Tsagarakis (drums). http://alphaacademy.de/ / http://www.myspace.com/alphaacademy / https://www.facebook.com/pages/Alpha-Academy/134941454144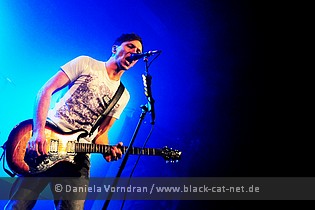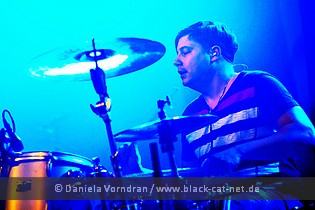 Music & Performance
In time at 20:00, the four guys, accompanied by a camera man, entered the stage. I think most people did not know whom to expect as support act since ALPHA ACADEMY were announced just short before. I had already seen them some years ago with GRAND AVENUE, and now the four guys from Göttingen are back with a new album soon to be released. The set they presented contained only two older songs, 'Prototype' from 'The City is Burning' EP (2008) and 'Wall' out off the first album 'Promise of the Light' (2010). All other songs presented were taken from the upcoming album 'Impossible:Possible', including the current single 'Voice Of The Voiceless' which is currently available as free (and legal, as singer Dominik stated) download at Amazon.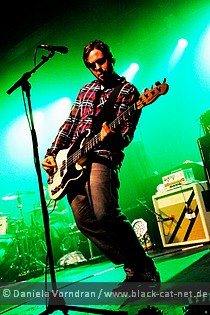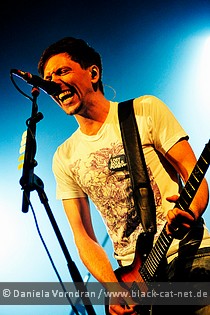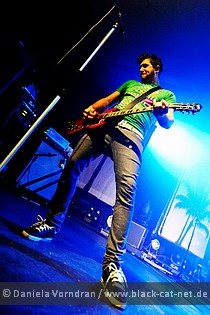 The band was received pretty well, including good applause and hands in the air, especially when a picture from the crowd for Facebook was taken where anyone could tag himself later.

Setlist
01. Rise & Fall
02. All around you
03. Long Way home
04. Wheels keep turning
05. Falling down
06. Walls
07. Scissors
08. Prototype
09. Voice Of The Voiceless

Rating
Music: 7
Performance: 8
Sound: 7
Light: 7
Total: 7.3 / 10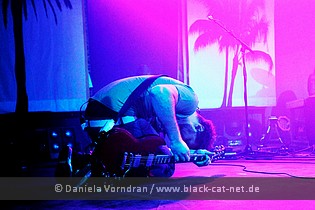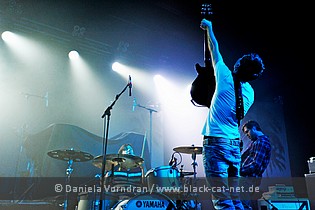 Guano Apes

GUANO APES from Göttingen/ Germany were formed in 1994 by guitar player Henning Rümenapp, bassist Stefan Ude and drummer Dennis Poschwatta. Singer Sandra Nasić joined the band the same year. Their career took off two years later in 1996 after winning a contest for local unsigned bands with the song 'Open Your Eyes', also the famous single of their first album release 'Proud Like a God'. After several hit singles and three successful albums: 'Don't Give Me Names' (2000), 'Walking on a Thin Line' (2003) and their best of album 'Planet of the Apes'(2005), the band broke up. Over the next years, the band members worked on their solo careers. In 2009, GUANO APES got back together for a reunion show, which worked out well, after which they decided to give it another try. After releasing 'Bel Air' in 2011 at Columbia Records, the band will be touring in Europe in 2011/2012 to promote their new album. GUANO APES Sandra Nasić (vocals), Henning Rümenapp (guitar, backing vocals), Stefan Ude (bass), Dennis Poschwatta (drums, backing vocals) plus new live member Mirco Hildmann (guitar, backing vocals). http://www.guanoapes.org / https://www.facebook.com/gapesofficial / www.myspace.com/gapes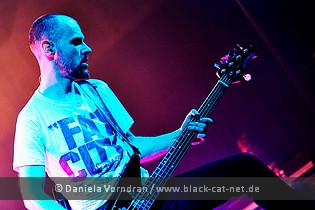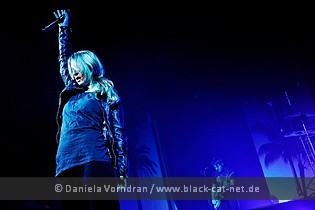 Music & Performance
People had to wait more than 30 minutes until finally GUANO APES entered the stage, which was decorated with four banners showing a palm tree. Who expected lots of old hit during the set was rather disappointed I think. And who doesn't like the new album 'Bel Air' was even more, since the main set contained all in all seven new songs. But opening song was 'Quietly' from 2003, loudly welcomed by the fans. Bringing a new guitarist with them to deliver additional chords and the use of several electronic passages might be doubtful since the overall rough rock sound was a bit destroyed. Anyway, the band was in best mood, going on with 'Oh What a Night' from the new album. The first hit of the band, 'Open your Eyes', was already played as fourth song very early in the set showing a lot of self-confidence. It surely marked one of the show's highlights. All who loved the loud and hard party music from the end-nineties were probably bored afterwards, since then a lot of new songs followed, lacking a little power compared with the older stuff. But well, anything is a matter of expectation I guess.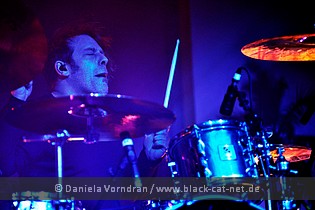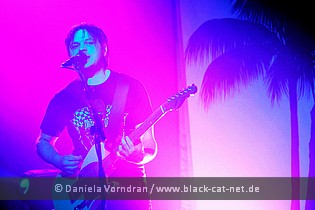 Between 'Fire in Your Eyes' and 'She's a Killer', the banners on stage have been changed, showing now four big ape heads and the slogan "Apes shall never kill Apes". Then, Henning said, that they did not reach the encore part yet, but it is time for a little fashion part now. He told about the past tour cities and that they also reached fashion metropolis Milan bringing a male skinny model (in fact bass player Stefan) with them who would now present some t-shirts. Then, the "Fashion Show" was covering the next 5 minutes, accompanied with a lot of talk. Definitely a part of the show being totally useless, destroying the mood the band built up so far. Many people, especially in the back, decided to use the time for a drink, some food or a cigarette. Following 'She's a Killer' during the main set were only songs from the new album. For lots of people not the guarantee for highest mood. But finally for the encores, the band served some old gems, especially the ALPHAVILLE classic 'Big in Japan' and closing song 'Lords of the Boards' were real party burners.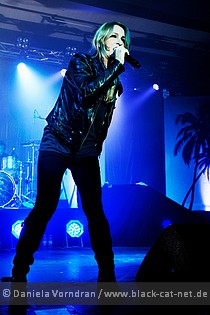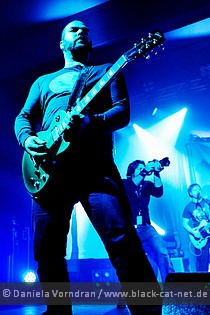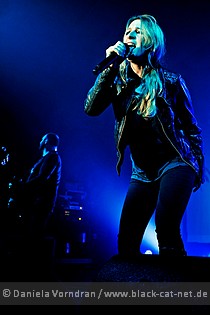 Well, how to sum this show up? I have no comparison to the "old" apes since I never saw a show before the split. Even though the newer songs lacked some energy in my opinion, the show was overall great, especially due to dynamic Sandra with her powerful voice supported by a fantastic bright light show, btw.

Setlist
01. Quietly
02. Oh What a Night
03. You Can't Stop Me
04. Open Your Eyes
05. Sunday Lover
06. Pretty in Scarlet
07. Fire in Your Eyes
08. She's a Killer
09. Tiger
10. All I Wanna Do
11. When the Ships Arrive
12. Fanman
13. This Time
---
14. Plastic Mouth (Instrumental)
15. Staring at the Sun
16. Big in Japan (Alphaville cover)
17. Lords of the Boards

Rating
Music: 7
Performance: 8
Sound: 7
Light: 9
Total: 7.6 / 10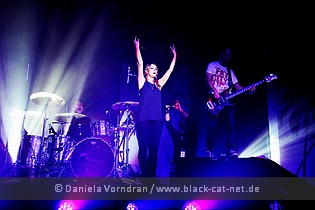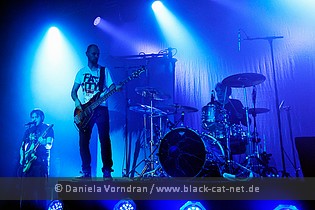 All pictures by Daniela Vorndran (http://www.vorndranphotography.com / http://www.black-cat-net.de/ / http://www.myspace.com/vorndranphotography / http://www.facebook.com/blackcatnet)



See also (all categories):