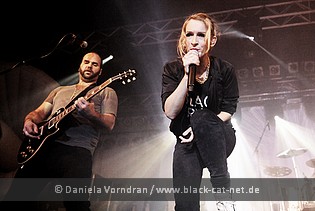 Live-Music-Hall, Cologne, Germany
27th October 2014
Guano Apes "Offline Tour" & Support: Susanne Blech

Do you still remember their first big hit, 'Open your Eyes', and Sandra's powerful voice? Many fans were sad when the band split up in mid-2000. But in 2009, the were back releasing the album 'Bel Air' in 2011, now followed by 'Offline'. We're on the accompanying tour now and let me tell you: the venue was packed and hot and many, many people wanted to check out the live show of the apes…
Susanne Blech
Founded out of a joke in 2004 together with Matthias Arfmann, SUSANNE BLECH first are producer Sebastian Johannes Maier plus writer and singer Timon Karl Kaleyta. The debut album 'Deutsche Renaissance – Ein Kanon' was out in 2008, followed 2012 by 'Triumph der Maschine'. The live line-up was completed by twin brothers Jens and Kay Schilling, drummer Dennis Brzoska as well as the MC- and producer duo SOLA PLEXUS, aka Jerome and Jobin Vazhayil. The third single out off the second album, 'Helmut Kohl', was remixed by H.P. Baxxter (SCOOTER) and advanced to the "Single of the Week" at iTunes in 2013. In summer, the band played several festivals, like Rock'n'Heim, and supported bands like DIE FANTASTISCHEN VIER or DIE TOTEN HOSEN. In May 2014, the band released the third studio album, 'Welt verhindern'. SUSANNE BLECH is Timon Karl Kaleyta (vocals), Jens Schilling (guitar & syntesizer), Kay Schilling (bass & syntesizer), Sebastian Maier (drums), Dennis Brzoska (drums), Jerome Vazhayil (vocals) and Jobin Vazhayil (vocals).
http://www.susanne-blech.de
/
https://www.facebook.com/susanneblechmusik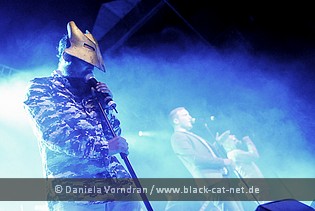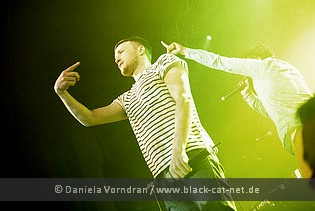 Music & Performance

Oh, that was something weird, especially for people who did not know what to expect before. And definitely a matter of taste. You saw confused faces right beside excited ones. SUSANNE BLECH is art. Art as art can and not understood by anyone. Special art… and weird… and crazy… and at times also annoying. You already have lost when you ask if this is meant ironically. AS weird as the songs itself were the announcements in-between, mostly telling you this and that song is a cover of a famous other one. Well, guess… of course NOT! All in all, this was a crazy but mostly entertaining support act.
Setlist

01. Intro
02. Helmut Kohl
03. 1000 Jahre Kraftwerk
04. Bankangestellte erzählen von Mailand
05. Die Maschinen laufen heiß
06. Fortschrittsoptimismus
07. Du & Ich
08. Hände hoch, Feuerwehr!
09. Welt verhindern
10. Metastasen
Rating

Music: 6
Performance: 8
Sound: 7
Light: 7
Total: 7 / 10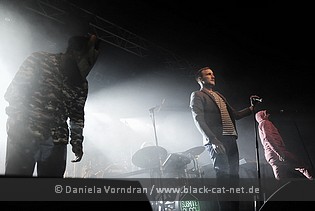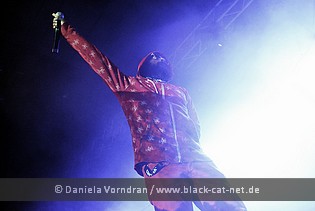 Guano Apes
GUANO APES from Göttingen/ Germany were formed in 1994 by guitar player Henning Rümenapp, bassist Stefan Ude and drummer Dennis Poschwatta. Singer Sandra Nasić joined the band the same year. Their career took off two years later in 1996 after winning a contest for local unsigned bands with the song 'Open Your Eyes', also the famous single of their first album release 'Proud Like a God'. After several hit singles and three successful albums: 'Don't Give Me Names' (2000), 'Walking on a Thin Line' (2003) and their best of album 'Planet of the Apes'(2005), the band broke up. Over the next years, the band members worked on their solo careers. In 2009, GUANO APES got back together for a reunion show, which worked out well, after which they decided to give it another try. After releasing 'Bel Air' in 2011 at Columbia Records, the band will be touring in Europe in 2011/2012 to promote their new album. New latest album 'Offline' was out in May 2014. GUANO APES Sandra Nasić (vocals), Henning Rümenapp (guitar, backing vocals), Stefan Ude (bass) and Dennis Poschwatta (drums, backing vocals).
http://www.guanoapes.org
/
https://www.facebook.com/gapesofficial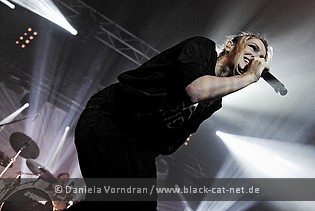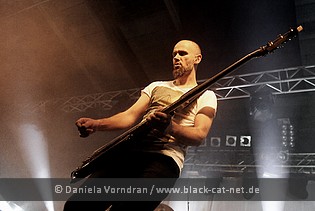 Music & Performance

It took little more than 30 minutes until the stage was ready for GUANO APES. The stage decoration this time was made by two giant inflatable white megaphones, placed on both sides of the stage. Who expected lots of old hit during the set was rather disappointed I think. And who doesn't like the new album 'Offline' or the predecessor 'Bel Air' was even more, since the set contained all in all eight songs from those albums. But the first songs were a little older, like 'Quietly' from 2003, and so, the band was welcomed loudly. During the whole set, the band was in best mood and loudly celebrated by the fans. The newer songs were lacking a little power compared with the old ones and so, probably once more the big hit 'Open your Eyes', played as last song of the main set, was the highlight of the show for many. The encore bloc was opened with another song from 'Offline', 'Close to the Sun', followed by the ALPHAVILLE classic 'Big in Japan'. And finally, the very last song, 'Lords of the Boards', was a real party burner. Bottom line? I have no comparison to the "old" apes since I never saw a show before the split, and only saw a show of the last tour.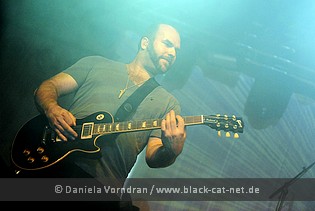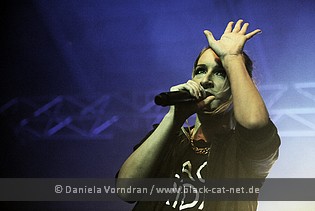 Even though the newer songs lacked some energy in my opinion, the show was overall great, especially due to dynamic Sandra with her powerful voice supported by a fantastic bright light show. Just a little sad for people standing in the back of the packed hall since they probably could not see anything at all.
Setlist

01. Carol and Shine
02. You Can't Stop Me
03. Quietly
04. Fake
05. Sunday Lover
06. Hey Last Beautiful
07. Fanman
08. Like Somebody
09. The Long Way Home
10. Numen
11. Open Your Eyes
---
12. Close to the Sun
13. Big in Japan (Alphaville cover)
---
14. Lez (Instrumental)
15. Lords of the Boards
Rating

Music: 8
Performance: 8
Sound: 7
Light: 8
Total: 7.8 / 10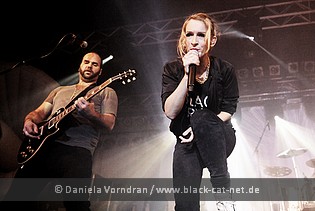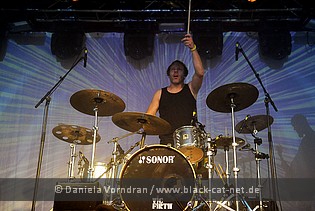 All pictures by Daniela Vorndran (
http://www.vorndranphotography.com
/
http://www.facebook.com/blackcatnet
)
See also (all categories):