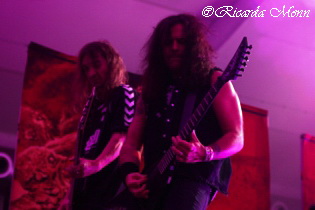 Hessenhallen, Gießen, Germany
2nd November 2012
Kreator, Morbid Angel, Nile & Fueled By Fire

Early this Friday evening, a crowd of extreme metal fans was waiting in the heavy rain in front of the concert hall in Gießen, to see their favourite thrash and death metal bands. Anyway the rain couldn't drown the obvious smell of alcohol and flush away the pleasant anticipation of the fans. Those who hadn't got a ticket in advance were waiting in the long line before the box office. Already at 6pm, the doors for the venue were opened. Although it was a Friday, the crowd was considerably small, since many people were still getting home from work or were stuck in the traffic. Consequently, there were not many people in front of the stage when FUELED BY FIRE started to play at quarter past six.



Fueled By Fire

FUELED BY FIRE is an American Thrash Metal band, founded in 2002. So far, they released two studio records, their debut 'Spread The Fire' (2006) and the most recent one 'Plunging Into Darkness' (2010). The quartet plays traditional Old School Thrash Metal, influenced from bands like EXODUS and others. Now they're out on their second Europe tour playing as opening act for the well-known Thrash Metal band KREATOR. http://www.fueledbyfire.webs.com/ / http://www.facebook.com/FueledByFireOfficial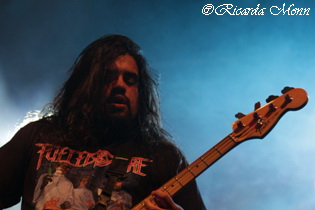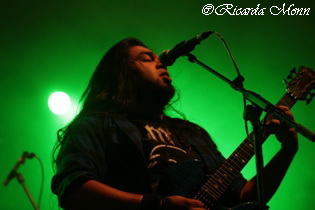 Music & Performance
Due to the early start of the concert, only few people actually made it in the front rows, when the band started their uncompromising guitar shred with the song 'Within the Abyss'. Even though they tried several times, they couldn't motivate the growing crowd to form a big mosh pit. Musically they played a very clean show, in which one could hardly hear a mistake. Also, they put a lot of effort into their performance. Their energetic, fast and uncompromising Thrash Metal fit perfectly into the package of the show and songs like the hymn 'Trash Is Back' or the last dance 'Eye Of The Demon' showed their musical abilities. During their set of 30 minutes, the venue got more filled, but FUELED BY FIRE would have deserved a better audience nevertheless.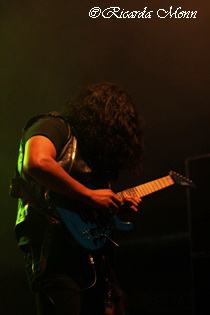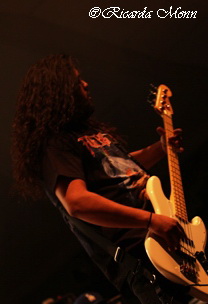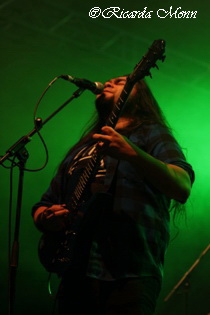 Setlist
01. Within The Abyss
02. Unindentified Remains
03. Dreams Of Terror
04. Deadly Restraints
05. Thrash Is Back
06. Eye Of The Demon

Rating
Music: 8
Performance: 7
Sound: 7
Light: 7
Total: 7.3 / 10


Nile

NILE is an American Technical Death Metal band, formed in 1993. Their music is strongly influenced by Egyptian influences and so far, seven studio records were released. The most recent output, 'At The Gates Of Sethu' was published this year. http://www.nile-catacombs.net / http://www.facebook.com/nilecatacombs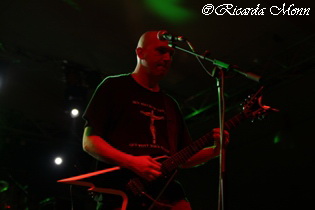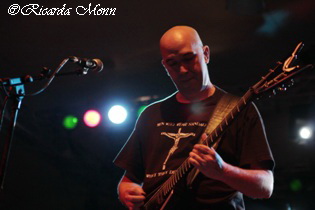 Music & Performance
After a short alteration, NILE entered the stage, ready to blast the audience with their highly technical and brutal music. Many fans of the band had gathered in the front row and the venue had considerably filled. During their set of 45 minutes, the musicians did not only show their incredible abilities, but also established a very dark and intense atmosphere. The setlist consisted of songs from older albums, like the last dance 'Black Seeds Of Vengeance' or 'Sacrifice Unto Sebek'. But also newer songs like 'Enduring The Eternal Molestation Of Flame' and 'Supreme Humanism Of Megalomania' served to convince and please the audience. Few announcements were made, and some song titles could not be understood due to deep growls. Obviously, their music is not too easy to indulge and you probably got more from the show if you were into their material before.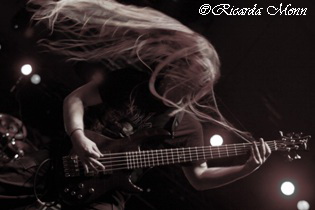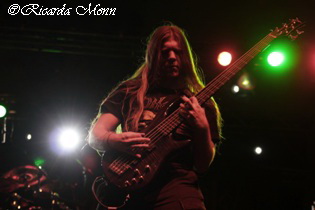 Although NILE were the only Technical Death Metal band of the evening, they still fit well into the line-up and provided an alternative way of playing extreme and demanding music. Furthermore, they do not play in Germany too frequently, so it was definitely a concert not to be missed.

Setlist
01. Kafir!
02. Sacrifice Unto Sebek
03. Hittite Dung Incantation
04. Enduring The Eternal Molestation Of Flame
05. The Black Flame
06. Execration Text
07. Sacrophagus
08. Supreme Humanism Of Megalomania
09. Cast Down The Heretic
10. Black Seeds Of Vengeance

Rating
Music: 8
Performance: 7
Sound: 8
Light: 7
Total: 7.5 / 10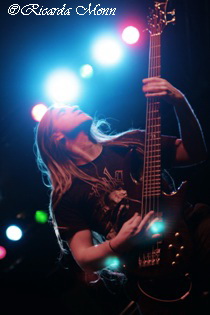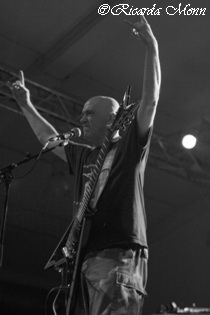 Morbid Angel

MORBID ANGEL is an American Death Metal/ Thrash Metal band, active ever since 1984. Their debut record 'Altars Of Madness' was released in 1989 and still ranks among the most important and influencing works of American Death Metal. Their latest CD 'Illud Divinum Insanus' was released in 2011. http://www.morbidangel.com / http://www.facebook.com/officialmorbidangelpage

Music & Performance
The co-headliner of the evening was greeted enthusiastically by the audience, and during their intense performance of approximately 75 minutes, people were seen head banging and also occasionally moshing. Their music worked very well live, the monotonous, grooving riff alongside brutal vocals really warmed the crowd up suitably for the headliner of the evening.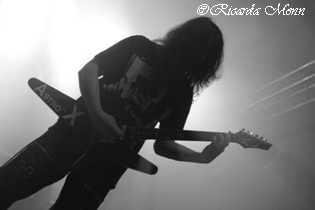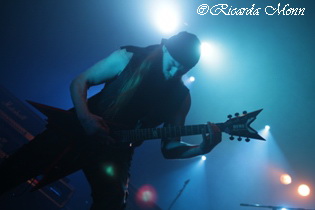 With old songs like 'Maze Of Torment', 'Immortal Rites' or 'Blood On My Hands' Old School fans could be pleased as well as fans of newer songs like 'Existo Vulgoré'. Singer David Vincent also dedicated one song to the recently deceased Mitch Lucker, singer of Suicide Silence. Apart from this, the band demanded applause for their fellow bands and did not lose unnecessary words. Their appearance on smaller stages in Europe does not happen to often either, but they got most of the audience under their control and will surely have gained some new fans. With the last dance 'God Of Emptiness', they finished their harsh and uncompromising set and made way for the last and longest alteration of the evening.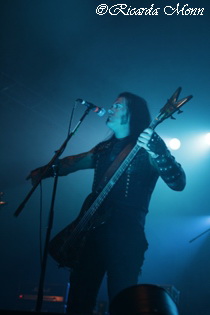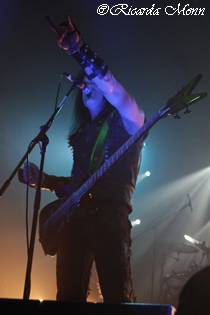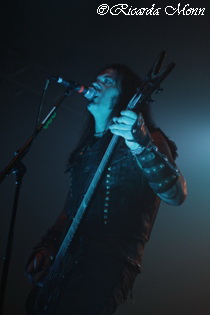 Setlist
01. Immortal Rites
02. Fall From Grace
03. Rapture
04. Maze Of Torment
05. Sworn To The Black
06. Existo Vulgoré
07. Nevermore
08. Lord Of All Fevers And Plague
09. Chapel Of Ghouls
10. Where The Slime Live
11. Blood On My Hands
12. Bil Ur-Sag
13. God Of Emptiness

Rating
Music: 8
Sound: 8
Light: 6
Performance: 8
Total: 7.5 / 10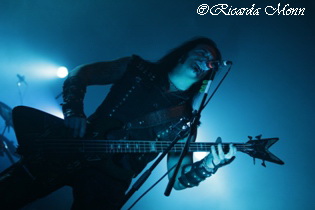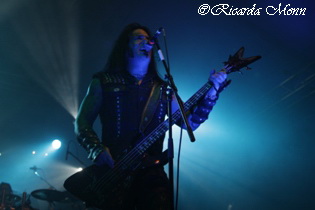 Kreator

Formed in 1982, KREATOR are one of the oldest and most influencing German thrash metal bands. Alongside with SODOM and DESTRUCTION, they are the German pioneers in this sector.
From 1992 to 1999, the band pursued a more experimental style but eventually returned to their Thrash routes. So far, 13 studio records have been put out, the latest one being named 'Phantom Antichrist' (2012). http://www.kreator-terrorzone.de / http://www.facebook.com/KreatorOfficial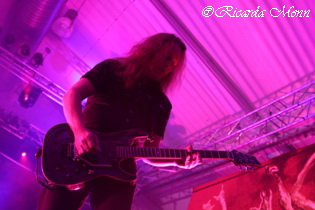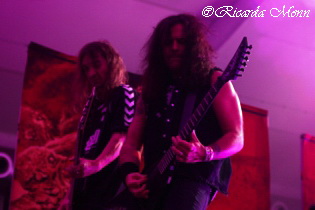 Music & Performance
Before KREATOR went on stage, the whole stage was undergoing some heavy conversions. A big canvas was hung all over the front of the stage, on which they projected their intro video, which featured the background song 'Personal Jesus' by Johnny Cash (originally by Depeche Mode). Their intro video was basically a slideshow of old band photos and associated album covers in chronological order. Then their intro transformed seamlessly to the beginning of their newest music video 'Phantom Antichrist'. Then the Canvas fell down and revealed KREATOR playing among a really impressive stage set. They had a drum riser, backdrops and banners with the design of their recent album, which featured lots of skulls and demon-like creatures. This also allowed the musicians to move up and down during their performance, adding even more energy.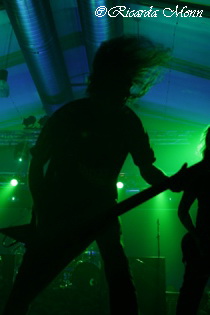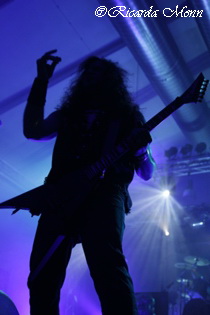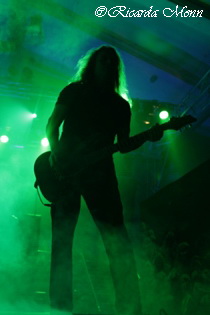 Concerning the set list, KREATOR had set their focus on the early 80's and their newest songs from the new album 'Phantom Antichrist'. They also played other classics from the 90's as 'Phobia', which made the crowd go extremely wild. In contrast to FUELED BY FIRE they managed to motivate the crowd to form a mosh pit that reached from the 5th row up to the row in front of the mixing panel. This definitely made visible for which band the people came this evening. In general, KREATOR are known for their solid and energetic live performances, and also this time, they served no surprises. The set-list left no desires unfulfilled, since also very old material like 'Tormentor' from the 'Endless Pain' (1985) was presented and cheered enthusiastically. After 18 songs KREATOR left the concert hall with a satisfied facial expression, leaving back a really knocked out but mostly convinced crowd.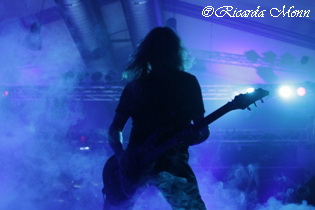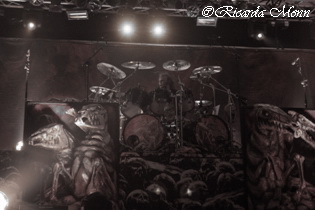 Setlist
00. Intro (Personal Jesus – Johnny Cash)
00. Intro (Mars Mantra)
01. Phantom Antichrist
02. From Flood Into Fire
03. Enemy Of God
04. Phobia
05. Hordes Of Chaos (A Necrologue For The Elite)
06. Civilization Collapse
07. Voices of The Dead
08. Extreme Aggression
09. People Of The Lie
10. Death To The World
11. Endless Pain
12. Pleasure To Kill
Interlude: The Patriarch
13. Violent Revolution
14. United In Hate
15. Betrayer
16. Flag Of Hate
17. Tormentor

Rating
Music: 9
Sound: 8
Light: 8
Performance: 8
Total: 8.3 / 10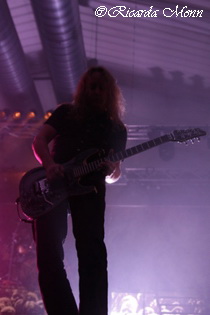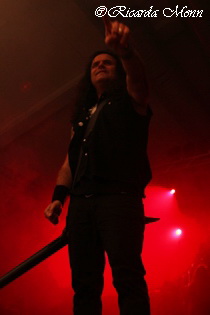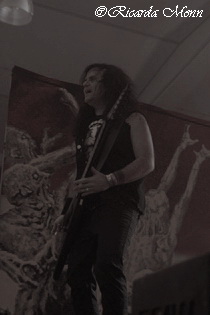 All pictures by Ricarda Menn