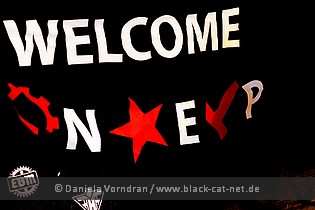 FZW, Dortmund, Germany
23rd April 2011
JOIN IN THE RHYTHM OF MACHINES TOUR: Nitzer Ebb, Die Krupps, Formalin

The combination of DIE KRUPPS and NITZER EBB is like a wet dream for many avid EBM / Industrial fans. This year this dream came true and the two legendary bands teamed up for the mutual 'Join In The Rhythm Of Machines Tour 2011' throughout Europe. We caught up with this dream team at the FZW in Dortmund.



Formalin

Two headliners need a support band, so Berlin-based FORMALIN were invited to support the two veteran bands in Dortmund. FORMALIN is Tominous (vocals, lyrics) and Gabor (production, drumming). http://www.myspace.com/formalin

Music & Performance
FORMALIN named their sound "Berlin City Industrial" but which might sound like a new genre is in fact a mix of well-known ingredients: A bit of old school EBM, a great portion of SKINNY PUPPY, some modern Hellectro elements a la HOCICO or SUICIDE COMMANDO here and there, a guitar every now and then, and stomping beats and harsh synths everywhere.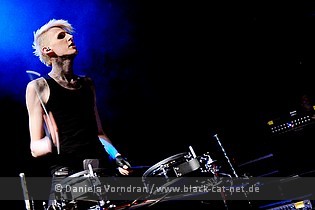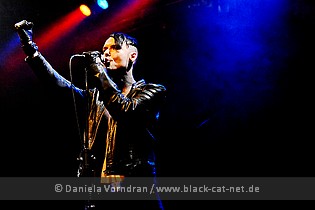 But before you start to think that FORMALIN were just another generic EBM band it has to be said loud and clearly that FORMALIN's debut album 'Bodyminding' is a damn good first effort for such a young band! Yes, they use elements which are all too familiar to the long-time Electro fan, but they combine them in a refreshing way and the stress on old virtues of this genre retrofitted by modern production and sounds gives FORMALIN a profile of its own. Chances are that a very good debut is followed by an excellent second album! Unfortunately we can't say anything about FORMALIN's performance in Dortmund as the promoters of the FZW club decided to chase the young band onto the stage as early as 6:45pm. Too bad when your info said that the show would start at 7:30 pm! Bummer!

Rating
None - just go and buy their album!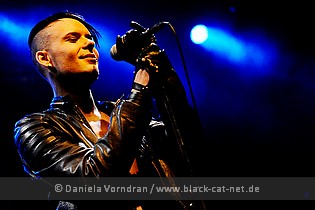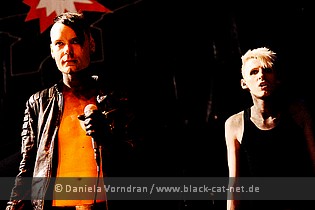 Die Krupps

DIE KRUPPS are Jürgen Engler (vocals), Ralf Dörper (keyboards), Rüdiger Esch (bass) - this trio forms the nucleus of the band - plus live members Marcel Zürcher (guitar) and Oliver Röhl (drums). Emerging from the early Punk band MALE, DIE KRUPPS were founded by Jürgen Engler and Ralf Dörper in Düsseldorf, Germany, in 1981. Their first release was 'Stahlwerksinfonie', an experimental two track mini-album with original Industrial sound and which introduced the use of steel and drills as percussive instruments, similar to the contemporary EINSTÜRZENDE NEUBAUTEN from Berlin. After this debut release, DIE KRUPPS headed for a much straighter and more electronic sound and thus laid one of the foundation stones for what was to become Electronic Body Music. Shortly after 'Stahlwerksinfonie' the band released the single 'Wahre Arbeit Wahrer Lohn', still a DIE KRUPPS classic and re-recorded in 1989 with NITZER EBB under the new title 'Machineries Of Joy' (which quite adequately was the inspiration for the title of their mutual tour now).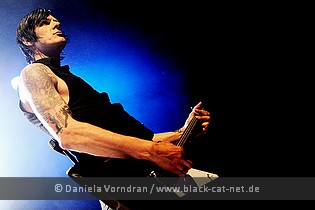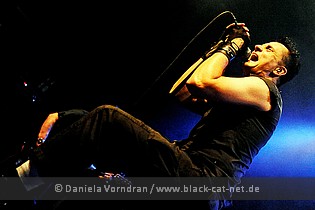 In 1992, DIE KRUPPS opened a new chapter with the album 'One' and introduced heavy guitars to their electronic sound. Back then still a rather uncommon crossover of styles, and while some US bands like MINISTRY already developed the typical American Industrial Rock, DIE KRUPPS perfected this style by truly merging heavy guitars with electronics instead of just playing guitars on top of a few synth lines or doing simply Rock songs on synths, like early NINE INCH NAILS. With their 1993 album 'II - The Final Option', which spawned the massive Alternative hit 'To The Hilt', DIE KRUPPS perfected this crossover of Metal and Electronica. With the following albums, 'III - Odyssey Of The Mind' (1995) and 'Paradise Now' (1997), DIE KRUPPS dived deeper into the Metal genre, gaining new fans from the Metal scene but also loosing some old fans who weren't too happy anymore with the more and more Rock orientated direction. Still both albums were successes chart-wise. After 'Paradise Now', DIE KRUPPS took a break to re-unite for their 25th anniversary tour in 2006, and after a number of re-releases the band released new material finally in December 2010 in form of the 'Als wären wir für immer' mini-album. http://www.dkay.de/krupps_index.html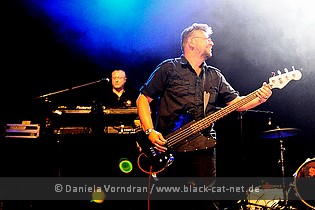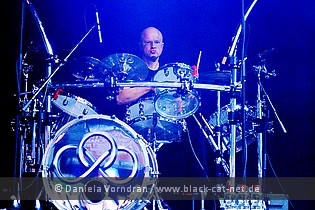 Music & Performance
When DIE KRUPPS entered the stage we actually just arrived and I was a little shocked that Engler & Co already started their show. While DIE KRUPPS hammered 'High Tech Low Life' through the round I wasn't in the right concert mood yet. Well, a man of my age prefers to say hello to all his friends, grab a drink and to get into the right mindset for a concert before it all starts. But as I heard the FZW club wanted to start some bloody club night at 10pm so the concert had to be done in a hurry. Obviously I wasn't the only one who found that pretty annoying, especially those DIE KRUPPS fans who arrived when the band was already four or five songs into their set were rather upset. When DIE KRUPPS played a few more classics with the excellent 'Isolation' and 'Crossfire' the venue was well filled but not as packed as I would have thought. 'Als wären wir für immer' from their youngest release set a darker and a more thoughtful tone, before Engler got the party started again with the PROPAGANDA'a 'Dr. Mabuse'. This song is kind of a "semi-cover", if you like, as DIE KRUPPS keyboarder was a member of PROPAGANDA and co-author of this song. Soon the first big surprise of the evening came on - DIE KRUPPS performed a cover version of NITZER EBB's 'Blood Money'! A very good take on this song but what I loved most about it was that DIE KRUPPS didn't pick one of the more obvious choices but this somewhat underrated gem from NITZER EBB's 1989 album 'Belief'!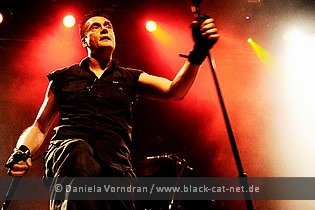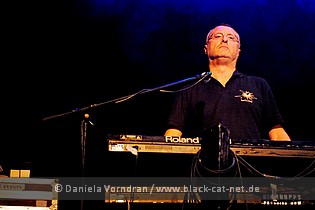 Another cover version followed, VISAGE's 'Der Amboss', but that was less of a surprise as this song is the biggest club hit for DIE KRUPPS since 'To The Hilt'. Of course this club smasher got the audience going a bit more, even though it was just about dinner time. With stuff like 'Germaniac', 'Metal Machine Music' or the anthemic 'Fatherland' more crowd pleasers followed, and Engler was on a total high, running around on stage and occasionally drumming on his steelophone and apparently he's not afraid of the odd Rock star pose. Jürgen Engler has always been one of the best front men of the alternative music scene, and this is still true for the reunited DIE KRUPPS of the 21st century. Since their 25th anniversary tour DIE KRUPPS have proved again and again that they are a live force to be reckoned with, and the Dortmund gig just showed this once again. A pity that DIE KRUPPS only played one song for their encore but hey, there's some dodgy club night at 22pm so we were in a hurry!

Setlist
01. Intro
02. High Tech Low Life
03. Isolation
04. Crossfire
05. Als wären wir für immer
06. Dr. Mabuse (PROPAGANDA cover)
07. Beyond
08. Blood Money (NITZER-EBB cover)
09. Der Amboss (VISAGE cover)
10. The Great Divide
11. Germaniac
12. The Dawning of Doom
13. Metal Machine Music
14. Fatherland
---
15. Bloodsuckers

Rating
Music: 9
Performance: 9
Sound: 8
Light: 8
Total: 8.8 / 10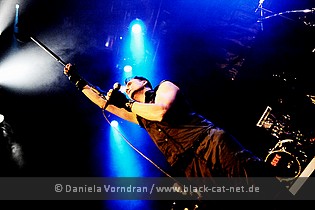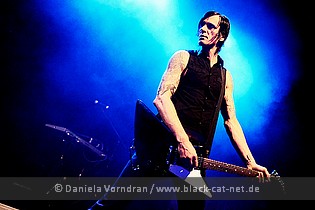 Nitzer Ebb

NITZER EBB is Douglas McCarthy (vocals), Bon Harris (synths, drums, production) and Jason Payne (drums, percussion). Inspired by German pioneers of hard-edged electronic music like D.A.F., MALARIA and, well, DIE KRUPPS, Bon Harris, Douglas McCarthy and founding member David Gooday, who left the band after a few years, formed NITZER EBB in 1982 in Chelmsford, Essex, UK. Their first release, the 12" EP 'Isn't It Funny How Your Body Works' in 1984, was the starting signal of a quite astonishing career. Still being teenagers, NITZER EBB soon signed to the legendary Mute label to release the first two albums 'That Total Age' (1987) and 'Belief' (1988), and both albums are considered classics and must-haves for any fan of electronic music. In the late 1980s NITZER EBB were in a way the poster kids of EBM but in the early 1990s they proved that they have so much more to offer. On their 1990 album 'Showtime' they incorporated Blues and Ragtime elements in their energetic Electro sound by sampling records from the 1950s and 1960s and weaving them into their lusty and powerful sound. The single 'Lightning Man' is a perfect example here and one of the standout tracks in their career, while the fan-favourite 'Getting Closer' still had many elements from earlier albums NITZER EBB but with added sampled guitars for the first time in the bands' history.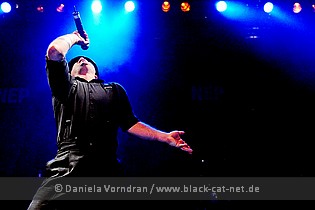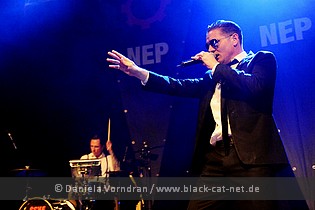 Despite the often rather radical changes in their style they have always managed to make it feel 100% NITZER EBB. This is also true for the next album 'Ebbhead' and the accompanying EP 'As Is', which both offered an abundance of ideas and styles from the Pop of 'I Give To You' to the Metal / Electro crossover of 'Godhead' to the Trip Hop of 'Trigger Happy'. But still everything had the NITZER EBB stamp on it so that the old fans were willing to accept any changes, making 'Ebbhead' the best-selling album of NITZER EBB's career. Four years later, the album 'Big Hit' was released and displayed the band in yet another metamorphosis with a lot more Rock orientated sound. The NITZER EBB machine began to show cracks, however, and after the 'Big Hit' world tour Douglas McCarthy and Bon Harris parted company. It took them eleven long years to share a stage again, and the reunion shows of 2006 were something hardly any NITZER EBB fan would have hoped for. Since then numerous worldwide gigs and tours followed, first in support of their best of-compilation 'Body Of Work' and then in support of 'Industrial Complex', their first album with new material in 15 years! http://www.nitzer-ebb.de / http://nitzerebbicp.com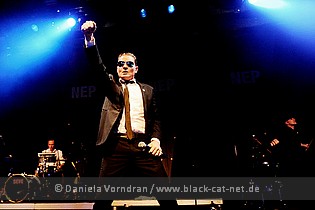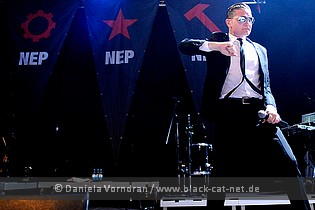 Music & Performance
NITZER EBB will soon perform their 100th show since reuniting for touring in 2006, so a NITZER EBB gig is a common routine by now - both for the band and the fans. But a routine in the best sense of the word, and thankfully NITZER EBB shake up their setlists a little frequently to keep things interesting. And last but not least there's Douglas McCarthy, one of the most exciting lead singers of the scene! Even though he still refuses to add to his three main stage moves (running from right to left, running from left to right, standing somewhere straddle-legged with the fist in the air) a fourth one… But he is someone who hogs the spotlight, who perfectly commands his audience and whose immense energy translates lossless to any crowd. After a short intro 'Getting Closer' was the choice of the day as the show opener, and though the sound wasn't perfect - a few synth sounds were too low in the mix and the volume in general was a bit too low - this classic kick-started the performance well enough. Bon Harris, who shared vocal duties with McCarthy for the first song, repositioned behind his racks with drum pads, laptop and this weird xylophone-like instrument. A rather new addition to the NITZER EBB setup which allows Harris to play percussions as well as a few melody lines, which used to be pre-recorded before.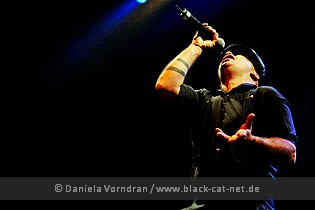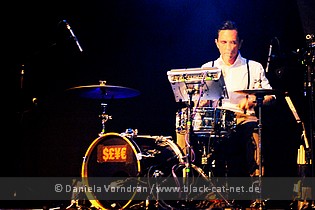 One year after the album release - and about three years when new songs first popped up in NITZER EBB setlists - it is well-established that the songs from 'Industrial Complex' work as fine as all the old classics. So 'Down On Your Knees' and 'Once You Say' were just as much as appreciated by the fans as 'Hearts & Minds' or 'Shame'. 'Lightning Man' did an extra-loud roar as a welcome, though, and subsequently the next big surprise of the evening: NITZER EBB doing a storming rendition of the DIE KRUPPS' hit 'To The Hilt'! McCarthy struggled a little with the lyrics but apart from that the song sounded well-rehearsed but raw at the same time. 'Godhead' intensified the energy level even more but apart from a small mosh pit in front of the stage the crowd was not as energetic as we're used to at NITZER EBB gigs. McCarthy jokingly threatened to go home if people would not wake up but 'Murderous' and 'Join In The Chant' got people certainly more going than McCarthy's idle threat. Maybe the reason for this less wild than usual crowd was because it consisted mostly of thirty- or even forty-somethings but the lack of bone-crashing activity did not mean at all that people didn't love what they were offered by NITZER EBB. For the encore the band pulled out the 1985 classic 'Warsaw Ghetto' - one of my personal highlights this night - and the epic 'I Give To You'.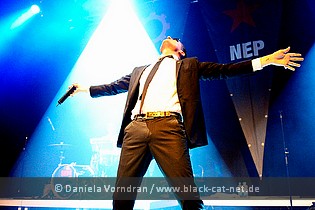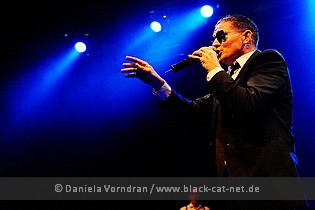 Of course there was even more to come, something anyone in attendance hoped for, and when the stage hands arranged Engler's steelophone and Dörper's keyboard on stage there was no doubt left: NITZER EBB and DIE KRUPPS were going to perform 'Machineries Of Joy' together! A worthy end and ultimate climax of a very good concert evening, and seeing these two excellent lead singers together on a stage was worth the trip alone.

Setlist
01. Intro
02. Getting Closer
03. Down On Your Knees
04. Shame
05. Hearts And Minds
06. Let Your Body Learn
07. Once You Say
08. Lighting Man
09. To The Hilt (DIE-KRUPPS cover)
10. Godhead
11. Murderous
12. Join In The Chant
13. Promises
14. Control I'm Here
---
15. Warsaw Ghetto
16. I Give To You
---
17. Machineries of Joy (NITZER EBB & DIE KRUPPS)

Rating
Music: 9
Performance: 9
Sound: 8
Light: 8
Total: 8.8 / 10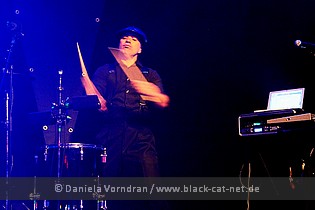 All pictures by Daniela Vorndran (http://www.vorndranphotography.com / http://www.black-cat-net.de/ / www.myspace.com/vorndranphotography / www.facebook.com/blackcatnet)