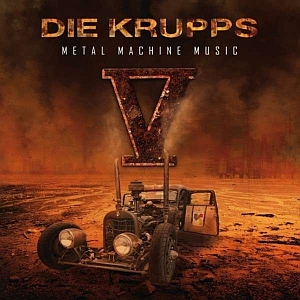 Artist: Die Krupps
Title: V-Metal Machine Music
Genre: EBM / Industrial / Industrial Metal
Release Date: 28th August 2015
Label: Oblivion / SPV
Album Review

DIE KRUPPS are back with their new record which has been released on 28.8. It's called 'V - Metal Machine Music' and even only the title already promises brachial sounds, somehow loud and full of energy. 'V - Metal Machine Music' is generally harsher in its sound than its predecessor 'The Machinists of Joy' from 2013 but not less melodic, danceable and there is definitely sing-along potential. The songs partly remind of "old" DIE KRUPPS times. There is a good mix of guitars and synth melodies which are still danceable. For all those who cannot think of anything, a RAMMSTEIN comparison which is used far too often might be of help – even though it should be said that DIE KRUPPS and the mix of metal and industrial has existed way longer than RAMMSTEIN.
Let's get to my favourite tracks on the record now and it already begins with the intro 'Die Verdammten'. One knows from the first beat that this record doesn't contain music for the next tea party but that it gets loud and harsh. A well-chosen beginning, no compromises, no banter, but a direct announcement according to the motto "We are back again!". It continues with 'Kaltes Herz' which captivates with German lyrics and a very, very catchy chorus which one can or must sing along to because it doesn't get out of one's head. The song is a totally catchy tune and is worth more than just a quick listen.
'A Live in Glass Cage' comes along more tranquil, my absolute favourite on 'V - Metal Machine Music' because it creates a very comfortable atmosphere. A bit of dreaming, a bit of melancholy and Jürgen Engler's calming voice make it a must-have on one's MP3 player. 'Bonded by blood' is metal, driven by guitars and wonderful synth parts which invite to dance or at least bob along (in case of a lack of enthusiasm for dancing). This song also contains a chorus which gets stuck, which can be remembered quickly and to which one wants to sing along.
The rest of the record is probably what one expects from a DIE KRUPPS record: harsh, melodic, partly 80s synths which are then embellished by guitars in order to make them sound harsher. The only song which I didn't really make friends with on the record is 'Volle Kraft voraus', but that's probably due to the fact that it's less melodic and danceable, it seems more metal due to its guitar riffs. Those who really liked the predecessor will probably need two listens in order to start to like the record. 'V - Metal Machine Music' should find a place in the music collection of friends of a good mix of electro, industrial and metal because it answers all desires with harsh riffs and well-planned synth sounds.
Tracklist
CD1
01. Die Verdammten (Prelude)
02. Kaltes Herz
03. Battle Extreme
04. Fly Martyrs Fly
05. The Truth
06. Road Rage Warrior
07. The Vampire Strikes Back
08. Alive In A Glass Cage
09. Branded
10. Kaos Reigns
11. The Red Line
12. Bonded By Blood
13. Volle Kraft Voraus
CD2
01. Kaltes Herz (Reworked By Darkhaus)
02. Alive In A Glass Cage (Remixed by Faderhead)
03. Road Rage Warrior'82
04. Battle Extreme (Demo)
05. Kaos Reigns (Demo)
06. The Vampire Strikes Back (Demo)
07. Kaltes Herz (Demo)
08. Alive In A Glass Cage (Demo)






Line-up

Juergen Engler - vocals, keyboards, guitars, steel-o-phone
Ralf Doerper - samples
Marcel Zuercher - guitars, keyboards
Website

http://www.diekrupps.com
/
https://www.facebook.com/diekruppsofficial
Cover Picture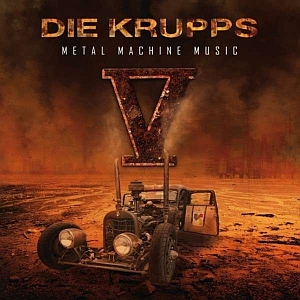 Rating

Music: 8
Sound: 8
Total: 8 / 10
See also (all categories):